IP/Network scanning is a security process that helps identify network vulnerabilities and loopholes that can harm your system.
IP scanning safeguards our network from attacks and unusual behaviors. Vulnerable networks lead to data leakage, and users may lose confidential information to exploiters.
To ensure security, IP scanners can help. IP scanners have multiple purposes. Many popular IP scanners work very well.
This article enlists the most popular IP scanners with descriptions regarding their features. It is essential to note that the listing hasn't been done based on preference, and you should pick one with the features you want.
1. Auvik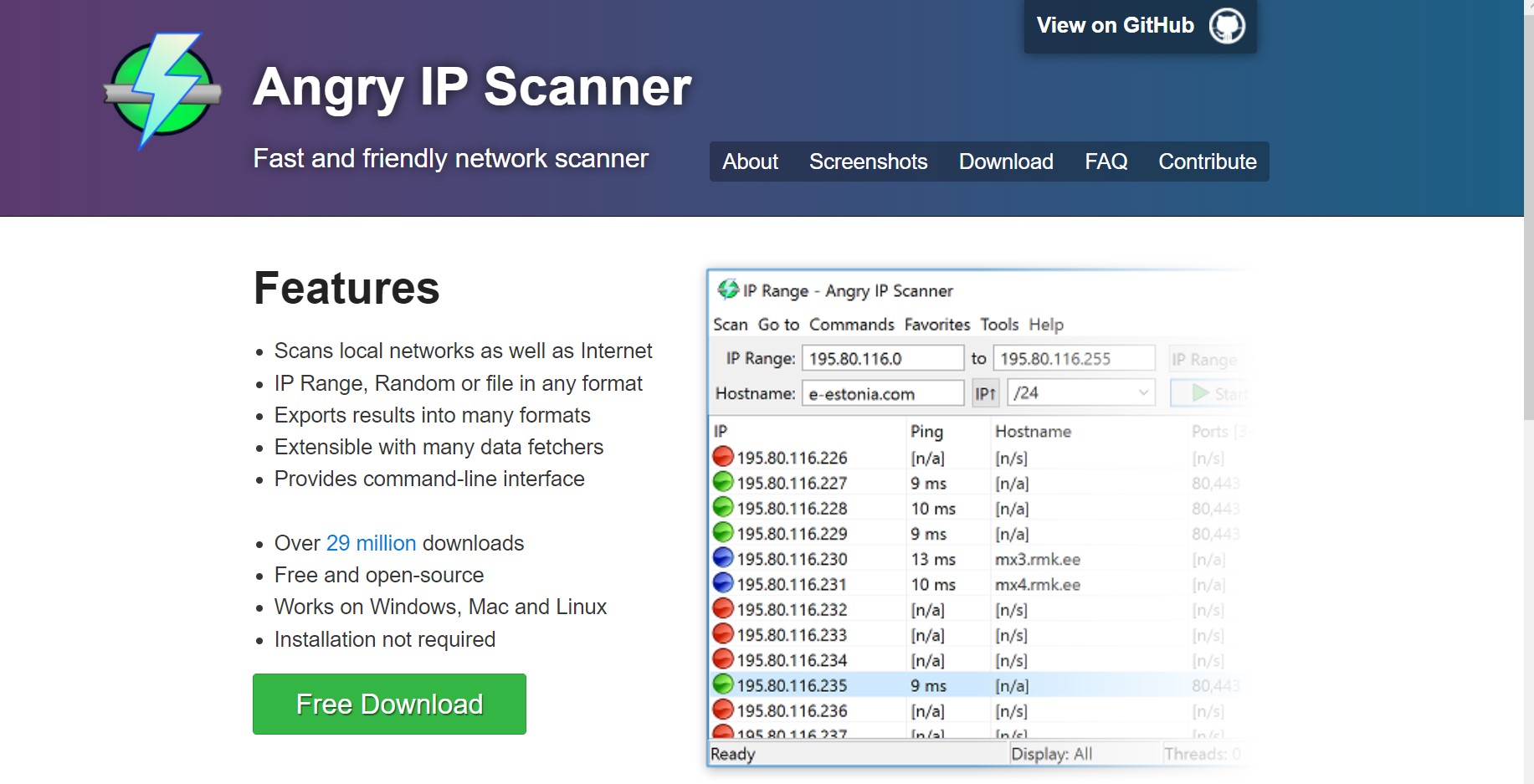 Auvik is undoubtedly one of the best network scanners out there. It provides cloud-based network management solutions. It automatically discovers networks and provides visibility regarding the connectivity of the devices connected to the network. Auvik encrypts the network data with AES-256 and provides automated security and updates. It is pretty fast in identifying network anomalies.
Some key features of Auvik include:
Helps perform intelligent analysis of network traffic with Auvik Traffic.
Has features for managing the distributed sites efficiently.
Automated IT asset management and network visibility.
Good visual presentation with easy-to-follow charts.
While the trial version of Auvik is free, you'll get pricing plans for total feature usage.
2. SolarWinds Network Device Scanner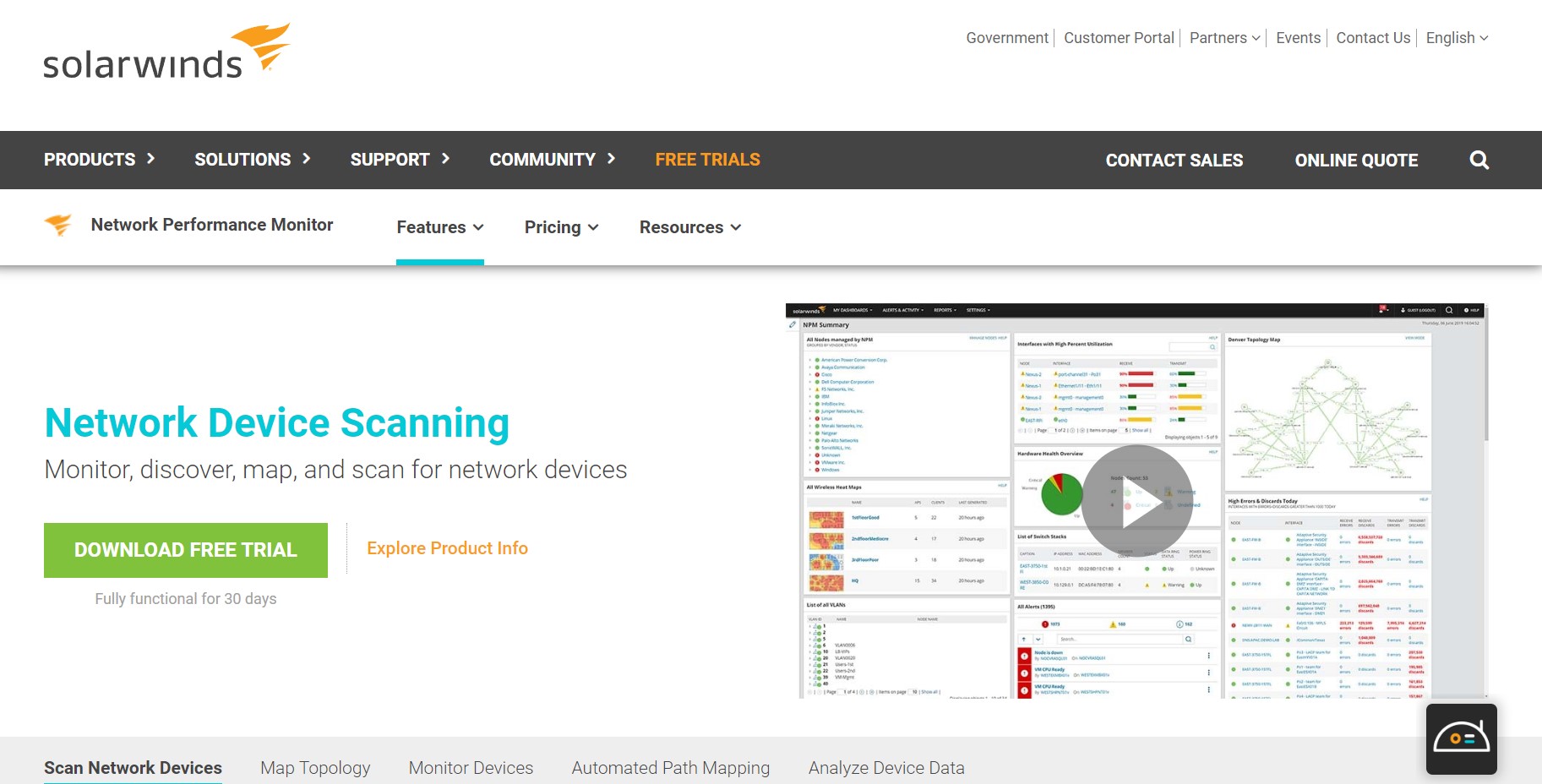 SolarWinds must be one of the most user-friendly scanners for detecting and analyzing network devices. With SolarWinds, we can scan an IP address and see the open, closed, and filtered ports on a network immediately. The tool is very easy to use. You only require to configure your scan profile which needs minimal details.
SolarWinds can also be used to resolve hostnames with specific DNS and look for different ports specifically. SolarWinds primarily detect IP conflicts and affected systems to reconfigure the settings. It performs basic tasks like providing IP details and showing the associated users and devices. It also allows you to edit a hostname and MAC address. The reporting system of SolarWinds alerts during a conflict. You also get an alert when subnets are almost reaching their capacity.
Some key features of SolarWinds include:
Incorporates a multithreading option that ensures less overhead and faster scan.
Scan profiles can be configured in one window.
Scans can be scheduled.
Ability to map network topology.
Performs hop-by-hop analysis.
3. PRTG Network Monitor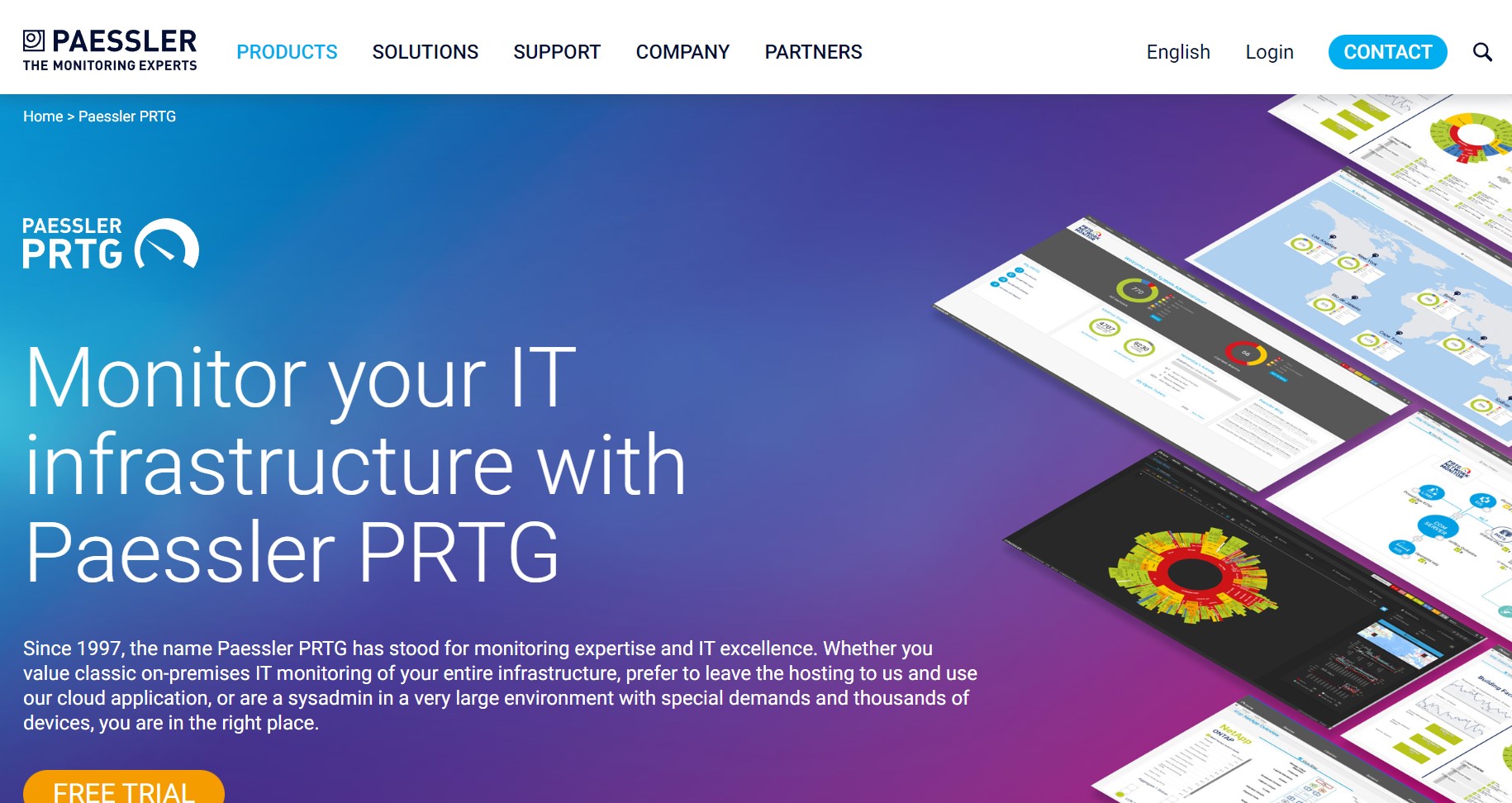 Paessler PRTG Network Monitor scans for devices under a specific IP range and adds them to its book to be monitored with network maps or sensors. PRTG allows regular scans so that the network inventory is updated regularly as new devices connect. PRTG allows the creation of custom dashboards. Custom dashboards make things user-friendly. Effective monitoring is also possible. The best part of PRTG should be its mobile application. You can quickly monitor your network's performance even when you're on the move.
PRTG's alert system is highly commendable as well. It notifies immediately regarding any performance changes. You don't even need to open the app at all times in order to receive those alerts. You can get them via email, slack, push notifications, or SMS. The user interface is clean, and there are built-in customization options to improve your usage.
Some key features of PRTG Network Monitor include:
Detailed statistics for every application in a network.
Centralized monitoring.
Availability of mobile app.
Has LAN monitoring, Server Monitoring, and SNMP functionalities.
4. Angry IP Scanner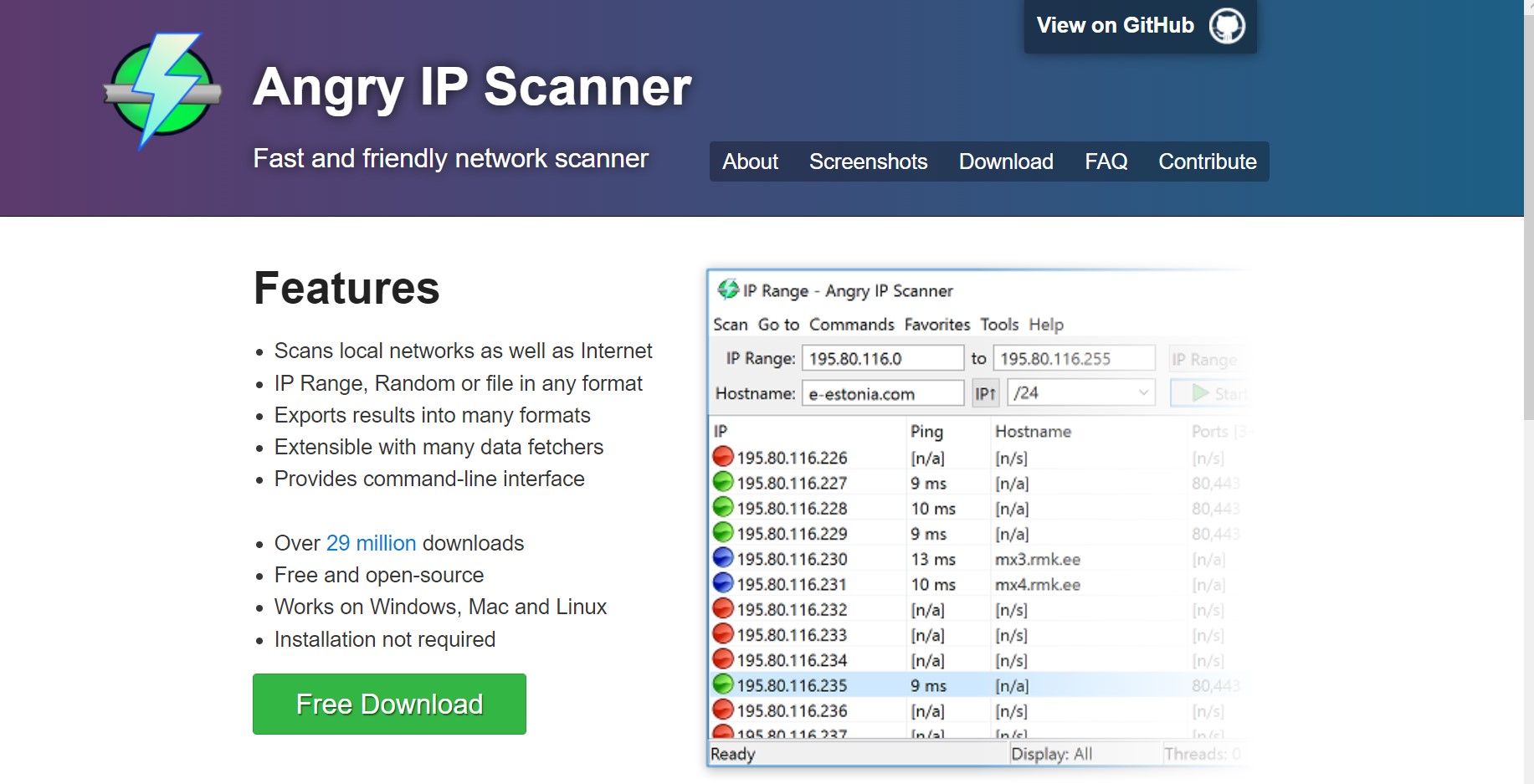 Angry IP Scanner is an open-source network scanner. It is available on Windows, MAC, and Linux. It ensures user-friendliness with a simple user interface. The software pings the target network to see the devices connected and can also scan ports and resolve hostnames. Angry IP scanner uses special plugins to get more information about targets. You can keep your scan results in TXT, CSV, XML, and IP-port list files.
Some key features include:
Public and private range of addresses can be scanned.
Multiple formats for exporting the report.
Uses a multithreading approach to scan, ensuring faster scan.
5. LanSweeper IP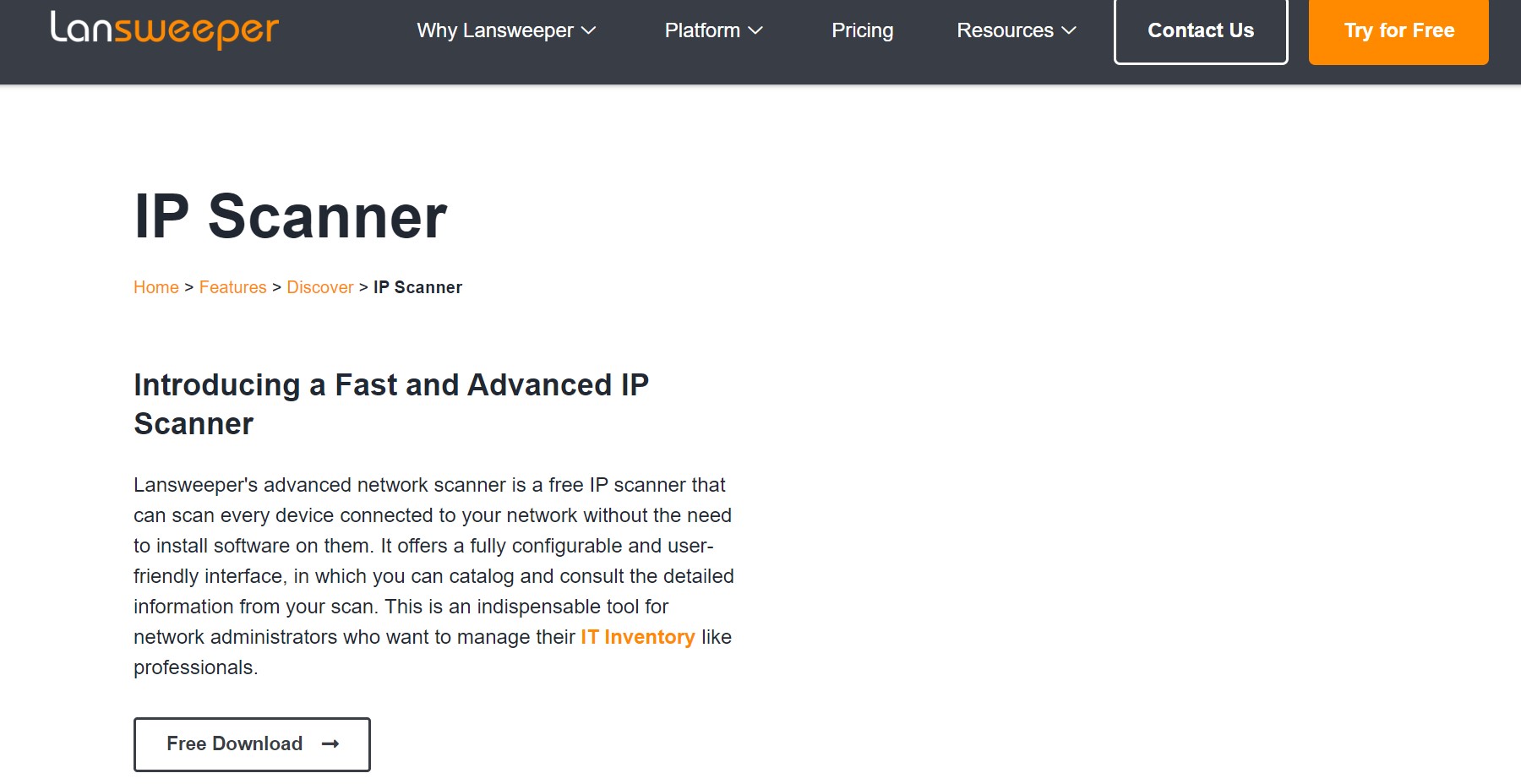 It is a powerful network tool to scan networks. Using LanSweeper IP, you can easily target a range of IPs (or a specific IP) and get complete information regarding linked devices, servers, etc. The report of the result can then be easily exported.
LanSweeper automatically deploys scripts to different devices. Its integrated deployment feature enables it to deploy software and execute many commands on devices shown in its inventory.
It gets the network information through HTTP, SNMP, WMI, FTP, and SSH, among other protocols.
Some key features include
The result can be exported to a CSV file.
Remote shutdown is also possible.
Displays MAC address, logged-in users, etc.
6. NetCat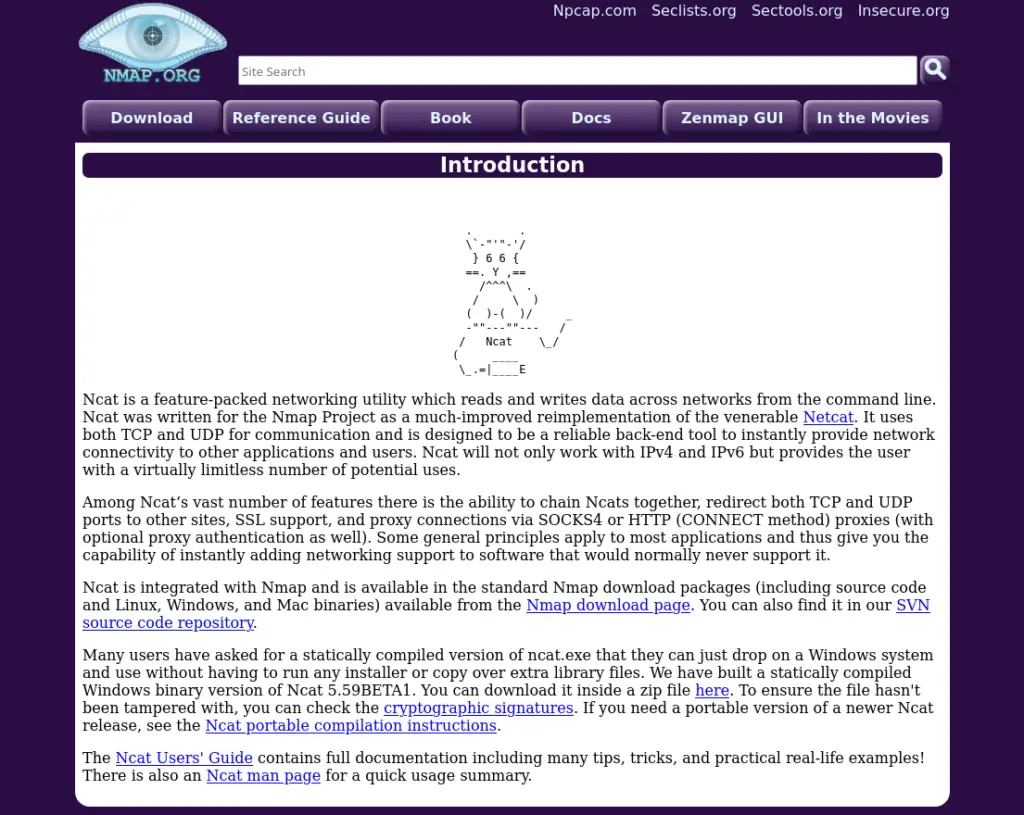 Although listed here because of its IP scanning capacity, NetCat is a small but powerful network analyzing feature-rich tool. Using this software, we can create any type of connection almost instantly. This software is the command line. So, it may not be for everyone, but it is very efficient. NetCat can read data from and write data to network connections using UDP or TCP. It is easy to open TCP or UDP connections between devices over any port.
It is mostly used for port scanning and forwarding, redirecting network traffic, setting up bind and reserve shells, service banner grabbing, and debugging.
Some key features include:
Easily connects to a remote system through any port.
Creates back-doors for efficient access to targets.
Easily transfers files from targets.
Completely free.
7. Port Scanner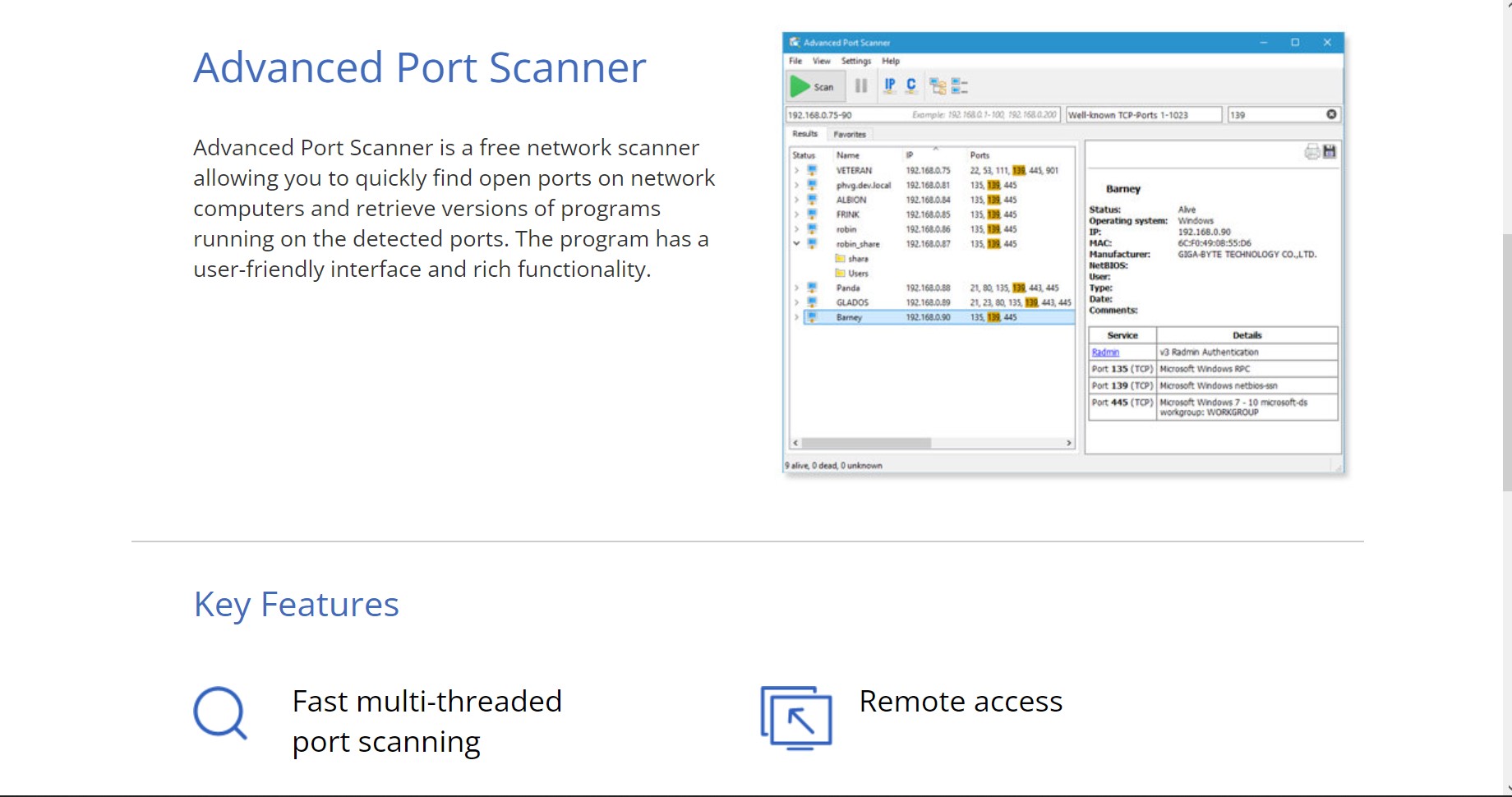 Port Scanner is a tool we can use to check the available IP addresses and their related TCP and UDP. It enables us to track different users on a network. It shows the connection strength as well. A major feature of this application must be its ability to deploy a bulk configuration.
Some key features include:
Uses multithreading to reduce scan time.
Ability to deploy a bulk configuration.
Has both command line and graphical user interface facilities.
Integrates with Dropbox, Jira, Google Analytics, etc.
Good customer support.
8. Slitheris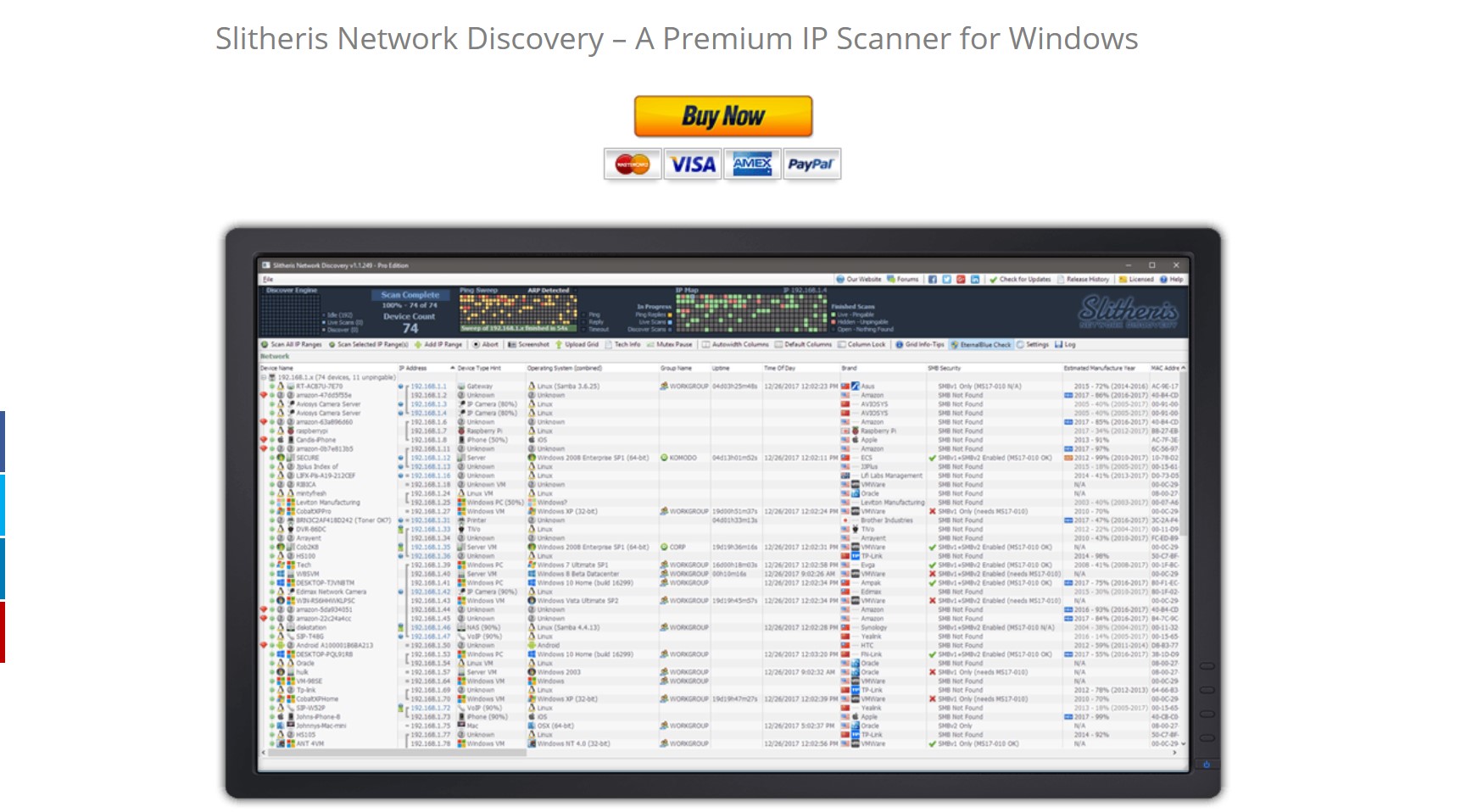 Slitheris is a windows-based IP scanner. It is relatively faster than other scanners in terms of IP scanning capacity. Without needing agents or credentials, Slitheris gathers crucial information from a target network device. Also, Slitheris used ARP pings to find hidden devices.
Some key features include:
OS detection and fingerprinting.
Provides SMB security.
Offers real-time visual ping sweep.
Ability to find hidden devices.
9. Advanced IP Scanner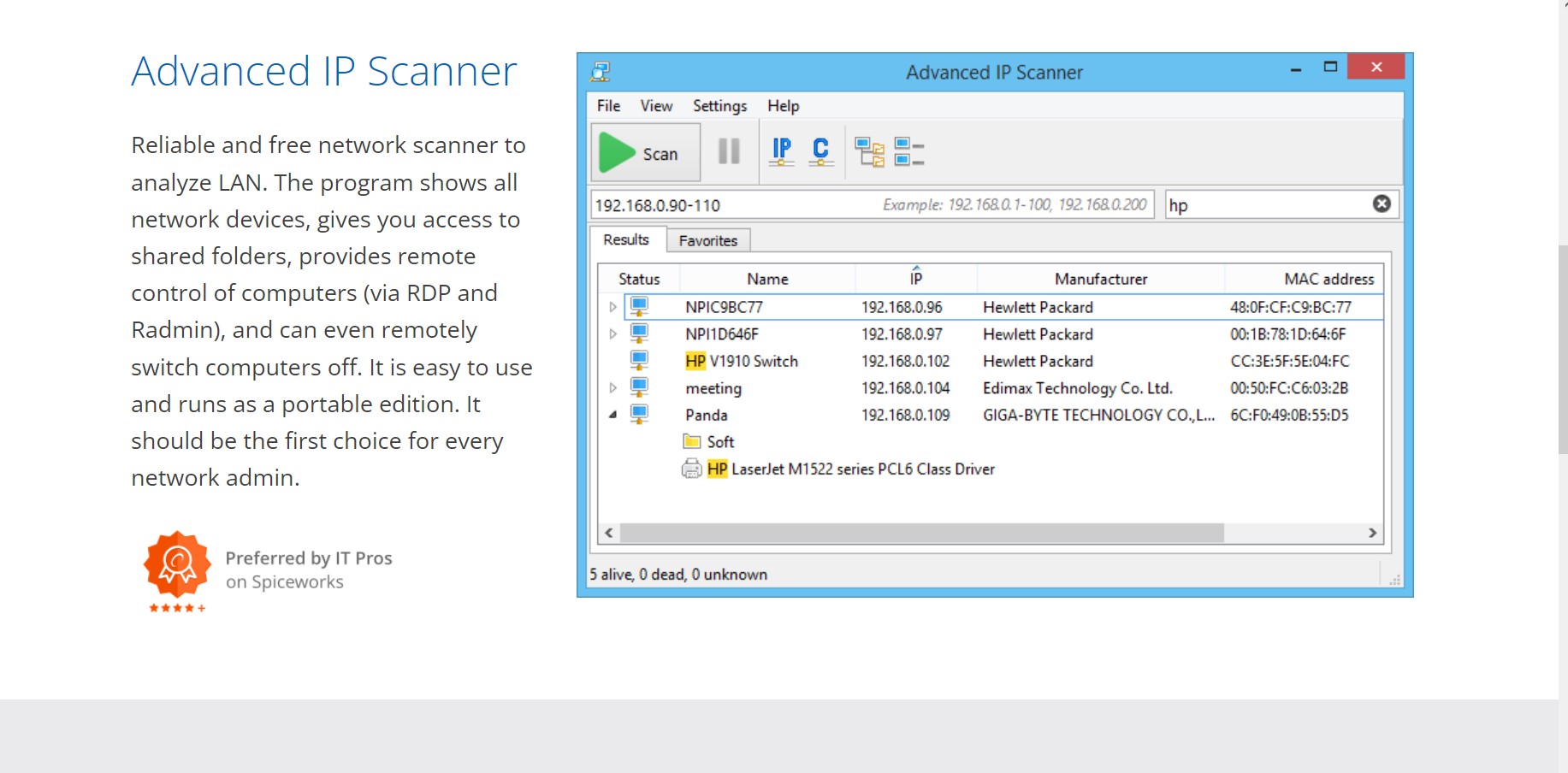 It is designed by Famatech Corp primarily for Windows operating system. The tool is simple and very user-friendly. You need to provide the range of IP addresses to scan. It can be done easily. The scan starts and after the completion of the scan, you'll receive a report with resources from every device. Information such as the MAC address, network interface vendor, and hostname can also be retrieved. The report can then be exported to a CSV file.
With this software, you can remotely control your devices through Remote Desktop Control (RDP). Advanced IP scanner is pretty fast when it comes to finding devices and providing access to their shared resources.
Some key features include:
Remote access to connected devices.
The report can be exported into a CSV file.
Easy to use and clean user interface.
10. Nmap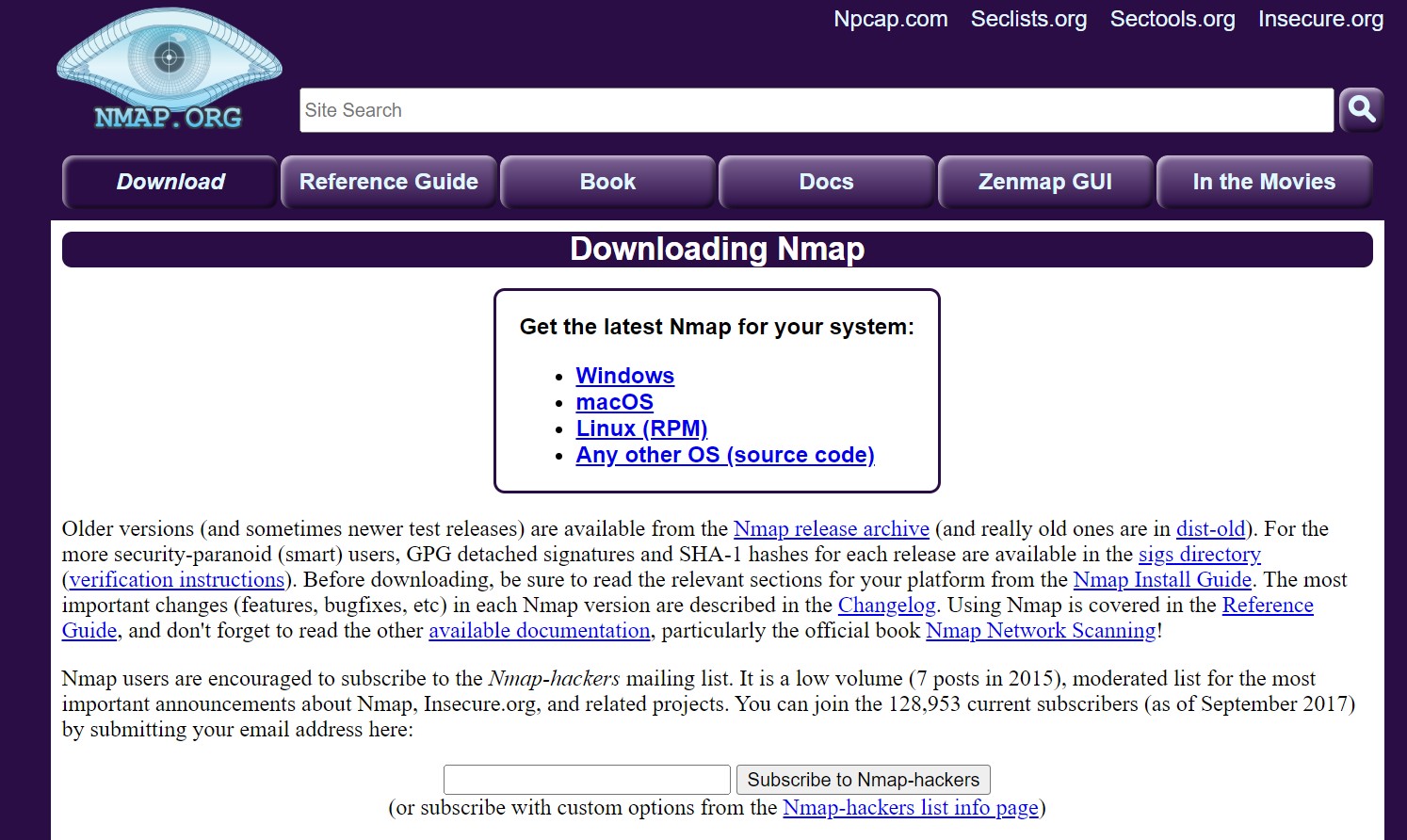 Nmap, which is short for Network Mapper, is a Linux command-line tool used to scan IP addresses and ports in a network. Nmap helps any network administrator to discover open ports, find information on connected devices, and detect vulnerabilities. Nmap has become widely popular and has itself featured in some popular movies as well.
Nmap excels over other network scanning tools due to its security pros and simplicity. Any network admin can quickly map a network without complex commands or setups. Since it works on the command line, it is considerably fast. It supports different scans like basic scanning, stealth scanning, version scanning, OS scanning, port scanning, and so on.
Some key features include:
Provides information on connected devices, os versions, services, etc.
Can be sued to attack systems using existing scripts from the Nmap Scripting engine.
Has a GUI named Zenmap for better usability and reporting.
You can easily download Nmap from the download page of its official website.
Conclusion
Above are the most popular and reliable IP scanners available for detecting and analyzing network devices. Some of the software mentioned above works well with the free version, while some need to be purchased to get full functionality. Assess your need and feel free to download any of the mentioned IP scanners.