The digital landscape is rapidly evolving, but RAM remains a key factor for optimal website and application performance. As online platforms become more complex, the demand for high-RAM virtual private servers (VPS) is surging.
However, budget limitations present a challenge: how can you access powerful, high-RAM VPS solutions without overspending?
Luckily, among the many VPS providers, some stand out by offering cheap high-RAM VPS plans. These affordable high-RAM servers provide a compelling solution, balancing robust capabilities with cost-efficiency. Ideal for hosting data-intensive sites, gaming servers, complex apps and growing databases, the plans cater to diverse needs.
By competing to offer abundant RAM for less money, certain providers have emerged as top choices for affordable, high-memory VPS services
In this guide we explore top choices for cheap, high-RAM VPS services. We will compare some of the strengths, potential limitations and unique selling points of each provider.
With these insights, you can select the best high-performance, budget-friendly VPS for your specific requirements.
Whether you need to support ambitious projects or scale existing platforms, affordable high-RAM virtual servers deliver the memory muscle you need without breaking the bank.
1. Contabo – Cheapest & Best Value High-RAM VPS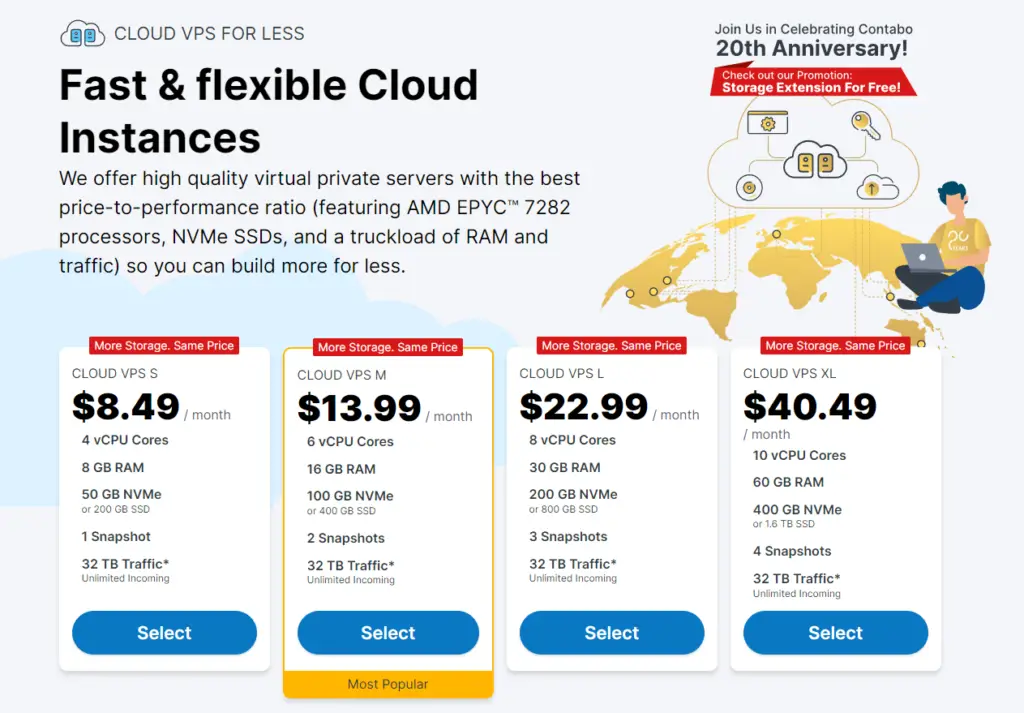 Contabo is a German web hosting company that was founded in 2003. They have built a reputation for providing affordable virtual private servers (VPS), making them a popular choice among those who want European server locations.
In recent years, Contabo has noticeably expanded their global footprint and now offer VPS in multiple regions across the USA, Asia Pacific, and Australia.
The area where Contabo shines is their cheap high-RAM VPS configurations. With their combination of competitive pricing, multiple worldwide locations, and ample RAM options, Contabo has firmly established themselves as a leading provider of great value VPS hosting.

In my 10+ years as a Contabo customer, I have yet to find a better value for dollar-to-RAM ratio on a VPS. For check our related article for our full review of Contabo.
VPS Pricing, Specs & Price-to-RAM Ratio
| VPS S | VPS M | VPS L | VPS XL |
| --- | --- | --- | --- |
| 8GB RAM | 16GB RAM | 30GB RAM | 60GB RAM |
| 4 vCPU | 6 vCPU | 8 vCPU | 10 vCPU |
| 50 GB NVMe/200 GB SSD | 100 GB NVMe/400 GB SSD | 200 GB NVMe/800 GB SSD | 400 GB NVMe/1.6TB SSD |
| $1.06 per GB RAM | $0.87 per GB RAM | $0.77 per GB RAM | $0.67 per GB RAM |
| $8.49/month | $13.99/month | $22.99/month | $40.49/month |
CPU: CPUs are all AMD EPYC 7282.
Additional Pricing Notes
One-time setup fee: Contabo charges a

one-time setup fee of $8.49

for its VPS offerings to cover initial provisioning and to deter potential misuse.
Regional pricing: VPS prices can differ based on the location. Servers in Germany are the ones shown above. Other regions add $1.45-$3.50 extra to the total cost.
VAT: Customers from the EU countries, India, and UA will have to pay an additional 5-27% VAT of the price.

For a U.S. customer purchasing a VPS S, the initial payment is $16.98, because $8.49 one-time setup fee, and then it's $8.49 monthly. For a UK customer, due to 20% VAT, it's $20.38 upfront and then $10.19 each month thereafter.

Suspension Fees: Customers should be aware that Contabo reserves the right to suspend services for reasons such as

late payments or violation

of usage policies. If services are suspended, customers will be charged a reactivation fee of ~€30 to reactivate their VPS.
Deals: Often Contabo has deals, where they waive the setup fee, or give you extra storage for free, so it's good to keep up with their offers.
Key Features
Affordable Pricing: Competitive pricing for high-ram VPS (they also have VDS, and even dedicated servers).
Global Locations: Datacenters in Germany, UK, USA, Singapore, Japan, Australia.
Generous RAM: High memory even for basic VPS plans.
Storage Options: SSD and NVMe to suit needs.
14-Day Money Back: Try services risk-free.
Frequent Promotional Deals: Like waived setup fees, or bonus storage.
Customizable VPS: Various OS, custom images, panels like cPanel, Plesk.
DevOps Features:

API: Automates cloud infrastructure deployment and management
CLI: Manages resources directly from command line.
Custom Images: Deploy multiple instances across locations
cloud-init: Swift, secure VM initialization
Potential Drawbacks
Reliability Issues: Has experienced some downtime and reliability issues in their Dusseldorf datacenter. Critical services may be at risk. Online reviews you may find will likely state the same. (My Munich VPS was fine while my Dusseldorf VPS was down for 15 minutes. Overall my experience has been overwhelmingly positive, but your mileage may vary).
Outdated Interface: Outdated control panel interface can seem unintuitive.
Prohibitive Fees: Setup and reactivation fees can be prohibitive. Reactivation fee in particular seems excessive.
Mixed Reviews: Mixed reviews online point to poor experiences for some customers.
Our Take
For those needing lots of memory at a low price, Contabo ticks all the boxes. Their combination of high RAM, competitive pricing, worldwide availability, and robust CPUs is hard to beat. The risk-free trial and automation capabilities add further value.
I've also been a Contabo customer for 10+ years, and recommend them to everyone who needs a cheap high-ram VPS. In case you missed it, I wrote a full review of Contabo.
2. Hetzner – Cost-Effective High-RAM Cloud VPS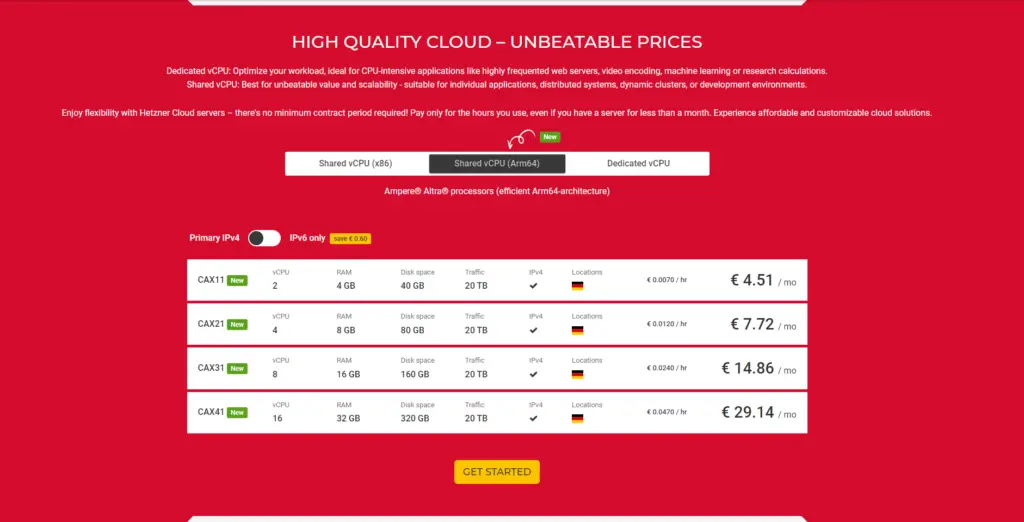 Hetzner is a German web hosting company founded in 1997 that has built a reputation for reliable, high-performance servers at competitive prices. In recent years, Hetzner has expanded their cloud hosting platform, providing flexible and affordable virtual private servers (VPS) with pay-as-you-go pricing.
Hetzner's ARM64-based VPS plans stand out for offering ample RAM configurations at a great value. Thanks to the potential cost savings of ARM hardware and Hetzner's scaling capabilities, their VPS plans can provide an excellent price-to-RAM ratio.
VPS Pricing, Specs & Price-to-RAM Ratio
| CAX11 | CAX21 | CAX31 | CAX41 |
| --- | --- | --- | --- |
| 4GB RAM | 8GB RAM | 16GB RAM | 32GB RAM |
| 2 vCPU | 4 vCPU | 8 vCPU | 16 vCPU |
| 40 GB SSD | 80 GB SSD | 160 GB SSD | 32 GB SSD |
| €0.9475 per GB RAM | €0.81125 per GB RAM | €0.780625 per GB RAM | €0.7653125 per GB RAM |
| Location: Germany | Location: Germany | Location: Germany | Location: Germany |
| €0.0059/hour | € 0.0101/hour | €0.0202/hour | €0.0395/hour |
| €3.79/month | €6.49/month | €12.49/month | €24.49/month |
The above prices apply to the U.S. and other non-VAT paying countries. For Germany and other VAT-paying countries, prices will be higher due to the added VAT. For instance, in Germany, a 19% VAT would be applied, increasing the effective price. Always consult local VAT rates when determining final costs.
CPU: Ampere Altra (Arm64-architecture)
IPv6 Only Discount: If you don't need an IPv6 IP you get €0.50 off the monthly price.
Hetzner's pay-as-you-go cloud hosting model provides flexibility to deploy and destroy ARM64 VPS on demand, only paying for the hours used. Their high-RAM configurations deliver ample memory at very competitive hourly and monthly rates.
Notes on ARM64 CPU
ARM64 and x86 are two different architectures for CPUs.
ARM64 servers can provide significant cost savings thanks to power efficiency, licensing model, and design optimizations.
However, they also have drawbacks like software compatibility challenges, immature ecosystem, limited virtualization support, Windows limitations, and potential performance lags in some workloads.
These compatibility challenges can be significant, depending on what you want to do. For example I use WordOps often, and it's not possible on Ubuntu with ARM64.
You should make sure your software is compatible with ARM CPUs before migrating from x86 to ensure software and performance needs are met.
When suitable for the use case, ARM64's cost benefits make it an appealing option.
Potential Drawbacks
Software Compatibility: ARM64 may not support some Windows, gaming, niche apps.
Account Verification: Strict policies to prevent abuse can complicate sign-up. Some users report issues, especially with account suspension due to verification process, but overall reputation is good in the development community.
Limited Regions: Only available in Germany presently.
Key Features
Reputable Brand: Well-regarded in hosting industry. Known for reliable, high-performance servers. Reliable in my experience as well.
High-Value RAM: Excellent price-to-RAM ratio on ARM64 VPS plans. Good value on their x86 VPS plans as well.
Developer Friendly: API, CLI, One-click apps, great docs.
Pay-As-You-Go Pricing: Only pay for what you use with hourly billing.
IPv6 Discount: Save on monthly price by using IPv6 only.
Additional Services: Floating IPs, load balancers, volumes, and more.
Our Take
For those needing an affordable high-RAM cloud VPS, Hetzner's ARM64 plans are worth considering. Just be sure to validate software compatibility and performance before migrating from x86.
Hetzner also offers x86-based VPS which don't have the software limitations of ARM64, however they are slightly more expensive. Still, Hetzner's x86 pricing remains very competitive compared to most VPS providers.
Overall, Hetzner's flexible VPS plans and competitive pay-as-you-go pricing deliver excellent value. Their ARM64 options provide ample RAM at very attractive rates for the right workloads. And their x86 VPS remain reasonably priced for situations requiring broader software support.
3. VPSDime – Cheapest High-RAM OpenVZ VPS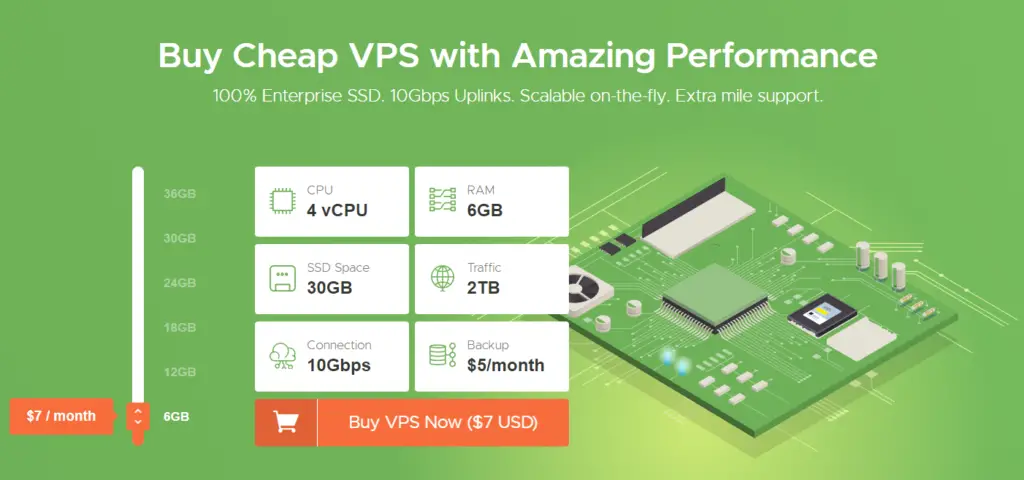 Since its founding in 2013, VPS Dime has built a strong reputation in the web hosting industry, aided by the owner's prominence in the web hosting community. With data centers located in major hubs like Dallas, Seattle, Los Angeles, and London, VPS Dime offers worldwide coverage.
VPS Dime was created with the goal of providing robust resources at competitive prices, making it stand out for users who need sudden surges in computing power. However, potential customers should be aware that VPS Dime relies on OpenVZ virtualization, which may impact its suitability depending on your intended workloads and software requirements.
VPS Dime's cheap high-RAM VPS are OpenVZ. While it enables them to offer affordable, high-powered VPS solutions, OpenVZ lacks some virtualization features available in other technologies. Customers should factor OpenVZ's strengths and limitations into their decision when evaluating VPS Dime for their hosting needs.
VPS Pricing, Specs & Price-to-RAM Ratio
| Linux VPS 1 | Linux VPS 2 | Linux VPS 3 | Linux VPS 4 | Linux VPS 5 | Linux VPS 6 |
| --- | --- | --- | --- | --- | --- |
| 6GB RAM | 12GB RAM | 18GB RAM | 24GB RAM | 30GB RAM | 36GB RAM |
| 4 vCPU | 4 vCPU | 4 vCPU | 4 vCPU | 4 vCPU | 4 vCPU |
| 30GB SSD | 60GB SSD | 90GB SSD | 120GB SSD | 150GB SSD | 180GB SSD |
| 2TB | 4TB | 6TB | 8TB | 10TB | 12TB |
| $1.17 per GB RAM | $1.17 per GB RAM | $1.17 per GB RAM | $1.17 per GB RAM | $1.17 per GB RAM | $1.17 per GB RAM |
| $7/mo | $14/mo | $21/mo | $28/mo | $35/mo | $42/mo |
Locations: US (Dallas, Los Angeles, Seattle), UK (London)
Additional Notes
Bandwidth Usage: Users receive email notifications when their bandwidth usage reaches 75% and 100% of their allotted amount. If additional bandwidth is not purchased within 24 hours of reaching 100%, VPS Dime will suspend the server.
Extra IPs: Additional IP addresses cost $2 per month each.
High Load Averages: If the load average rises too high for a prolonged time, VPS Dime will automatically suspend the VPS. They do allow short spikes in resource usage, however. This is because of the OpenVZ virtualization.
Money-Back Guarantee: Customers get a 3 day money back guarantee. However, this guarantee is void if the Terms of Service or Acceptable Use Policy are violated.
Key Features
High Resources at a low price: Well-suited for sudden short spikes of high resource usage.
Money-Back Period: A three-day money back guarantee if the servers don't fit your needs, with the condition that you didn't break the ToS or Acceptable Use Policy (AUP).
Low Tolerance to Abuse: Because servers are OpenVZ, they are exceptionally strict to ensure no user hogs the server's resources, maintaining a balanced performance for everyone.
Potential Drawbacks
Service Suspension: Keep a keen eye on usage. Exceeding bandwidth or load averages for longer times results in VPS suspension.
Usage Restrictions: Be sure to read the ToS and AUP because there are restrictions on the type of services you can run, including Minecraft, certain botting operations, anonymity services, and others.
OpenVZ Virtualization: VPS Dime uses OpenVZ rather than KVM, which has some limitations in virtualization capabilities.
Our Take
VPS Dime stands out by offering high RAM VPS at impressively affordable rates. For users looking for a high-memory VPS on a budget, it's a promising choice.
The OpenVZ virtualization comes with its nuances, which may affect compatibility for some tasks. Additionally, it's crucial that you keep an eye on your resource usage, due to their strict suspension policies for resource overuse. At the same time, their strict policies ensure that others don't abuse resources and don't slow down your VPS.
With its respected standing in the hosting community and years of reliable service, VPS Dime suits those who need high RAM at low price, and whocan navigate their specific usage requirements.
4. Time4VPS – Affordable High-RAM OpenVZ VPS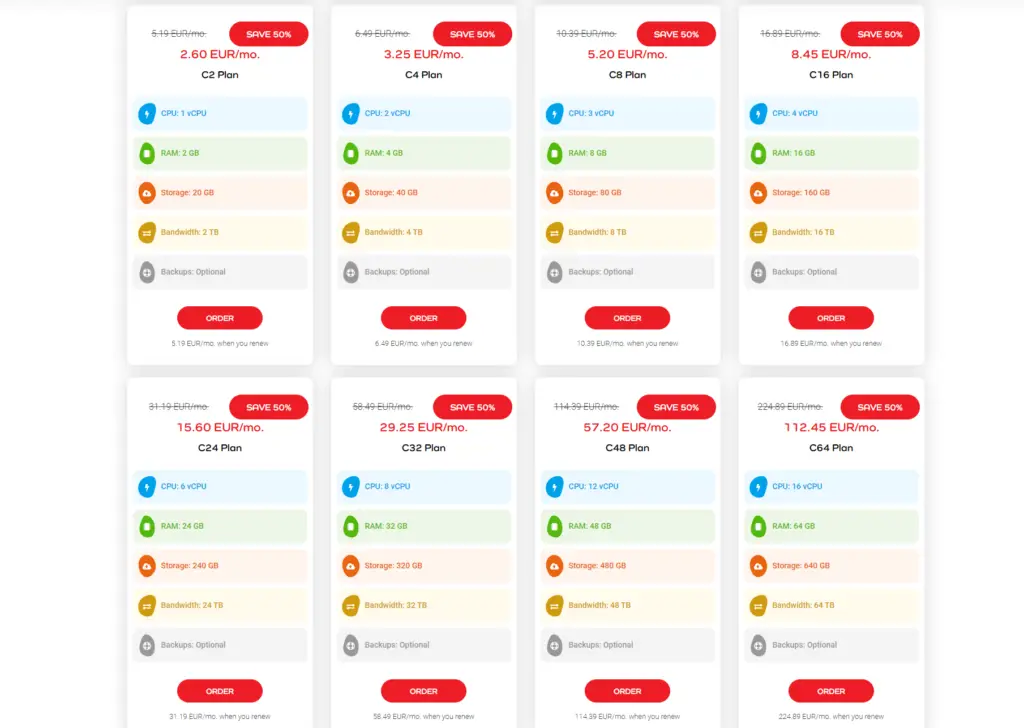 Time4VPS is a Lithuanian hosting provider that offers virtual private servers (VPS) based on OpenVZ virtualization technology.
Founded in 2010, they have built a reputation for excellent technical support and competitive pricing.
Time4VPS offers four main VPS plans with ample RAM and storage options. Pricing is very affordable, especially for the entry-level C2 plan starting at just €5.19/month, but all new customers also get 50% off their first month.
The cheap high-RAM VPS offerings from Time4VPS use the OpenVZ virtualization platform rather than KVM which is more commonly used by VPS providers like Contabo and Hetzner.
VPS Pricing, Specs & Price-to-RAM Ratio
| C2 | C4 | C6 | C8 |
| --- | --- | --- | --- |
| 2GB RAM | 4GB RAM | 8GB RAM | 16GB RAM |
| 1 vCPU | 2 vCPU | 3 vCPU | 4 vCPU |
| 20 GB SSD | 40 GB SSD | 80 GB SSD | 160 GB SSD |
| €2.595 per GB RAM | €1.6225 per GB RAM | €1.29875 per GB RAM | €1.055625 per GB RAM |
| Location: Lithuania | Location: Lithuania | Location: Lithuania | Location: Lithuania |
| €2.60 first month | €3.25 first month | €5.20 first month | €8.45 first month |
| €5.19/month | €6.49/month | €10.49/month | €16.89/month |
| C24 | C32 | C48 | C64 |
| --- | --- | --- | --- |
| 24GB RAM | 32GB RAM | 48GB RAM | 64GB RAM |
| 6 vCPU | 8 vCPU | 12 vCPU | 16 vCPU |
| 240 GB SSD | 320 GB SSD | 480 GB SSD | 640 GB SSD |
| €1.30 per GB RAM | €1.83 per GB RAM | €2.38 per GB RAM | €3.51 per GB RAM |
| Location: Lithuania | Location: Lithuania | Location: Lithuania | Location: Lithuania |
| €15.60 first month | €29.25 first month | €57.20 first month | €112.45 first month |
| €31.19/month | €58.49/month | €114.39/month | €224.89/month |
With OpenVZ, resources like CPU and memory are shared between VPS instances on the same physical server. So if a neighbor VPS starts using up excessive resources, it could impact the performance of your VPS.
In contrast, with KVM each VPS gets dedicated virtual hardware allocations, so neighboring VMs shouldn't affect your VPS performance.
Key Features
Excellent reputation and trusted provider
Praise for knowledgeable technical support
Backups available as add-on
Pre-installed control panels like cPanel/Plesk available
100Mbps network port standard, 1Gbps port available for €1 extra per month
First month 50% off promotion for new customers
Potential Drawbacks
Limited to a single location in Lithuania
OpenVZ virtualization may lead to "noisy neighbor" issues
SSD storage only available as add-on
Our Take
Overall, Time4VPS offers very competitively priced VPS solutions. Customers praise their technical support team.
Just be aware that the OpenVZ technology may not isolate your VPS from neighbors as effectively as alternatives like KVM.
The C8 plan stands out, providing the best price-to-RAM ratio among all their offerings. Additionally, it's worth noting that all their VPS servers are located in Vilnius, Lithuania.
If your project works with an OpenVZ VPS, Time4VPS's C8 is definitely worth considering.
Conclusion
The landscape of high-RAM Virtual Private Servers (VPS) offers several compelling and affordable options for different needs.
When choosing among the top providers like Contabo, Hetzner, and Time4VPS, key factors to consider include price, server specifications, datacenter locations, and potential drawbacks.
Contabo stands out for its unbeatable price-to-RAM ratio and global presence, though reliability concerns in some regions and an outdated interface remain issues.
Hetzner provides flexible pay-as-you-go plans and innovative ARM-based options, but software compatibility on ARM64 requires evaluation.
Time4VPS has very competitive pricing, especially with new user promotions, but its OpenVZ technology may lead to performance impacts from neighboring users on the same physical server.
The ideal high-RAM VPS provider depends on individual requirements, budget, and preferred server locations.
You should weigh the key strengths and potential limitations to make an informed decision that best fits their needs. Thoroughly evaluating features, pricing, architectures, and drawbacks is crucial to find the optimal balance of affordability and performance.