You're most likely here because you've searched for something like "how to get a free domain" and most results have you read some long text, and then you end up finding out that you have to buy hosting from a company that will give you a free domain if you buy their hosting package.
Freenom.com doesn't seem to allow you to buy any new domains at the time of this update (Oct 26th 2023). I'll update the article soon with alternatives new updates from Freenom.


I've been there.
What they're offering is not exactly free. This means that the hosting company will own the domain name and you will use that domain name through them, as long as you are paying a subscription-free.
I would've appreciated if they told me "no you can't get a free domain without paying".
In addition to this, some hosting companies, require that you pay for 12+ months right away.
This does make sense for them, because they are a business and they also have to buy domains themselves.
If they charged $3/month for hosting, and would allow you to pay on a monthly basis, rather than yearly, some people may abuse this and buy hosting + a domain from them for $3/month and immediately transfer their domain to another registrar, which would cause a loss for these companies.
Even though this is understandable, this is not in your interest if you're looking for a 100% FREE domain aka "I don't want to pay money to get this domain".
But there is a way you can get a domain for free.
A website called Freenom.com.
In this article, we'll explain the step-by-step process of getting a free domain name with Freenom.
We'll also discuss the various advantages and disadvantages of using Freenom along with our own experience with them.
I left the instructions on how to register the domain name first, and further down discussed the issues myself and others have encountered.
What is Freenom?
Freenom is the world's first and only free domain provider. Freenom makes it easy to start a website by integrating a free domain with the latest website building technologies and using the hosting providers of your own choice!
How to Register a Domain Name? (for Free!)
You can register a domain name with Freenom in just six simple steps.
Let's begin!
Step 1: Go to Freenom Homepage
Go to the Freenom homepage: www.freenom.com. It'll take you to the home page of the Freenom website.
Step 2: Type in a Domain Name

On the home page, you'll see a search bar with the 'Find a FREE domain' field. Type in your domain name and click 'Check Availability'.
A unique and memorable domain name can tell visitors infinitely more about your brand. Having relevant keywords in your domain name also leaves a lasting impression and gives visitors a better understanding of your brand.
Let your brand name explain its purpose! (but never try too hard!)
Step 3: Check Availability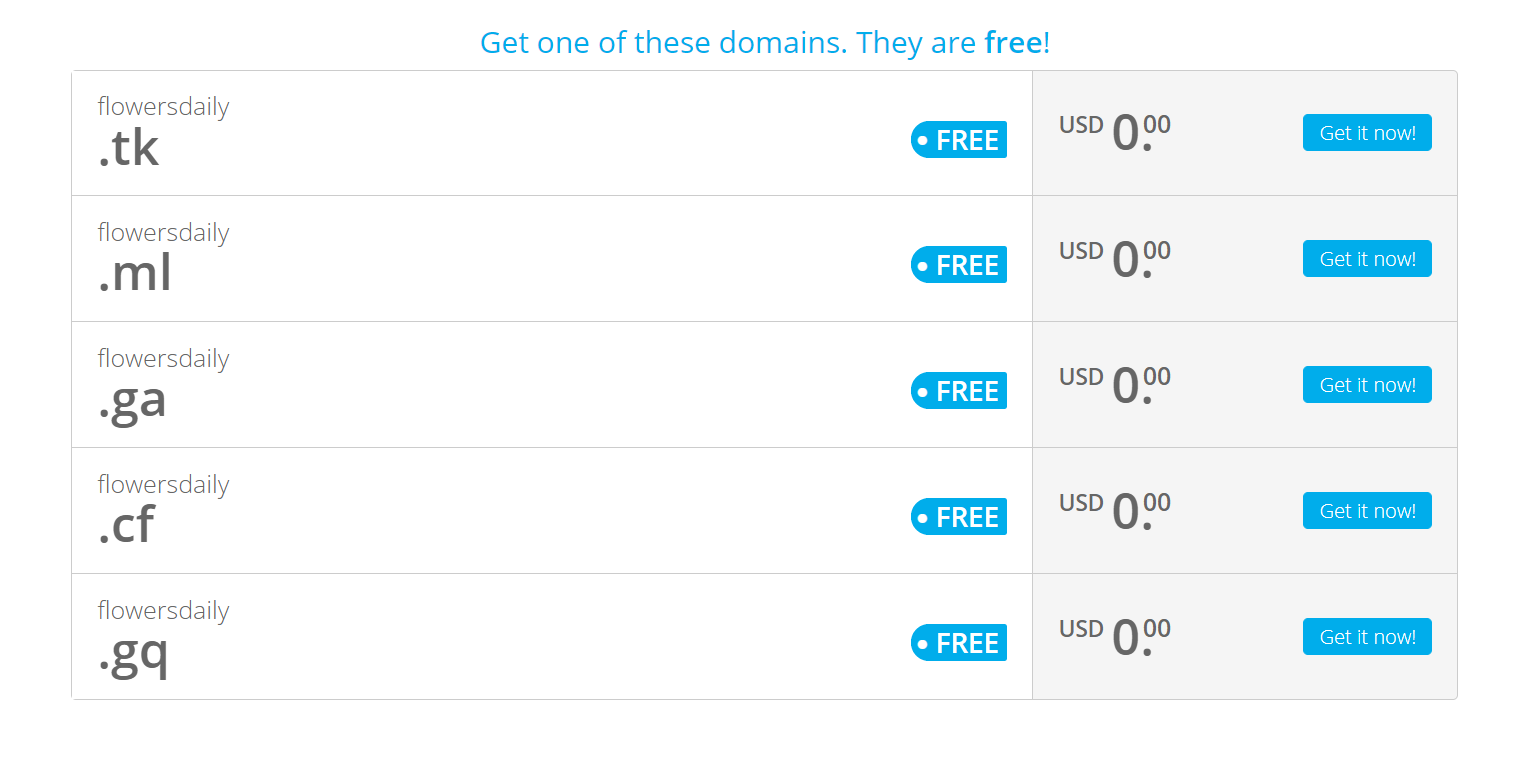 Freenom will provide you with a list of free and paid domains. The free domains don't get a .com or .net extension but you can find five different types of extensions for the free domain names i.e. .tk, .ml, .ga, .cf, .gq. Click on 'Get it Now' to check if the domain name you want is available!
Now, you must be thinking! Does it Matter which Domain Extension I'm using?
YES!
To a certain degree, it matters!
When you go to a website and see unexpected domain extensions like .xyz, then your first instinct is to probably just avoid it. I know, I do! A domain extension like .com or .net lets the visitors of your website to proceed with confidence.
Step 4: Checkout
If the domain name is available click 'Select' and then proceed towards 'Checkout'.
You will have an option to forward the domain or use DNS (Domain Name Service). Also, choose the time duration for which you want to register the domain name by selecting it from the dropdown menu under 'Period'.
Now, you may notice something confusing here too!
A 12-month registration for free and 1-year at $9.95?
That's confusing. But for the purpose of this tutorial, we'll just go ahead with the 12-month option.
Step 5: Create an Account
To create a new account, enter your email address and click 'Verify My Email Address' to continue to the next step. If you are already registered select 'Click here' to login and complete the domain registration to your existing account.
I got a Free Domain! That's it?
Hold up. There's a catch.
There's some details you need to take into consideration, as the same rules don't apply to free domains from Freenom as with other registrars.
In the upcoming sections, we'll take a look at the functionality, reliability, and different features of the Freenom domains.
Before we move further ahead, I'll discuss a little bit about domains, why we need domains, and how to choose the best domain name for yourself or your business.
Some of you may be new to the website domain and hosting area, and when you understand everything, then you can make a better decision.
If you're familiar with those, then simply skip the next three sections and go directly to the section about Freenom Performance and Reliability.
What is a Domain Name?
A domain name is the name of your website. A domain name is part of your URL (Uniform Resource Locator), which is basically the address of your website on the web.
URL: www.websitename.com
Domain name: websitename
Did you know?
Each website has a unique IP address
Like personal computers, websites also have an IP address, which is basically a numerical label assigned to address a device. For example, the IP address for Google is '216.58.214.4'. Try typing it in the search bar and it'll open Google's home page!
For human beings, IP addresses are difficult to remember. Therefore, we assign a domain name to a website in order to make it more humane.
Parts of a Domain Name
Domain names consist of two parts: the second-level domain (SLD) and the top-level domain (TLD). The second-level domain is the name of your website and a top-level domain is a domain extension. Everything that comes after the dot is the SLD.
Consider an example of google.com.
SLD (name of the website): Google
TLD (domain extension): .com
Why is a Domain Name Important?
The digital presence of your brand is almost as important as its physical presence. With the growth of eCommerce, digital presence has gained more importance than ever. A domain name is your brand identity online. It's important to make sure that it's simple and accessible.
It Represents your Brand Online
Your domain name is an opportunity to establish your brand online. A nice catchy domain name will stick with the user and increase brand recognition.
It's your First Impression
We all know the importance of first impressions. If the domain name is too long or difficult to read, then in the best-case scenarios, visitors will pay no attention to it. In a worst-case scenario, it can send the visitors running and we definitely don't want that!
It Increases Brand Recognition
A unique and memorable domain name can tell visitors infinitely more about your brand. Having relevant keywords in your domain name leaves a lasting impression and gives visitors a better understanding of your brand.
How to Choose the Best Domain Name?
Choosing a brand name is a critical part of establishing your brand online. We'll share a few suggestions to help you choose the right domain name.
Build a brand, not a website. A visitor remembers your brand through the domain name. Generic or keyword-rich domain names don't play any part in SEO anymore.
Make it Short and Catchy. It's more trusted and establishes a better rapport with the user.
The domain name should be easy to type, read, and pronounce. Don't try to sound smart, be smart!
Avoid using numbers and hyphens in the domain name.
Consider using a niche keyword but don't over-stuff your domain name with keywords. Keep your domain name natural.
Make sure to check if the trademark is already in use. You can check it at Justia Trademarks online.
Use the right TLD to establish brand authority.
If you're still unsure about the domain name then try a domain name generator. A few great domain name generators are, DomainHole, Wordoid, and Lean Domain Search.
Discussing Freenom Performance and Reliability
The performance and reliability of a domain are the most important things to consider. Unfortunately, Freenom is heavily criticized on social media and other platforms.
Let's see what the users have to say about Freenom.
My Personal Experience with Freenom
I've registered several free domains with Freenom and have been using those for the past two years. My experience was a mixture of good and bad. The domains worked well for me and I can tell you one thing for sure!
Freenom is not a scam.
About the criticism, to be honest, I've faced my fair share of issues with Freenom domains.
01. They are not at fault here, because this is in their ToS. About a year ago I registered a domain and used it only for email and it had no content on it, and I lost it. I also received an email about it.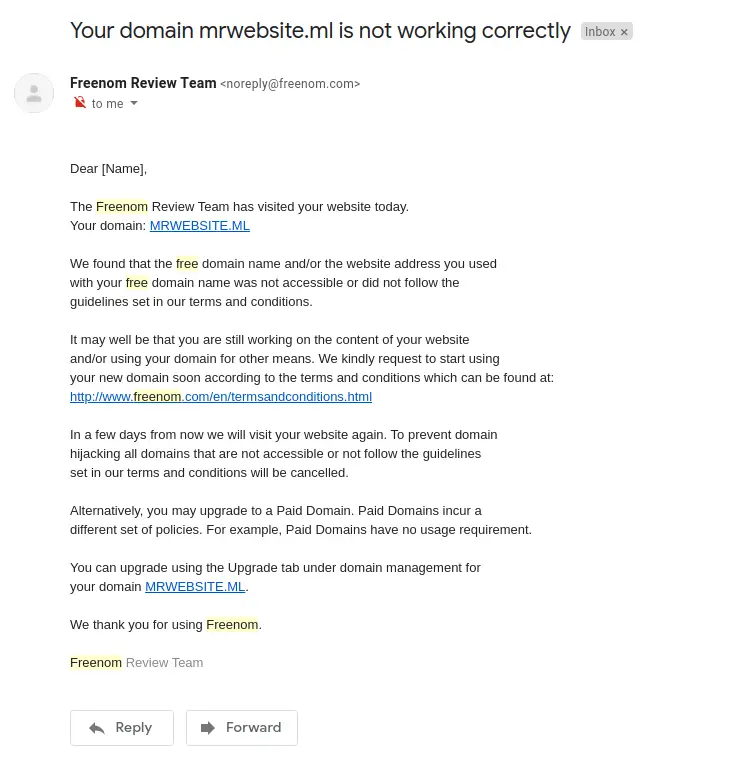 Basically, you lose the free domain if after a certain period of time there's no content on it. For example, instead of having content on a website using that domain, I used it as a custom domain email only, and they took the domain back.
02. The second time was about 1-2 months ago, from the time of writing, when I realized that one of my free domains isn't mine anymore. Unlike the other domain, I was using this one with proper content and all. It wasn't anything important, as I was just using it as a test domain for building websites.
Upon realizing that it wasn't working, I rushed to check my Freenom dashboard and it wasn't there either. I further tried registering the domain but guess what?
It was no longer free!
Even though it's a .ML domain, I must pay to get the domain back. I searched through my emails for anything from Freenom but received no email regarding the matter.
I've just checked now and it seems to be free again. I'm not sure how they manage these things but to be safe, you shouldn't risk using Freenom, unless you are willing to risk losing that domain without notice.
What do others have to Say about Freenom?
We checked the Facebook page for Freenom and Twitter for user reviews.
At Facebook, their ratings have gone down to 1.6/5 from 1.7/5 within a year. Their timeline is filled with negative reviews about their customer service. Many users reported that their domains were simply deleted or they were banned from accessing it without notice.

Twitter is no different.

But right afterward!


Freenom is hugely criticized for its performance and unreliable customer service. You can't rely on any such service provider with your business or blog.
So, what is Freenom good for?
Freenom is a good option if you're just trying out and experimenting. Simply set a throw-away domain (it's free, so that doesn't matter!) and it's cool even if you're locked out.
With the kind of services Freenom provides, I won't recommend using the free domain for permanent or long-term use. Although, paid domains are a different story.
Features and Services
Like other domain providers, Freenom doesn't offer tons of features that you'll probably get from web hosting providers. It's because they're charging you (or in this case, not charging you) for a relatively simpler service i.e. domain registration.
The basic functionality and features offered to the free and paid domains are the same. They can both use URL forwarding, free Freenom DNS service, or use their own DNS service.
No payments of any kind are required to register a free domain. For paid domains, the pricings start at $6.95 and Freenom accepts payments via Paypal, bank wire transfer, and credit card. Special domains are charged extra.
The top-level domains or domain extensions offered for the free domains are limited to ccTLDs (country code top-level domains), .TK, .ML, and .CF. With the paid domain, you can get all kinds of extensions, such as .com, .net, .org, etc.
Free domains must be renewed every 1-12 months whereas the paid domains need to be renewed every 1 to 10 years.
The free domain registrant (that is you) acts as a user of a domain instead of a licensee. The licensee of the domain name will be Freenom or one of its subsidiaries on WHOIS.
The licensee is the one who pays for the domain. It means that the domain stays theirs as long as they keep making the payments.
Now here's the reason why we saw so many angry reviews from the users.
A free user is not the licensee of a domain. They don't own the rights to the domain and it's written under Freenom's terms and conditions that you're subject to losing the domain!
This is not surprising as domain names aren't exactly free.
About the WHOIS features, it's kind of interesting how it works.
Did you know?
When you purchase a domain, it's registered in your name and shown as such in the public WHOIS database.
Now, this can be an issue. As practically anyone (who's interested) can look up your domain. That's a security risk and many people try to avoid it.
The real identities of Freenom's free domain users are already hidden in the WHOIS database. If you're a paid user, then there's a (free) feature included in the paid domain plan called ID shield, that enables you to shield your identity in the WHOIS database.

In my opinion, as long as you understand what you're getting inot, you're good to go!
Security
After reading so many bad reviews, you must be thinking that Freenom's security is just as bad! But that's not the case. I haven't seen any security issues reported about a freenom domain.
Officially the company officially states that they use state-of-the-art anti-abuse technology to keep the domains safe.

They also mentioned that .TK is one of the most secure extensions in the world. That's probably because there aren't many people targeting it in the first place!
Rest assured that Freenom is hardly criticized for security. It's rather the lack of support and stealing domains that cause issues.
Advantages of Freenom
Freenom is not all bad nor good. Let's explore the good side of Freenom.
Five domain extensions are available with the free domains i.e. .TK, .ML, .GA, .CF, and .GQ.
Free domains work like any other domain with URL forwarding, free Freenom DNS service, and your own DNS server.
Registered free domain names can be renewed unlimited times and for free.
You don't need to make any kind of payments! You won't even need to enter your credit card details.
Disadvantages of Freenom
Let's take a look at the downsides of using Freenom's free domain service.
Some domain names are considered special and cannot be registered for free. For example, all 1,2, and 3 character domains along with common dictionary keywords are considered special.
The registrant (you) acts as a user of the domain name, not as a licensee.
You don't own transfer rights to the domain name.
Registered free domain names must be renewed every 1-12 months (for free).
The customer support offered by Freenom doesn't (seem to) exist!
So, what are some Alternatives?
There are two alternative approaches to getting a free domain:
Free domain with paid hosting
Many web hosting providers offer a free domain when you sign up for their hosting plan. In this case, the domain is not exactly free but it's worth mentioning as it's one of the most popular domain and hosting solutions.
Basically, you pay for the hosting and keep the domain name for free.
An advantage of using this method is that you can get .com or .org domain extensions.
Free subdomain
Website builders like Wix and Zoho offer free subdomains.
Basically, when you use the website builder to create your website, you don't have to pay anything for a domain.
But there's a catch here!
Your website's subdomain will look something like this: username.wixsite.com/websiteaddress
Using a subdomain is not ideal either. It's a good option if you're just trying out something new but not for setting up your brand.
Takeaways
We started off with painting Freenom in a pretty bad light, but later on, it wasn't so bad.
Never set up a website with Freenom that you can't afford to lose (because you probably will!)
Now, Freenom is not exactly a reputable service provider. So, if you're buying their paid domains and the price difference is not big then use a reputable service instead. As we know (from the reviews) that their customer service stinks at best!
All in all, it's not a great service for a long-term important website but if you're just trying out something new, then I say, go for it!
In the end, what's important is that you're making an informed choice!