Stable Diffusion by Stability.ai is one of the best AI text-to-image generation software, as of writing this article. A few notable things about Stable Diffusion:
It generates high quality, coherent, and beautiful images based very fast, with much less resources than other image generation software.
The team behind it seems to be extremely open and transparent. They seem to aim to give power to the people.
Even if Stable Diffusion is also paid, they have made it available to the public, and we can use it via Hugging Face Spaces and we can also use Stable Diffusion from Hugging Face via Google Colab, which is free, and is the method which we'll be using.
Other very similar software include Dall-E 2, MidJourney and Disco Diffusion (which we also covered in a separate tutorial)
In this tutorial we'll get started with Stable Diffusion on Google Colab.
We won't dive into further details, and we just want to generate our first image
. Hopefully this will give you the confidence to start with image generation using Google Colab.
You don't have to know anything about programming to follow this tutorial. We'll simply run some code, observe the results and try to understand what's going on.
We recommend you also check out our newer tutorial on a variant of Stable Diffusion with a web user interface. It's easier to use, still uses Google Colab for free, and has many more features available.
Google Colab
is, in very simple terms, a cloud-based coding environment. The user does not have to worry about setting up any infrastructure, and the code is executed on the Google's servers.
Google Colab might seem intimidating at first, but it's really quite easy to use. You can run each block of code in Colab by clicking on it, and then hitting the "play" button on the left side. We don't have to understand what it means.

Here's a quick demo to see how fast and effortlessly you can generate images using Stable Diffusion in Google Colab:
Getting Started with Stable Diffusion (on Google Colab)
We'll start with a quick demo of running Stable Diffusion on Google Colab from start to finish, until we generate our first images.
Quick Video Demo – Start to First Image
The video also has timestamps to help you better understand the steps taken. Hopefully it gives you an overview of what we're about to do.
Step 1: Create an Account on Hugging Face
We'll download Stable Diffusion from Hugging Face. For this we need an account with them. Hugging Face is, in simple terms, a repository for working with different models, similar to Stable Diffusion, other than that it has many useful functionalities. A model is basically like a computer program that can learn to do things on its own.
The process is very straightforward. Just visit https://huggingface.co/join and create an account like you'd normally do, and check your email to confirm it.
Step 2: Copy the Stable Diffusion Colab Notebook into Your Google Drive
Next, just like with any Google Doc written by someone else that we need to edit, first visit the Stable Diffusion Google Colab (https://colab.research.google.com/github/huggingface/notebooks/blob/main/diffusers/stable_diffusion.ipynb) and go to File > Save a copy in Drive.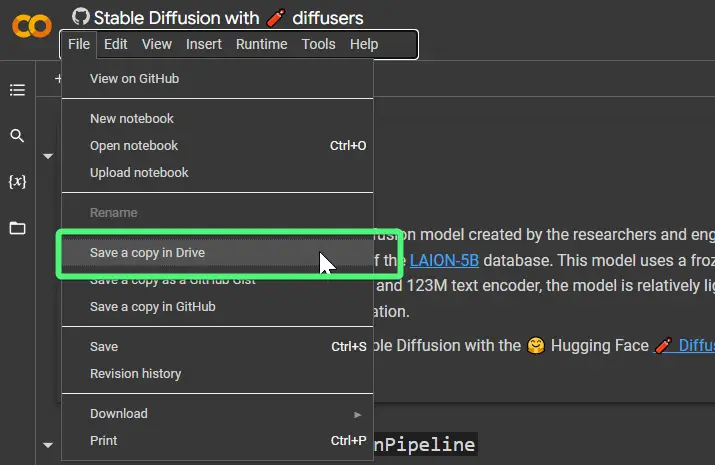 A new tab should open with the notebook saved to your drive. Only now it's named Copy of Stable Diffusion with 🧨 diffusers. You can rename anything you want.
Step 3: Make Sure You're Using GPU
To run Stable Diffusion we'll need to make sure our Google Colab is using a GPU. To do this, in the menu go to Runtime > Change runtime type.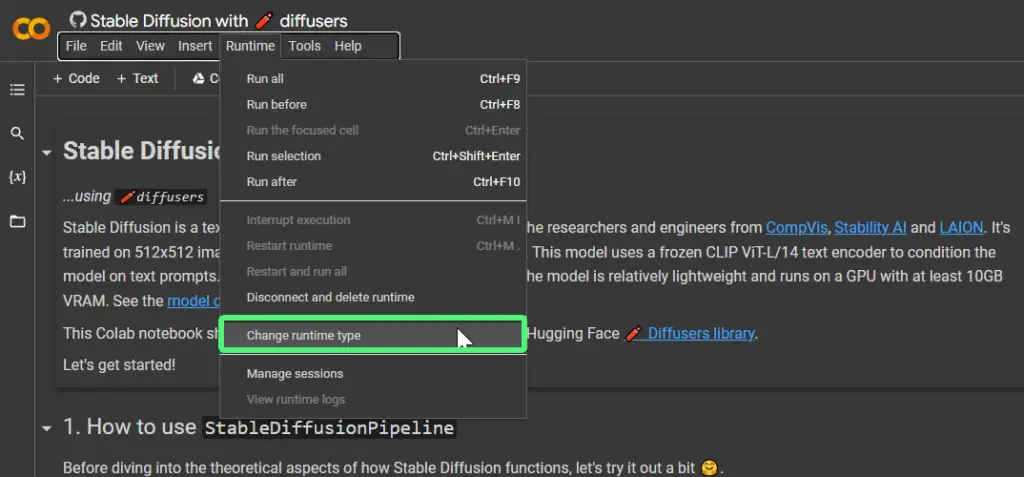 A small window will appear with a dropdown under Hardware accelerator. We want to see GPU there.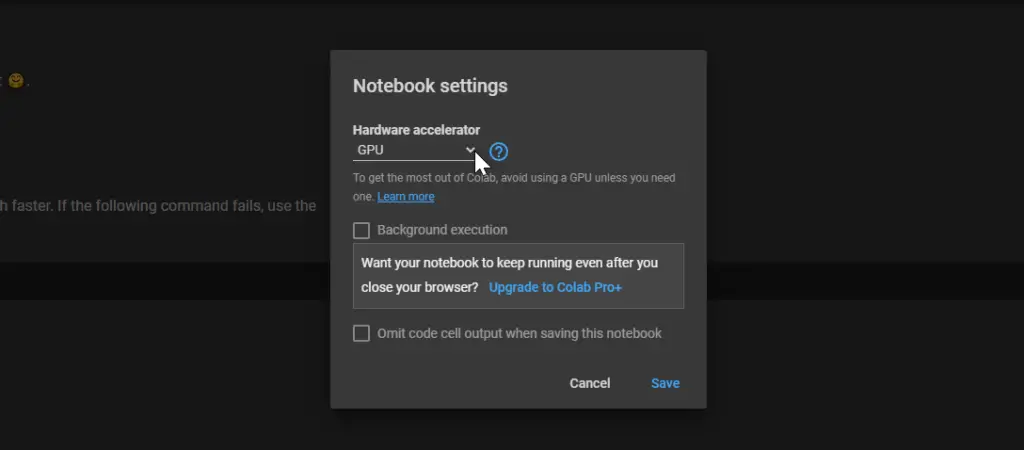 Click save, and we can move on.
Step 4: Run The First Cells
Now we can run the first cells in the Stable Diffusion colab. Just hover with your mouse on the every one of them, and a play button will appear. Just click it and wait for it to finish. It will display a green checkmark when a cell is done.
You can see that each cell has a description above it of what it does.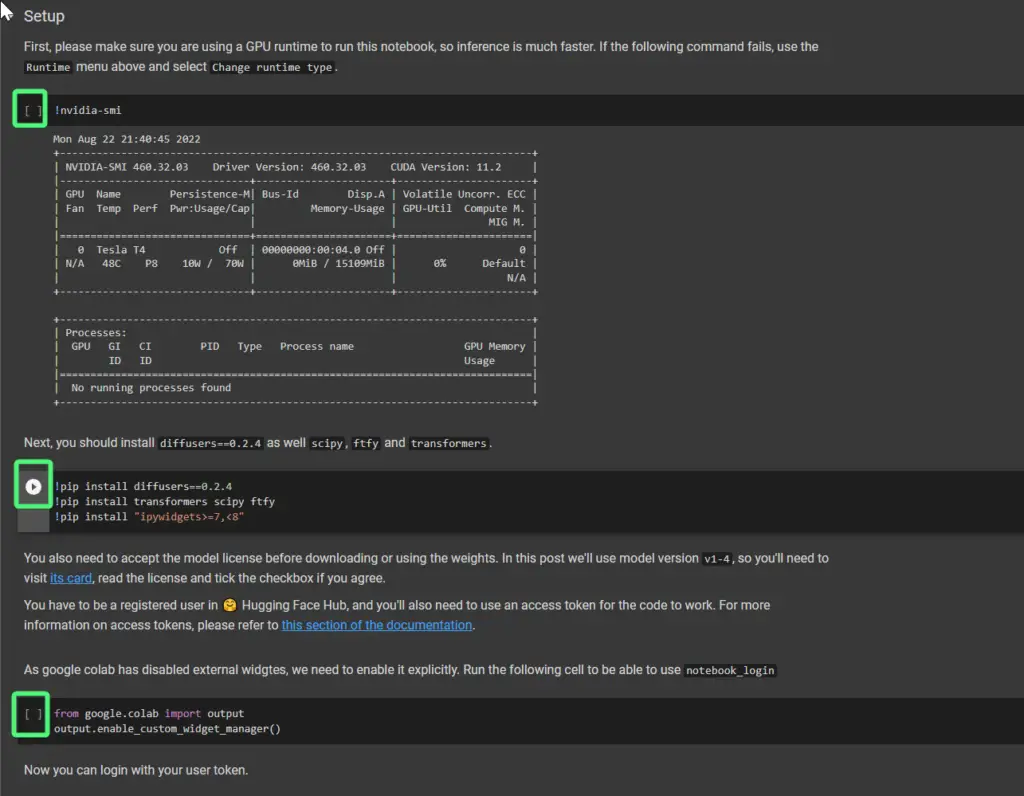 If something like "this notebook requires high ram" appears, just click ok.
Step 5: Connect to Hugging Face
Run the fourth cell. You'll see something like this:

This means we need to authenticate with Hugging Face. In that field we need to input a token, which is like a password. To do this click the link where it says your Hugging Face tokens page, which takes you to https://huggingface.co/settings/tokens.
Assuming that you created an account, as we covered earlier, you should either be able to log in or already be logged in.
Click on New token and you should see a window like the following. Give it a name (it's just for reference, use any name you want), and set the Role to write. Click Generate a token.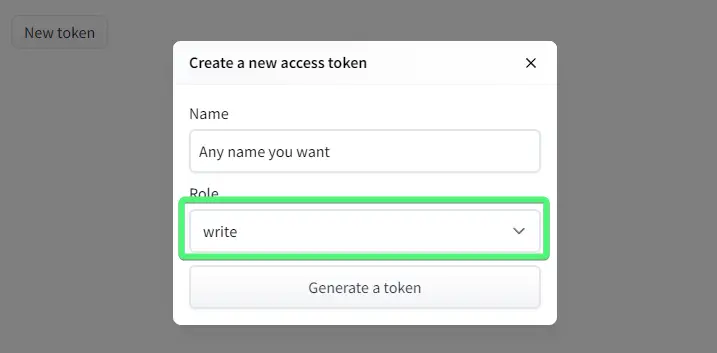 Now your token should be created.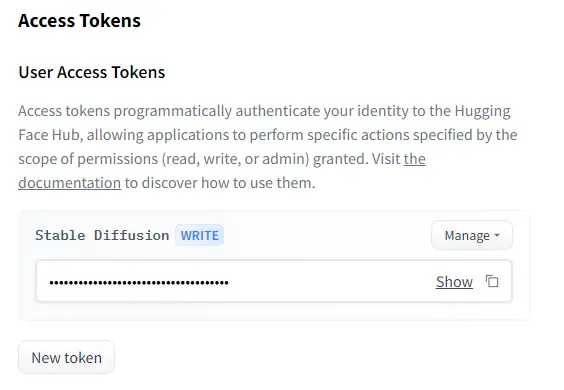 Hugging Face Token CreatedJust click the icon near Show to copy it, and we'll go back to our Google Colab to paste it.
After you pasted it into the token field and click Login. After a few seconds you'll see something like this. Ignore the red text, if you're seeing that then everything looks good.

Step 6: Request Access to Hugging Face Stable Diffusion Repository
We'll need to agree to some terms to access Stable Diffusion. By this we're agreeing to share our email and username (that we used for Hugging Face) with the authors of Stable Diffusion.
To do this go to https://huggingface.co/CompVis/stable-diffusion-v-1-4-original, scroll down a little, click the checkmark to accept the terms and click Access repository to gain access.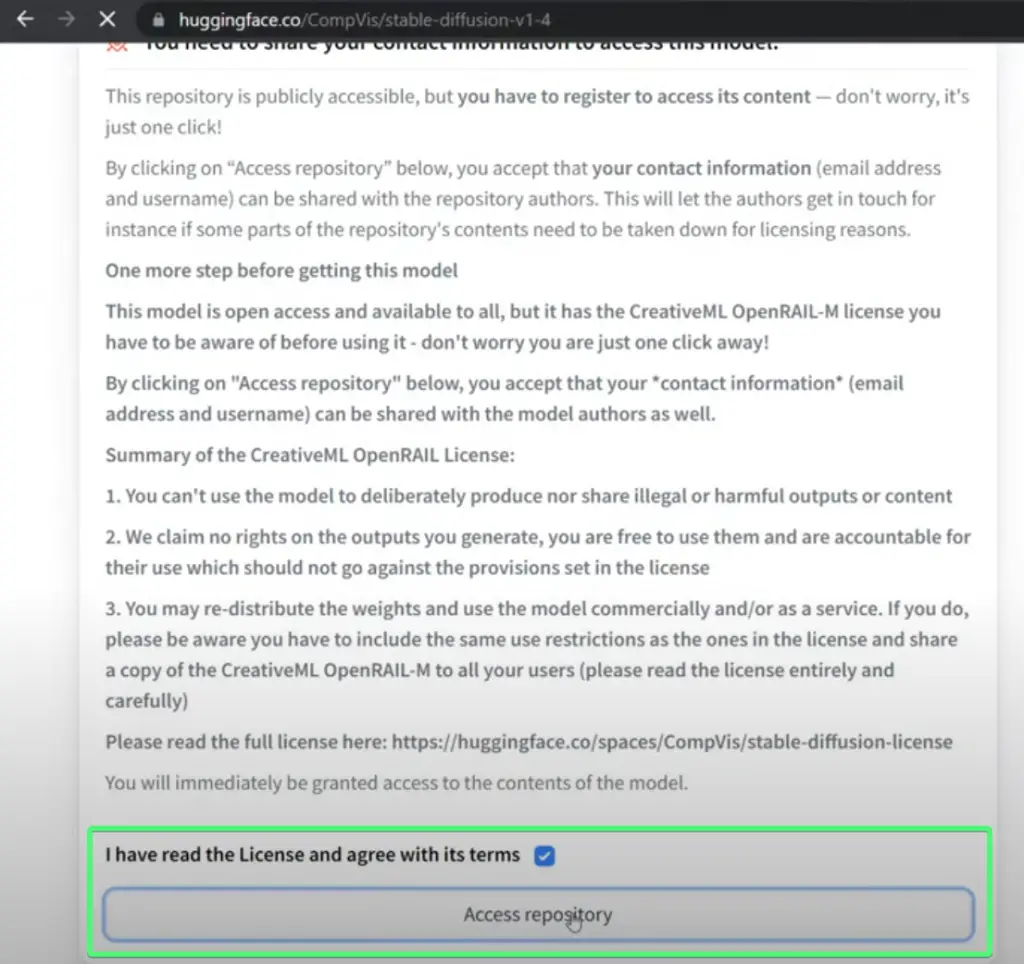 Now we should be good to go.
Step 7: Run the Fifth Cell to Download Required Files
Next we'll run the fifth cell, under Stable Diffusion Pipeline, that will download some the necessary components.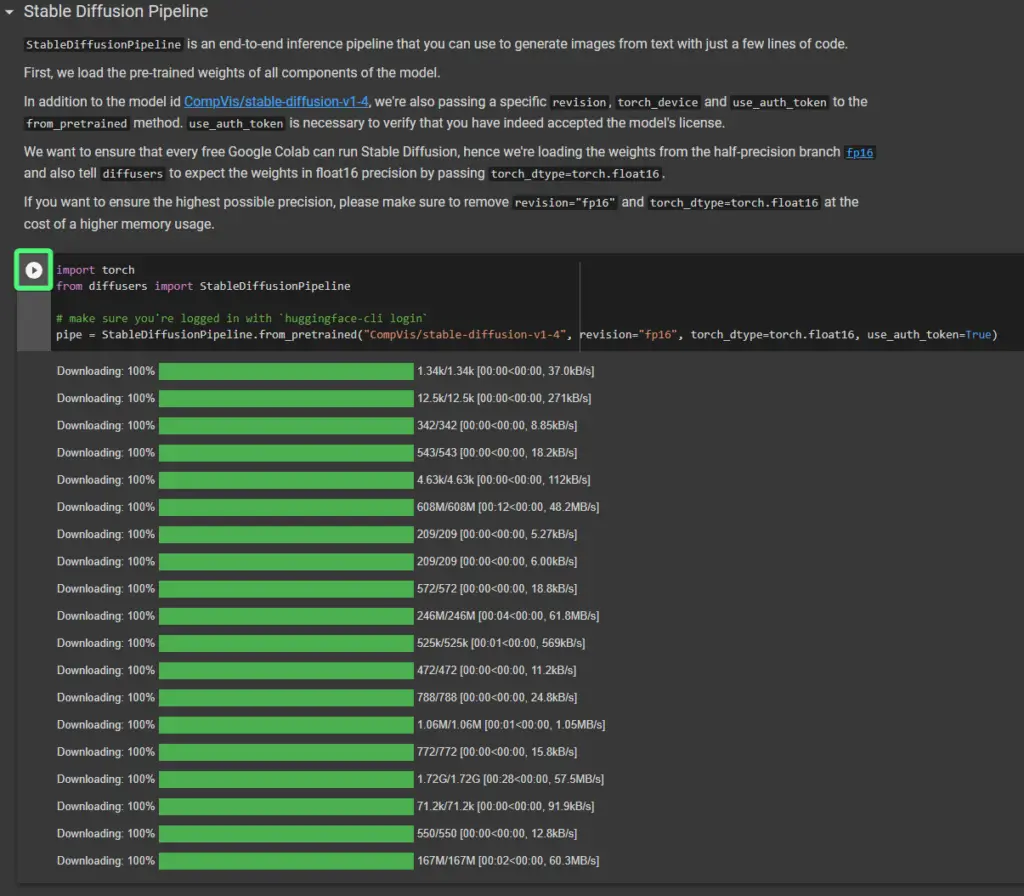 Also run the next cell, that says pipe = pipe.to("cuda"):

Step 8: Generate Our First Image
Well done. Now we can generate our first image.
In the next cell, where you're probably already seeing an image under it, is where we generate our first image.
Just write a text in the quotes, that you want turned into an image, and run the cell.
In the following example I wrote a protoss cityscape with advanced technology, inspired by the game starcraft, making heavy use of light and shadow to create a sense of mystery and foreboding. the city sprawling below is a mix of organic and inorganic, with swirling energy currents and strange crystalline structures, illustrated in a realistic and detailed style by wei wang, artstation.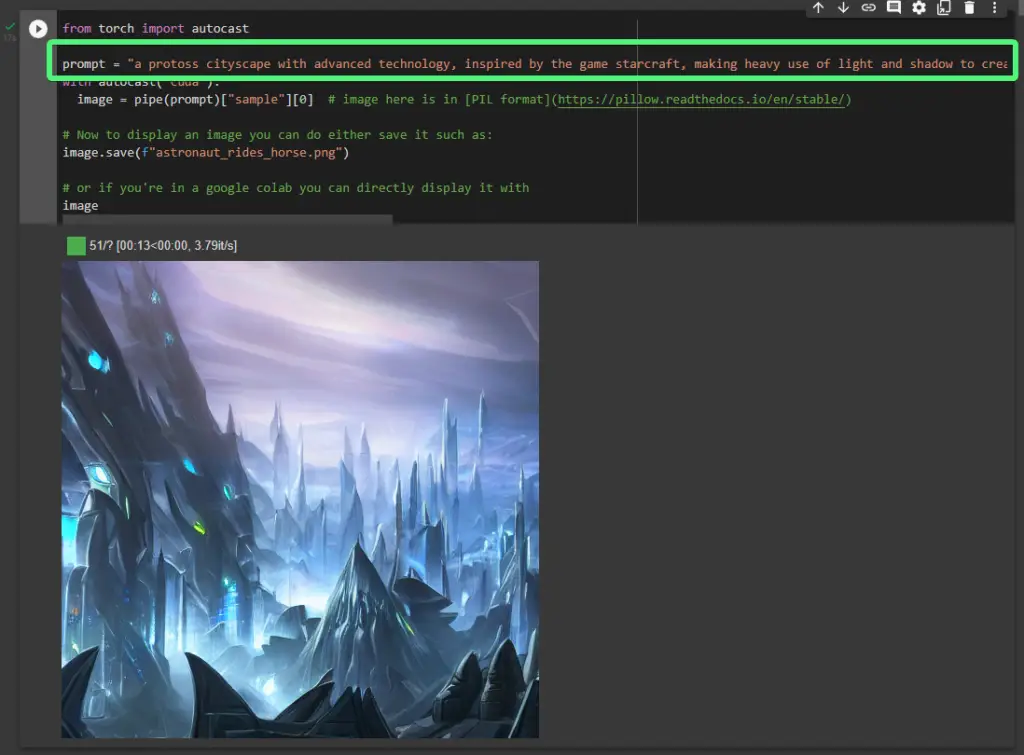 Well done! That image generation should have taken under a minute.
Generate Multiple Images at a Time
In the initial demo video you'll see we're also generating 3 images at a time. To do this scroll a bit further and you'll see the following cells.
Just run the one that starts with from PIL import Image and in the following one edit the text in ["blah blah"] and run it.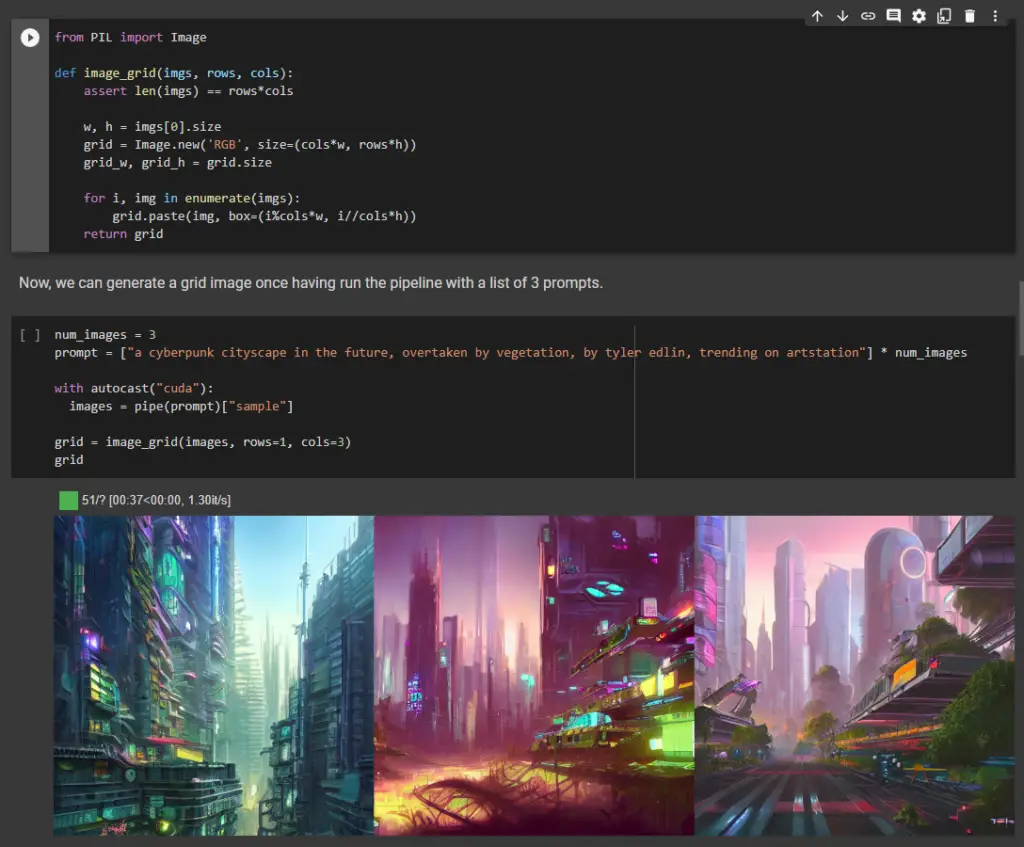 Troubleshooting
HTTPError: 403 Client Error: Forbidden for url
You get the error:
HTTPError: 403 Client Error: Forbidden for url: https://huggingface.co/api/models/CompVis/stable-diffusion-v1-4/revision/fp16
This error happens when you try to download the models from Hugging Face, but did not agree to the terms. To fix this just follow Step 6, where we agree to the terms and request access to the repository.
Conclusion
Congratulations! Hopefully this guide got you to generate your first image using Stable Diffusion from Hugging Face on Google Colab. From here you can explore the other instructions in the Google Colab notebook. Our purpose here was to just get you up and running to get through that initial barrier.
If you encountered any issues or have any questions feel free to leave a comment and we'll get back to you as soon as we can.