12.09.2023 Update:
You're in for a treat from September 7 to September 13, 2023. During this limited time, Samsung offers a fantastic deal for those interested in their Odyssey Neo G9 57″ monitor on the Samsung Online Store.
Preorder Member Deal
Customers can register their interest in the Odyssey Neo G9 57″ monitor to kick things off. What's great is that this registration comes with the opportunity to place a preorder for this impressive piece of tech. But here's where it gets even better!
As a special bonus for registering your interest and preordering the Odyssey Neo G9 57″, you'll receive not one but three amazing freebies worth a total of $1,395 (for top-tier members). Let's take a closer look at what's up for grabs:
32″ Smart Monitor M7 (Valued at $848): Imagine having a second monitor to enhance your productivity or enjoy your favorite content on a larger screen. This Smart Monitor M7, valued at $848, can be yours for free! Whether working from home or relaxing with a movie night, it's a versatile addition to your tech setup.
Also, the inclusion of another monitor may come across as a surprise (considering you're buying such a big one already and something else of similar value, say, an entry level GalaxyBook, could be a better fit). However, nevertheless, it still is a great monitor for a freebie!
Samsung Portable SSD T7 Shield 4TB (Valued at $488): Need extra storage space for your files, games, or multimedia projects? The Samsung Portable SSD T7 Shield 4TB, valued at $488, answers your storage needs. It's not just any storage device; it's one of Samsung's more premium offerings. It comes with a USB 3.2 Gen 2 connector offering speeds up to 1050MB/s (pretty fast for an SSD this immense), rugged durability as it's IP65-rated water dust resistant, and up to 3-meter drop resistance. It's portable, secure, and super-fast.
Compatibility with T7 Shield, however, may vary depending on the host device. Some operating systems may require T7 Shield reformatting, but other than that, you should be OK with simple plug-and-play.
JBL Headset (Valued at $59): Are you a Samsung Member? If so, you're in for an extra treat! Samsung Members who register their interest and preorder the Odyssey Neo G9 57″ will also receive a complimentary JBL Headset worth $59. This headset is perfect for immersive gaming sessions, listening to music, or taking calls with crystal-clear audio. Note that regular members are exempt from this offer and would only be able to avail of the other two offers.
To get this offer, you can register for Samsung Smart Club or Samsung Pro membership (note that naming convention may vary depending on region, but Samsung's elite membership exists for all major regions), which comes in 3 tiers to get you started.
The headsets are high quality and, overall, pretty excellent, but only justify the price for signing up for a membership if you are a member already. Our recommendation to non-members would be to pass on that offer.
Preorder Links
The Odyssey Neo G9 57" does not have pre-orders listed yet for the US on the official Samsung Store. The price is set at $2,499.99 in the US, €2 499,00 in the EU, and  £2,199.00 in the UK. For the other following regions, you can visit the following links to pre-register:
UK: 57 Inch Odyssey Neo G9 Monitor for Gaming | Samsung UK
Australia: 57″ Odyssey Neo G95NC Curved QLED DUHD Gaming Monitor | Samsung Australia
France: Odyssey Neo G9 57" – LS57CG952NUXEN | Samsung France
Germany: 2023 G95NC 57 Zoll Odyssey Neo G9 Gaming Monitor | Samsung Deutschland
Romania: 57″ Monitor de Gaming Odyssey Neo G9 cu 240Hz Refresh Rate | Samsung România
Singapore: Odyssey Neo G9 57 inch Dual UHD Curved Gaming Monitor (240Hz) Pre-Register | Samsung Singapore
You can pre-order the Samsung Odyssey Neo G9 57" starting 23rd August. The price is set at $2,499.99 in the US and £2,199.00 in the UK.
The Elephant in the Room: The Neo G9 57"
Samsung's been Pushing the Competition a Lot 'Wider' lately.
CES 2023 was a blast. A lot of things came to the fore this time around, but nothing quite caught the eye like the way Samsung's newest offering, The Odyssey Neo G9 did. Unlike the competition, Samsung has been pushing the limits and is fearless in trying out new things. Its latest offering is a behemoth, 57-inch-wide monitor! It won the 'Best of Innovation' award at CES 2023 (rightly deserved), among a slew of other awards.
Samsung has given us a closer look at their incredible new thing, the 57-inch Odyssey Neo G9 gaming monitor currently at display Gamescom 2023. It's an upgrade from the previous Neo G9, but it's bringing in an era of massive mainstream monitors. To say the least, it is nothing short of an absolutely overpowered product.
The impressive thing is how clear the pictures are. As Samsung calls it, we're looking at the world's first Dual UHD (or D-UHD) panel here with a resolution of 7680×2160 with an aspect ratio of 32:9. It's like having two 4K screens next to each other, so everything looks super sharp and detailed. This makes it the top-tier experience for playing games and watching movies because it feels like you're right there in the action.
The monitor also has the stamp of VESA Display HDR 1000. The contrast ratio on this thing is something so good you can't describe it unless you're looking directly at it. The colors on the screen look super realistic, and the pictures come to life, thanks to a contrast ratio of 1 million:1. It's like the screen knows how to make things look their best.
There are over 2000 dimming zones, 2048 precisely, on the screen. That amounts to roughly over a thousand individual dimming zones per each 4K screen segment! Sure, OLED is superior, but Samsung's done a pretty solid job on this one. The variability of brightness is apparent and appealing to the eyes, and pictures need to look more balanced.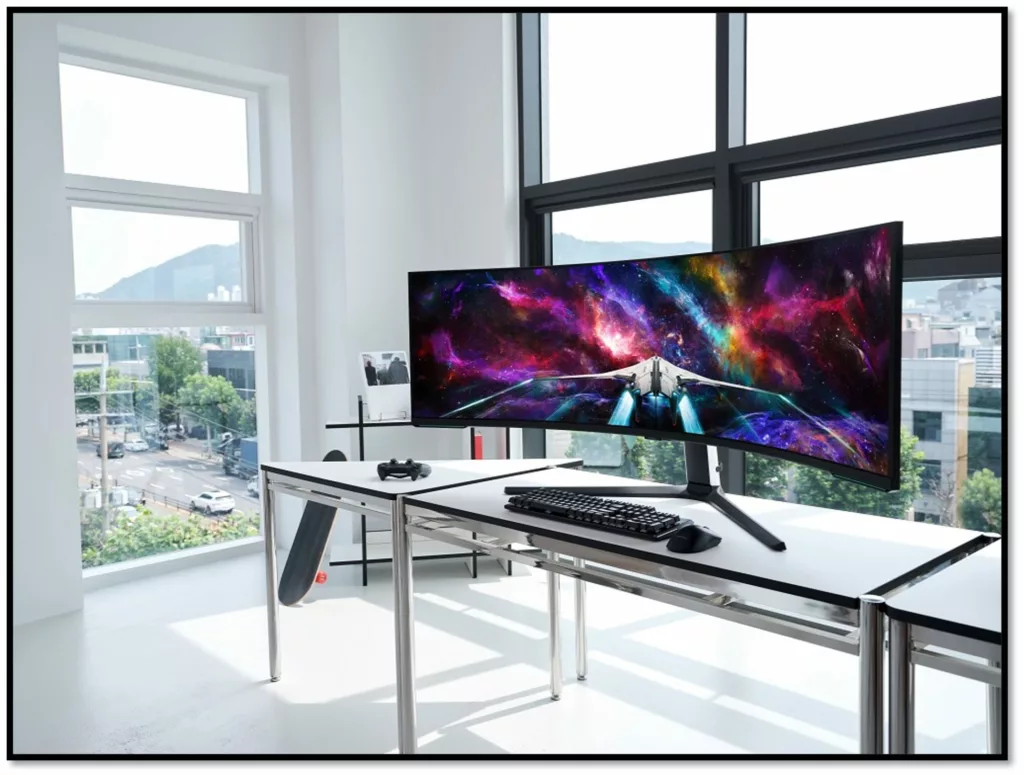 Talking about the shape, this monitor has a 1000R curvature, spanning the length of a human eye's field of view. You can basically look at the entirety of the screen without having to move your head, and vision feels natural.
The construction is very similar to last year's model, except for the fact that it now has a more extended stand, possibly to accommodate the significantly more prominent display. The design is so good already that there's little room for improvement left here. The build is solid, and the bezels are thin but just the right amount to give it that nice heft. Then there's Samsung's unique CoreSync lighting around both the lower corners and the back, which substantially enhances immersion. The unit stands firm on the stand and doesn't wiggle too much if you move it.
Clearly, this monitor has a lot going for it. The previous Gen was a standout product for Samsung. Let us have a look over the specs for the new Odyssey Neo G9 57
Going Over the Specifications
The Neo G9 57″ boasts a strong profile and, as such, comes with some excellent specs. The specs we do have a hold of at the moment are listed below:
| | |
| --- | --- |
| Size | 57 Inches |
| Resolution | 7680 x 2160 (Dual UHD) |
| Pixel density | 140PPI |
| Contrast ratio | 1 million:1 (1,000,000:1) |
| Display technology | Mini LED, VA Panel |
| Curve | 1000R |
| DisplayPort version | DisplayPort 2.1 |
| HDMI version | HDMI 2.1 |
| Refresh rate | 240Hz |
| Response Time (Gray To Gray ) | 1ms |
| HDR Support | VESA DisplayHDRTM1000 |
| Aspect Ratio | 32:9 |
| Peak Brightness | 1000 nits |
| Samsung Gaming Hub Support | Yes |
| Smart Hub | Yes |
| FreeSync | FreeSync Premium Pro |
| Flicker Free | Yes |
| Picture-In-Picture | Yes |
| Picture-By-Picture | Yes |
| Speakers | No |
| Eye Saver Mode | Yes |
| Off Timer Plus | Yes |
| Refresh Rate Optimizer | Yes |
| Auto Source Switch+ | Yes |
| Off Timer Plus | Yes |
| Core Lighting+ | Yes |
The lack of an OLED panel is something a lot of people might not appreciate, given the hefty price tag, but it's worth noting that this is an enormous screen, and Samsung's got to keep it accessible to the public.
The slew of IO ports you get with the monitor are:
1x DisplayPort 2.1,
1x HDMI IN (120Hz),
1x HDMI 2.1,
2x USB 3.0,
1x 3.5mm audio jack
The old Samsung Neo G9 Odyssey monitor had several ports for connectivity. It had 2 HDMI 2.1 ports, 1 DisplayPort 1.4, 2 USB Type-A ports, 1 USB Type-B port, and a 3.5mm audio jack
That's not all, though. Samsung has also brought the Odyssey OLED 49″ monitor to the lineup as well before the Neo G9. While a little smaller, there's a very distinctive and decisive advantage if you choose to go with it, which is the use of an OLED panel for the screen itself.
While there's a lot of competition for the Neo G9 from other manufacturers, Have a look at how the Neo G9 57" compares to its in-house competitor, the OLED G9 49".
Comparing The Neo G9 57" to OLED G9 49"
The OLED G9 49" was the latest addition in the market just before Neo G9 57". Its quantum dot technology OLED lighting is far superior to any other tech we have out there.
Keeping the size aside, the naming convention can get quite confusing because both of these are Odyssey G9s. If it's got Neo in the name, it's most likely a mini-LED monitor. If it doesn't, and it's got OLED in the title, it's a Samsung OLED panel. If you want to know more about how exactly mini-LEDs differ from OLEDs, check out the FAQ section below.
Here's a comparison table to quickly summarise the differences between the 49″ OLED and the 57" mini-LED version:
| | | |
| --- | --- | --- |
| Feature | Samsung Odyssey Neo G9 57 inch    | Samsung Odyssey G9 OLED 49 inch |
| Size | 57 inches | 49 inches |
| Resolution | 7680×2160 (Dual UHD) | 5120×1440 (Dual QHD) |
| Aspect Ratio | 32:9 | 32:9 |
| Pixel Density | 140 PPI | 110 PPI |
| Display Technology | Quantum Mini-LED | OLED |
| Contrast Ratio | 1,000,000:1 | 1,000,000:1 |
| Peak Brightness | 1000 nits | 2000 nits |
| HDR Support | VESA DisplayHDRTM 1000 | VESA DisplayHDRTM True Black 400 |
| Refresh Rate | 240Hz | 240Hz |
| Response Time (GTG) | 1ms | 0.03ms |
| DisplayPort Version | DisplayPort 2.1 | DisplayPort 1.4 |
| HDMI version | HDMI 2.1 | HDMI 2.1 |
| Screen Curvature | 1000R | 1800R |
| Smart Hub | Yes | Yes |
One big problem with the Odyssey G9 OLED 49" version is the curvature. It's just 1800R, which is pretty tiny for the size. You would have to move your head to cover the whole screen. The Neo G9 57″ wraps much more comfortably around your field of view, offering a substantially better experience.
The only real downside of the OLED 49" version here is the pixel density. Given the massive size of the panel, a meager 109-110PPI would leave graphic designers and enthusiasts wanting a little more. To the average user, though, this would be fine.
What will matter, though, is the resolution. Yes, the OLED G9 still is a 1440p panel. A lot of people need the hardware to push frames that high at 4K, and it is virtually impossible for AAA games at the moment to max out the NEO G9, even on top-tier hardware.
It's a bit of give and take here. There's a little relief considering 1440p will churn out much higher frames, and people looking for high performance would love the display for its crazy fast response times (going as low as 0.03ms in specific testing scenarios and a standard 0.1ms at all times) and the 240Hz refresh rate.
But at the same time, 4K is the future, and that extra money you may spend here would future-proof your display for at least half a decade. Sooner or later, AAA games with DLSS, FSR, or XeSS upscaling would run fast enough to get really close to the 240Hz cap, and anything less demanding would shoot past the limit quickly.
So, if you're looking for the deciding factor, it ultimately comes down to the size you can accommodate, the budget, and the panel type.
FAQs
How is Samsung's Quantum mini-LED tech different from Quantum Dot OLED?
Samsung's OLED technology is a self-luminous display that uses organic materials that emit light when current flows through them. Unlike LCD displays, which express colors through liquid crystals and color filters utilizing light sources of backlight, OLED expresses colors through RGB light-emitting materials, which are the three primary colors of light that respond to current applied to the organic light-emitting layer.
Mini LED screen technology brings better contrast and darker blacks compared to standard LCD panels with regular LEDs. Mini-LED diodes are tinier than 0.2 mm.
Think of mini-LED as an upgraded version of the old-school LCD screens that used local dimming zones. There are a bunch more mini-LEDs in new screens than in the older ones. Because they're small and many, they can control the light behind the screen better, which makes the pictures on the screen look even better.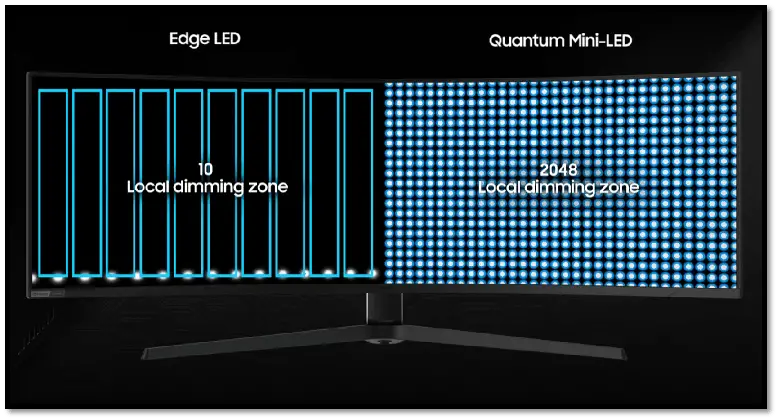 How much desk space does it need?
Considering the size of this screen, you'd need a massive desk to accommodate around 60 inches of width space for the set. Make sure you measure your workspace beforehand to avoid problems because the total weight of the set with the stand is roughly 16-17 Kg, which would be a lot of work to move around.
Is it worth it over a 4K dual monitor setup?
Deciding whether to get a single ultrawide or dual 4K is preferential. If you require flexibility and are okay with bezels separating the view, you can choose to go with a dual monitor setup. But if you're looking for a clutter-free desk, a premium seamless viewing experience, and you have the space for it, then definitely an ultrawide will serve your needs better.
Also, the Neo G9 can act as two individual screens thanks to a Built-in solution, so it really boils down to budget and flexibility.
When is it available for purchase?
Pre-orders begin for the Neo G9 57'' from 23rd August 2023.
It will be available for purchase starting in October 2023.
How much will it cost?
The pre-order price is $2,499.99 in the US, £2,199.00 in the UK, €2 499,00 in the EU.
Will it be available to purchase offline?
Initially, the only way to purchase it was through Samsung's official online store and mainstream marketplaces like Amazon. Offline availability is still unknown at the time of writing.
Wrapping Up
The Samsung Odyssey Neo G9 57" is an absolute banger, building upon the roots of its predecessor. While it's an upgrade, it brings new tech mainstream. DisplayPort 2.1 is going to drive AMD card sales up, and the sheer size of the screen itself is a huge plus point for gaming enthusiasts. The previous-gen Neo G9 has been a testament to how much Samsung cares for build quality, and the 2023 edition makes the best even better.
The hefty price tag is justified by the level of quality Samsung delivers with this monitor. The previous generations were a success, with very few people reporting issues. We're still looking out whether that remains the same, but for now, this is one of the best monitors in the market money can buy.