The UGREEN Nexode 45W Dual USB-C GaN Charger is a compact and lightweight charger that is designed to quickly and efficiently charge your USB-C devices.
It's great for anyone looking for a small and portable charger that can handle two devices at the same time.
You can fast charge two iPhones simultaneously, or super fast charge your Samsung Galaxy S22 Ultra.
Its' sleek and aesthetic design is perfect for those who want a minimalistic and modern-looking charger. It has retractable prongs, which make it even more compact and easy to transport.
It has a fast charging output of 25W+20W, and smartly distributes power output – when used individually, each port delivers a max output of 45W, and when used simultaneously, it delivers 25W+20W or 20W+25W.
Compatible devices include smaller devices, such as tablets (such as iPads), notebooks (such as MacBooks), phones, AirPods, Nintendo Switch, and more.
For me, the only downside is that I'm in Europe, and the charger features a USA plug. You can use a USA-to-EU adapter as I do; however, this adds a requirement for an extra item to carry around.
In this article we'll review the Nexode 45W Dual USB-C GaN Charger from UGREEN.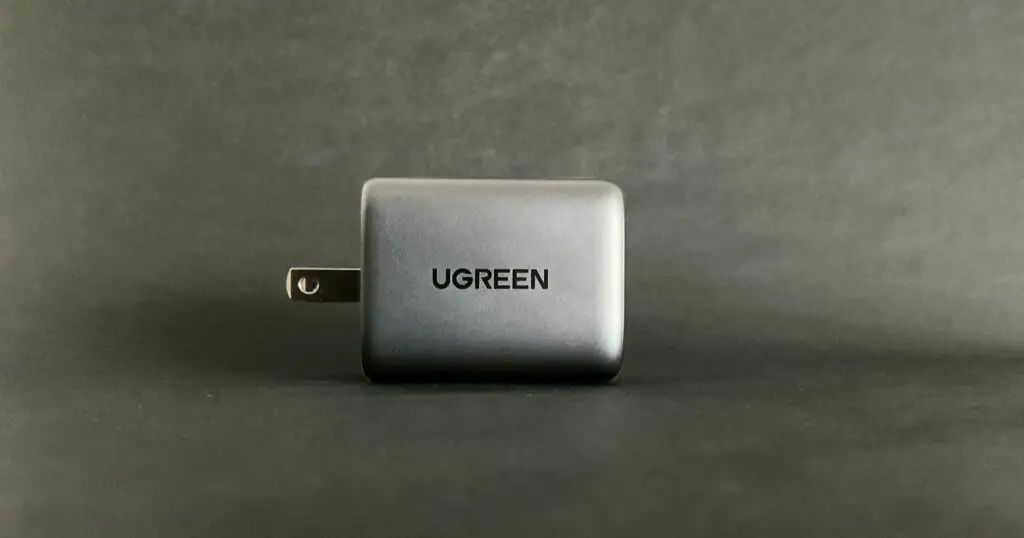 What is a GaN Charger
As devices like smartphones and tablets become more powerful, they require more and more power to function properly. This has led to the development of new charging technologies, like gallium nitride (GaN) chargers.
A GaN (Gallium nitride) charger is a power charger for devices like laptops, cell phones and tablets that uses gallium nitride as the semiconductor material. GaN chargers are more efficient than traditional chargers, meaning they generate less heat and can charge devices faster.
They are also smaller and lighter than traditional chargers, making them more portable.
They are becoming increasingly popular as technology improves and prices come down. In the past, GaN chargers have been more expensive than traditional chargers, but that is changing.
While GaN chargers are not yet as widely available as traditional chargers, they are becoming more common.
Some well-known companies that produce GaN chargers include UGREEN, Anker, RAVPower, and Aukey.
Design & Build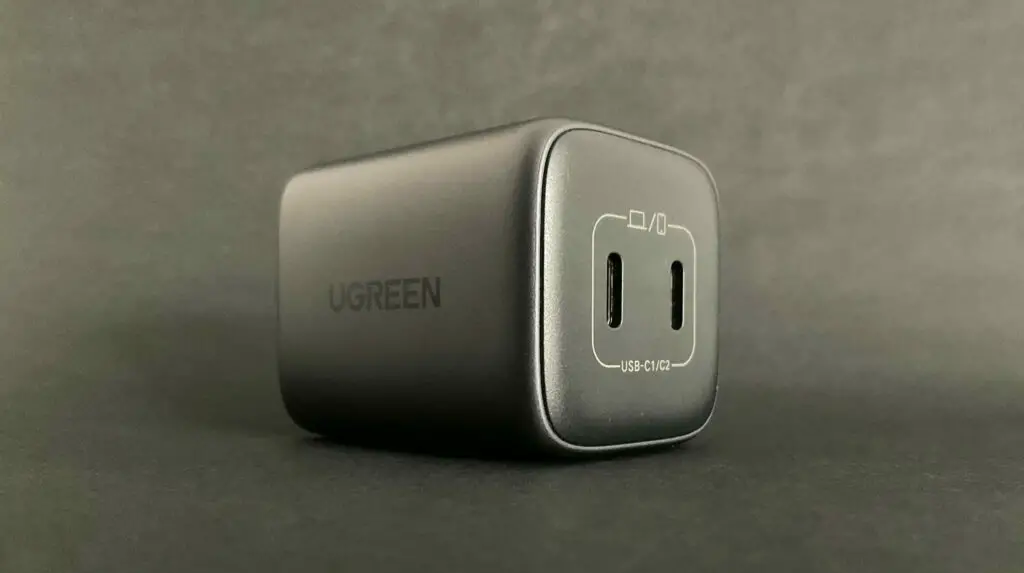 Even though aesthetics aren't our top priority when choosing a charger, it is always nice to have a sleek and good-looking device that blends with the rest of your setup.
The UGREEN Nexode 45W Dual USB-C GaN charger is a sleek, stylish product that measures 1.57 x 1.57 x 1.93 inches and weighs 3.46 ounces. It features a retractable two-prong AC plug and black lettering against a dark grey body.
The build quality of the charger is very good. All of the plastic feels solid and has no sharp edges or anything that feels cheap. The retractable AC plug is a nice touch, and the overall design is very clean and simple.
Overall, it's very compact, sleek, stylish, and portable.
GaN chargers are smaller and more powerful than traditional chargers, and they can often charge devices much faster. The Nexode 45W GaN charger is one example of this new generation of chargers.
It is small enough to replace your smartphone, tablet, and earbud charger, but it delivers enough power to also charge some laptops. GaN chargers are becoming increasingly popular due to their compact size and high power output, and the Nexode 45W is one of the most popular models on the market.
Performance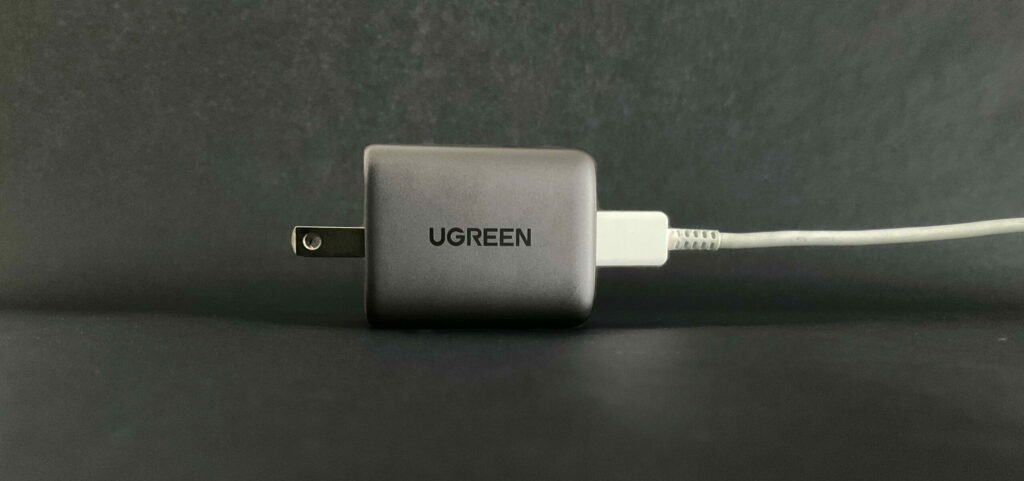 Charging
The Ugreen Nexode 45W USB-C charger is a versatile and powerful charger. The maximum output of the charger is 45 watts.
It also features Samsung Super Fast Charging, which is a feature found on some Samsung devices that allows them to charge at a faster rate than regular fast charging, up to 1.4 times faster.
The Ugreen Power Dispenser system regulates the amount of power it gives to a device so that the battery in the device lasts longer. There are also safety systems in place in case of overheating, overcharging, or overvoltage.
Overheating, overcharging or overvoltage can happen when the power output is too high for the device's battery capacity or the charger isn't able to properly regulate the power output. This, in turn, can lead to damage of the device or shorten the lifespan of the battery.
GaN chargers are made with gallium nitride, which is a semiconductor material that has many advantages over other materials.
It's smaller and more efficient, meaning it takes up less space and produces less heat. GaN chargers are also lighter in weight, making them easy to carry around. This attribute means that GaN chargers can be smaller and more efficient than other chargers. They can produce less heat, meaning they won't overheat and damage your devices.
Compatibility
The Ugreen 45W Dual Ports USB C Charger is a versatile charger that can be used with a number of devices, including phones, tablets, and some notebooks.
Some devices that it's compatible with include Macbook Air, 12-inch Macbook, iPad Pro, iPhone 13 / 13 Pro Max /12/11, MagSafe, Galaxy S22 Ultra/ S22 / S21 / S21 Ultra / S20 Ultra / S20 / Note 20 / Note 20 Ultra / Note 10, Pixel 6 / 6 Pro / 5 / 4a, Nintendo Switch, and more USB-C devices.
Specs
Supported Fast Charging Protocols
A fast charging protocol is a set of standards and specifications that define how power can be delivered to a device for faster charging.
A standard or specification is a set of rules or guidelines that define how something should be done. In the context of fast charging protocols, standards and specifications define how much power can be delivered, what type of connector is used, and other details. Essentially some people agreed on a set of rules so that everyone is doing it the same way.
If you are looking for a charger that can charge your devices faster, then it is important to know which protocol(s) the charger supports.
Supported Fast Charging Protocols: PD3.0, PPS, QC4+(QC4.0/QC3.0), FCP, AFC, 5V2.4A, BC1.2
PD3.0: This refers to the charger's support for the USB Power Delivery 3.0 standard, which allows for faster charging speeds.
PPS: This stands for "Programmable Power Supply" and refers to the charger's ability to dynamically adjust its output voltage and current in order to optimize charging speed.
QC4+(QC4.0/QC3.0): The QC4+(QC4.0/QC3.0) protocol is a fast-charging protocol that is compatible with both QC4.0 and QC3.0 devices. This means that you can use this charger to charge your device quickly, regardless of whether it supports QC4.0 or QC3.0
FCP: FCP stands for "fast charge protocol." In the context of fast charging, this means that the charger is compatible with devices that support this protocol and can charge them at a faster rate. FCP is a fast charge protocol that was developed by Huawei. It is compatible with a variety of devices, including smartphones, tablets, and laptops. FCP chargers are able to charge devices at a faster rate than standard chargers, making them ideal for use when time is limited.
AFC: AFC stands for "Adaptive Fast Charging", and is a fast-charging standard developed by Samsung. This allows for faster charging speeds on Samsung devices specifically.
5V2.4A: The 5V2.4A protocol is a fast charging protocol that allows for a maximum charging current of 2.4 amps.
BC1.2: The BC1.2 protocol is a standard for fast charging of devices that use USB ports. It is also known as the Battery Charging Specification 1.2. The BC1.2 protocol means that the charger is able to provide a fast charge to devices that use USB ports, up to a maximum of 2.4A.
Conclusion
All in all, the UGREEN Nexode 45W Dual USB-C GaN Charger is a very efficient device. It's great for someone who carries USB-C compatible devices consistently, as it can charge two devices at once with a maximum output of 45W. It's especially useful if you have a Galaxy S22 Ultra, thanks to super-fast charging; the phone can go from 0 to 100% in just over an hour.
If you're looking for chargers with more watts, make sure to check out Best 100W GaN Chargers with USB-C [2023]
In terms of design, the charger is quite aesthetic and very compact – it even has foldable prongs. Overall, it's a great choice for anyone who needs a reliable and speedy charger for their USB-C devices.