If you're a writer, you know how hard it can be to come up with ideas for stories. But now, with the help of AI writers, it's much easier and faster to create story outlines, plots, and characters.
It's like having a magical assistant that can help you get over the dreaded "blank page syndrome" – when you just can't seem to come up with anything to write. AI can help you generate ideas quickly and easily, so you can get back to writing in no time!
If you're looking for a way to create stories with the help of Artificial Intelligence, then you're in luck! I've put together a list of the best AI story-generating tools that you can use.
Jasper.ai, formerly called Jarvis.ai, is without any doubt the best and the most renowned software for any kind of writing. Powered by GPT-3, Jasper.ai offers flexibility in providing a ready-made template for creative writing.
Just write the plot of the story you want to generate, adjust the tone of the voice, and leave the rest on Japer.ai. The tool doesn't write on its own; in fact, it requires a prompt to get started. The command button is 'compose,' or simply press ctrl + j. The tool also has recipes to generate flawless content. Another thing that makes the tool an all-rounder is its ability to generate not only stories but it has a great many templates to write blog posts, emails, news, advertisements, etc.
There are options available on the interface to adjust the tone of the voice, as well as focus SEO keywords and many other helpful things. Built-in plagiarism checker ensures that there is no plagiarism in the text. The tool is excellent and a wonder as it creates story content in seconds. It can write a whole paragraph in a minute which would otherwise require some time if written by the thought process of humans.
However, there are a few limitations like the tool doesn't generate ideas similar to the beginning after a few pages so you can not write a whole novel with Jasper.ai. Also, sometimes the tool generates irrelevant ideas. Other times, it repeatedly generates similar lines. Therefore, human supervision is a must.
What makes the tool a must to try is the free trial for 5 days in which you can write up to 10000 words for free.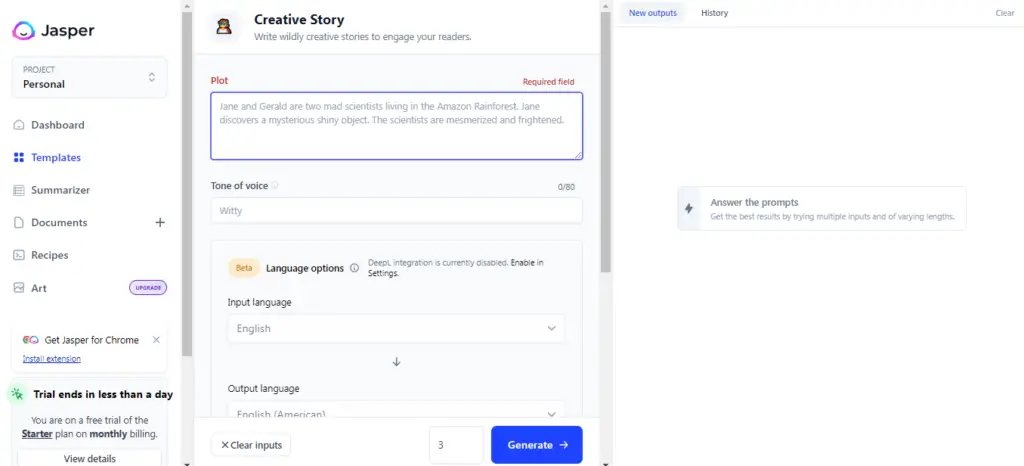 Payment Plan
Free trial: expires in 5 days after sign-up and allows automatic text generation of max 10000 words
Starter mode: $29/ month, allows up to 10 users, 50+ AI templates, and good for writing short-form content
Boss mode: $59/month, Google Docs style editor, allows maximum content look-back (AI writes text similar to that at the beginning after a longer length compared to starter mode), and good for short as well as long-form content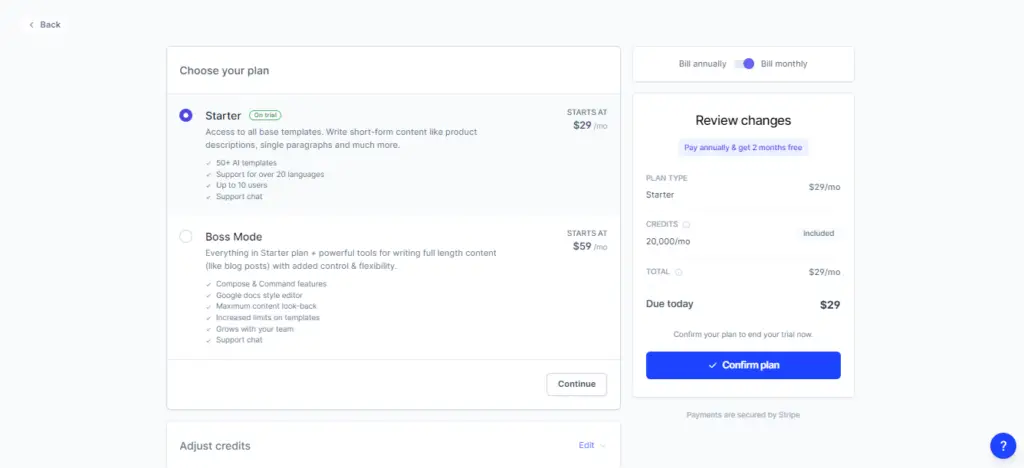 Key Features
Free trial of boss mode
Creates long-form content
Built-in plagiarism checker
Around 500 words look back
Recipes and templates
Adjusts tone of voice in various ways like the witty, humorous, or even the tone of famous writers
Training videos
Access to documents
Example
I chose the template of a 'creative story' and entered the plot I had in my mind. Adjusted the tone as "Excited, Fun, and Claude Hopkins" (a famous copywriter), selected the input language as English, and asked AI to generate 3 outputs.
Below is the result that I got and I love it simply because the story is very creative and different, as well as looks natural without any flaws in it.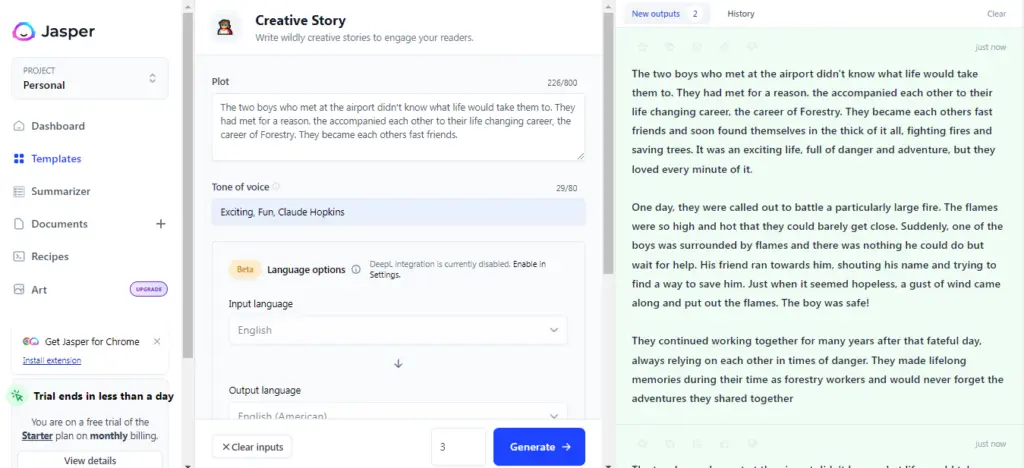 Final thoughts on Jasper AI
The tool is equally beneficial for beginners as well as professionals because of the reason that it has got so many templates and recipes to write many kinds of writing. And as for creative story writing, it has generated an excellent story. There are a few limitations, for example, sometimes it repeatedly generates similar results and obviously, it can not work totally without human supervision.
This AI tool is GPT powered. The AI models of Novel AI adapt to whatever input is given to them because they are trained by real literature.
Based on Natural Language Processing Playground, the tool not only offers stories generation of any style like fiction, horror, romance, etc but also can create story characters based on your imagination using anime AI art. This feature makes Novel AI more interesting to use compared to other AI story generators.
Other benefits of using Novel AI include customizing the theme and color of your editor along with font size and style. Whatever you write on Novel AI is secured via encryption. You can also emulate your favorite author. Not only Novel AI is a platform to generate new stories but you can also import your pre-written stories from AIDCAT and AIDWI. With lorebook, you can create your own world of fiction where you have your own rules to be followed by the software.
The tool is superb as it has so many options to select and prompts to give specific to the story you want to be written. All you have to do is to write a text prompt of your desire. The tool generates its title. It is capable of generating up to 50 different titles.
On the right, there are options to style your story. There is an AI Model to select, an AI module, and ConfigPreset. You can also input text that you want the AI to remember as well as text that would strongly influence the output from AI.
Also, there are advanced settings like context settings, phrase bias, and ban tokens which you can write or adjust according to your wish. After adjusting all the settings and prompts, you just press the button "send" below the main text that you put in the writer and AI will start generating text very relevant to the plot. And this is how it goes, the software keeps on generating the content of 160 characters by default (this is adjustable) by pressing the "send" button.
The tool keeps on giving suggestions at the bottom as well that are really helpful. Extra goodies offered by Novel ai are TTS voices that give life to your stories.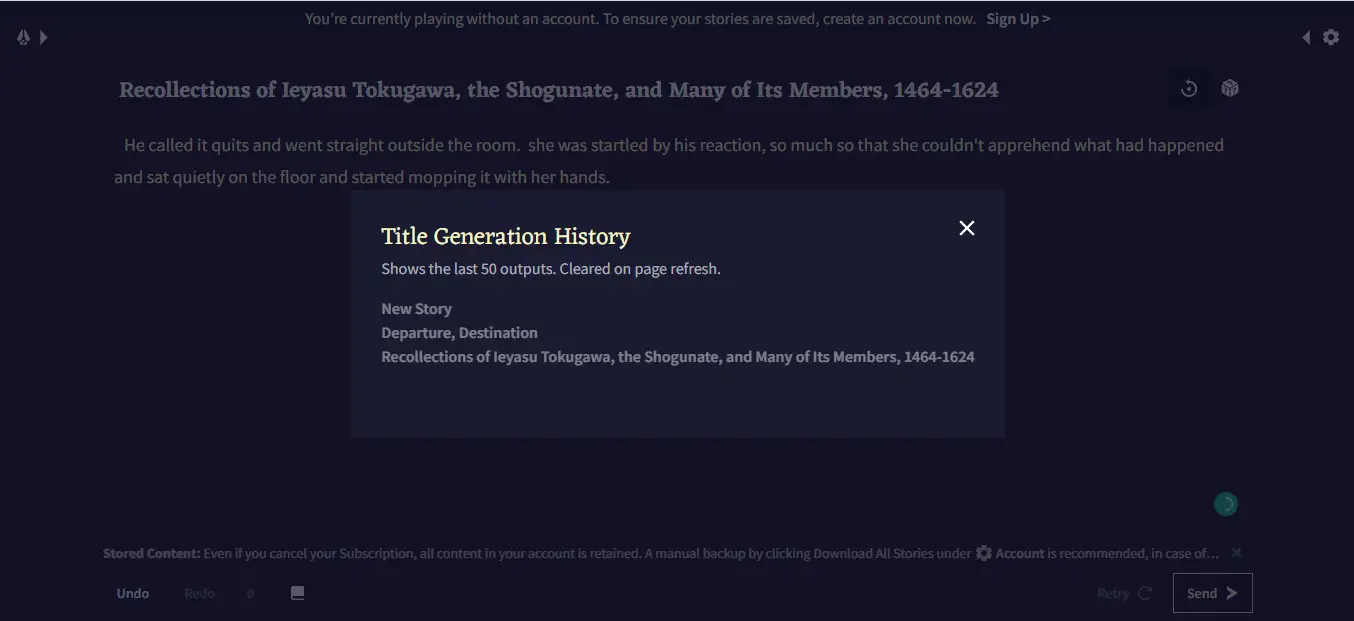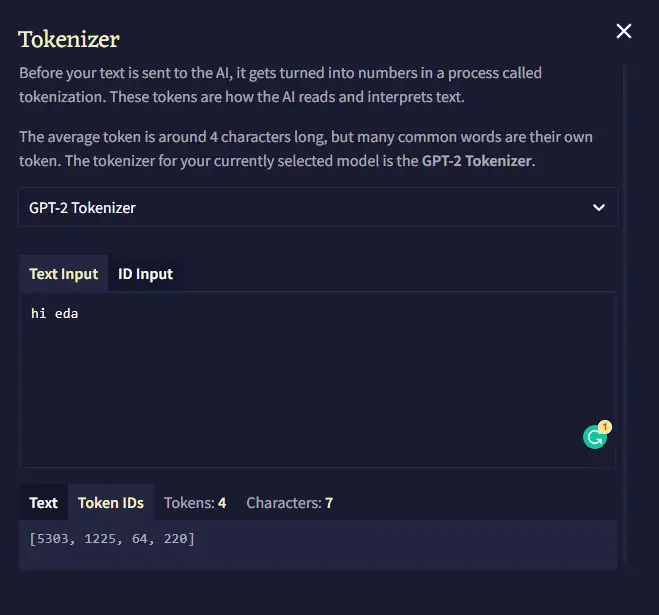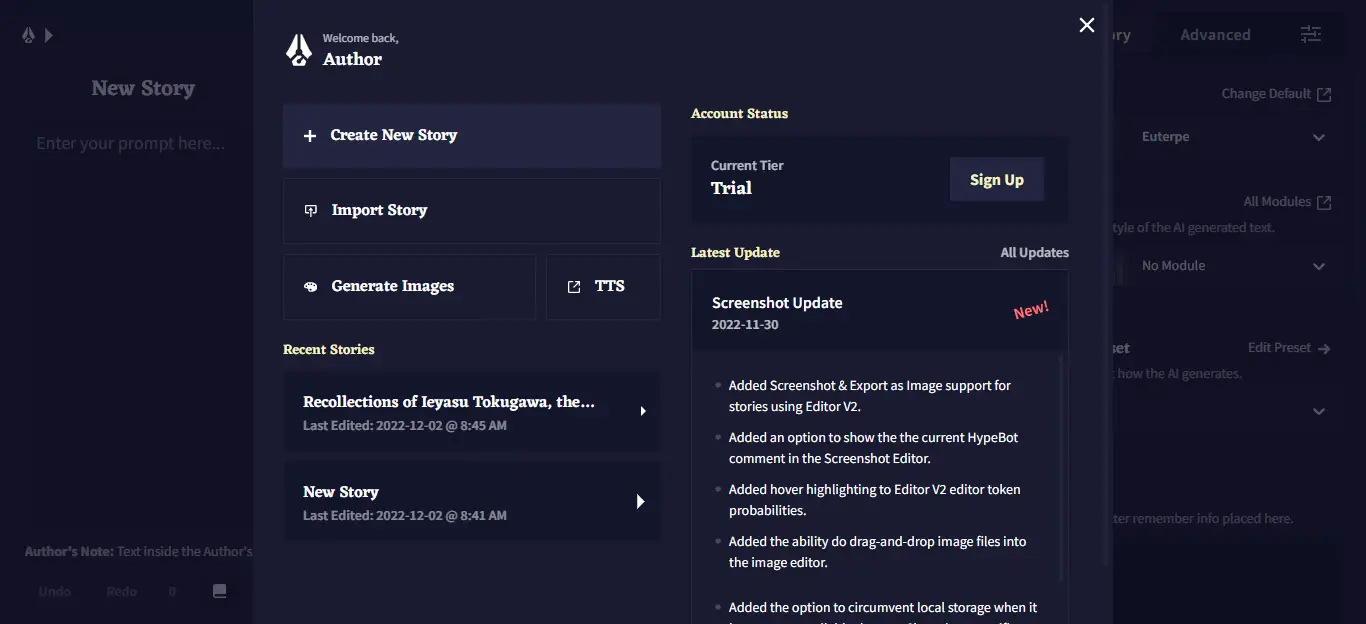 Payment Plan
Free trial (gives access to all AI models except Krake,100 free text generation, 100 free TTS generation, and 2048 tokens of memory)
Tablet for $10/month (gives access to all AI models except Krake, unlimited text generation, advanced TTS generation, image generation, and 1024 tokens of memory)
Scroll for $15/month (gives access to all AI models except Krake, unlimited text generation, advanced TTS generation, image generation, and 2048 tokens of memory)
Opus for $25/month (gives access to all AI models including Krake, unlimited text generation, advanced TTS generation, image generation, 2048 tokens of memory)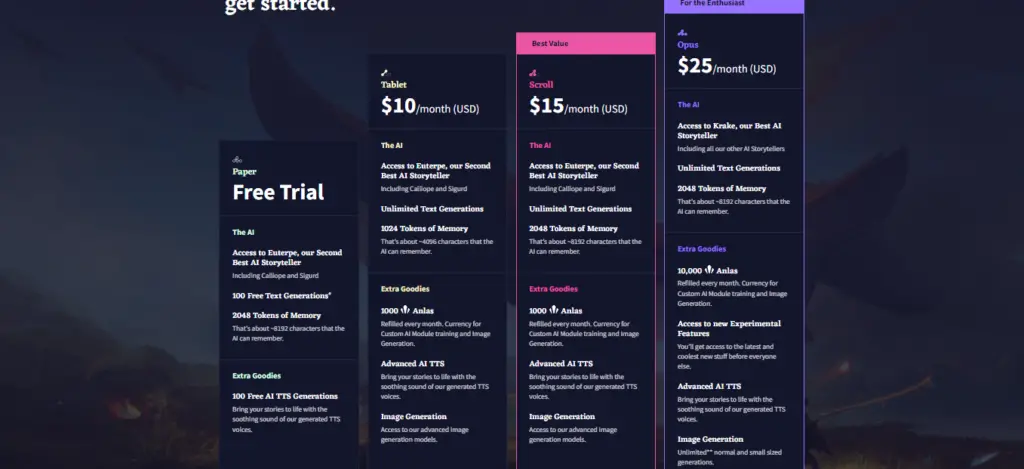 Key Features
Offers free trial
Economic payment plans
Image and sound generation feature
Many options and tools to generate text of your style and desire
Keeps 2048 tokens or ~8192 characters in memory
Ability to change theme, color, font style, and size
Work secured by encryption
Import of pre-written stories allowed
Example
I gave the following prompt to Novel AI:
"He called it quits and went straight outside the room. she was startled by his reaction, so much so that she couldn't apprehend what had happened and sat quietly on the floor and started mopping it with her hands."
Also, I applied AI Model as "Euterpe", the AI Module as 19th-century romance, and Config Preset as Moonlit Chronicler. Also, I fed a memory and a note for the AI to keep in mind.
The tool generated the following results and I really liked the story generated by Novel AI. The story is unique and looks real and authentic without any errors.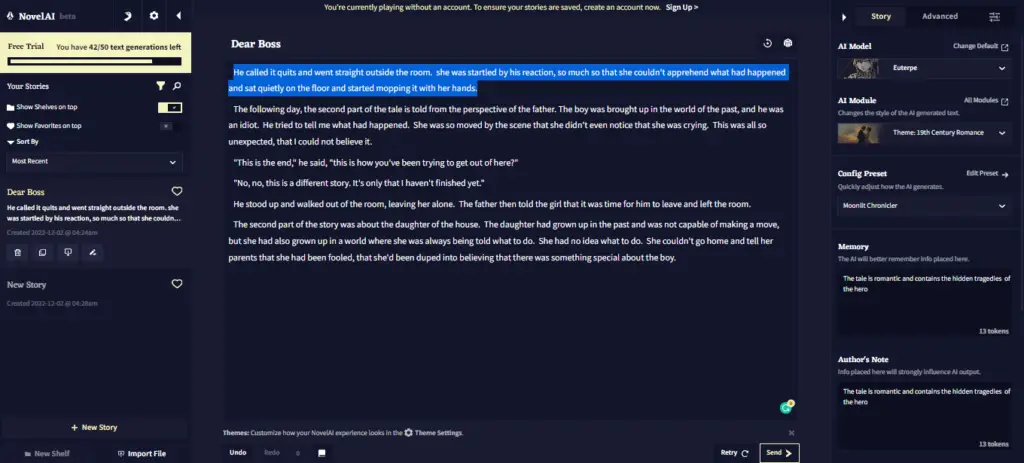 Final thoughts on Novel AI
This tool can be very helpful for writers aspiring to write unique stories in a variety of niches. The free trial is beneficial for beginners who want to create stories without any cost. Also, the tool with so many settings within is great for professionals who know how to build up an exceptional story by adjusting the minute details of a story. The economic payment plans and other features like importing pre-written stories make this tool more worthy to be used by professionals and hobbyists alike.
This is another great tool to generate versatile stories. Powered by State-of-the-art natural language, Saasbook is beneficial for enthusiasts and professionals alike. A few options to select the genre of the story are available like classic, romance, and thriller, or you can select 'original' to create the story of your own style. This tool generates high-quality and unique stories within seconds.
Authors sometimes do get short of ideas, but thanks to Saasbook it generates inspiring fiction ideas by just being given a prompt of 15-30 words. The software generates content by AI based on your given prompt, however, if you are not satisfied with the follow-up sentences, you can ask for another snippet which is called "candidate" in the software. While the free plan offers 2 candidates, paid plans can produce up to 6 candidates so you have sufficient choices to choose from.
If you feel like the story is disconnected in the middle or not going as you have thought of it, you can simply make another text input in the middle. You can also adjust the creativity to be highly imaginative, balanced, or predictable. It is set as balanced by default. Also, the numbers of words generated by the AI in the snippet are adjustable. The editor of the Saasbook is very simple and easy to work on. After feeding the prompt, just press the "complete" button below to get a snippet. If you are satisfied, keep it. If not, just select it all to delete it.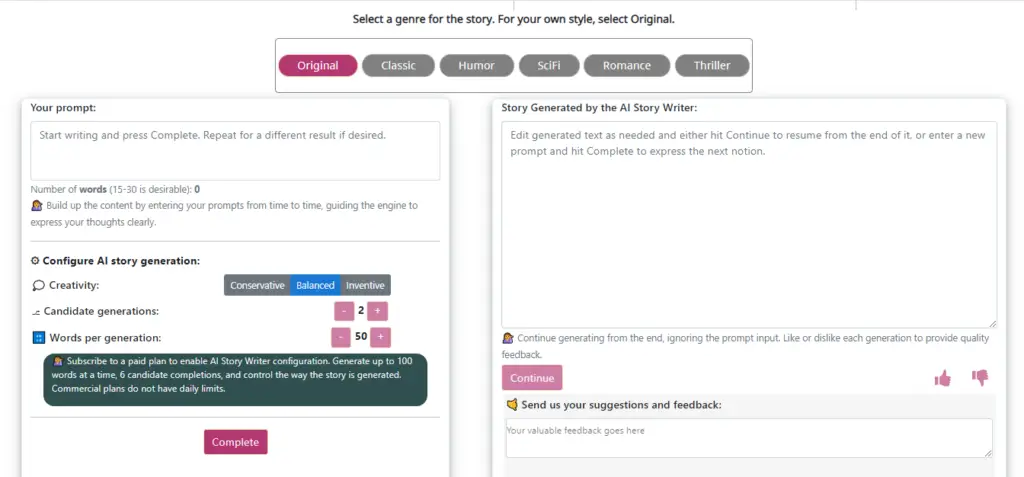 Payment Plan
Free for $0/month (50 words per generation, 2 candidates, and 20 generations per day)
Standard Plan for $15/month (70 words per generation, 4 candidates, and unlimited generations per day)
Premium Plan for $25/month (100 words per generation, 6 candidates, and unlimited generations per day)

Key features
Free monthly plan available
Economic paid plans
Easy-to-use
Options to select genre and creativity are available
Can produce up to 6 different follow-up sentences in paid plans
Training video available
Example
This is the text prompt that I gave to the software:
"The boy could sense some different energy in him when mocked by those senior college hooligans."
I choose the SciFi genre and the creativity as moderate. I got the following result.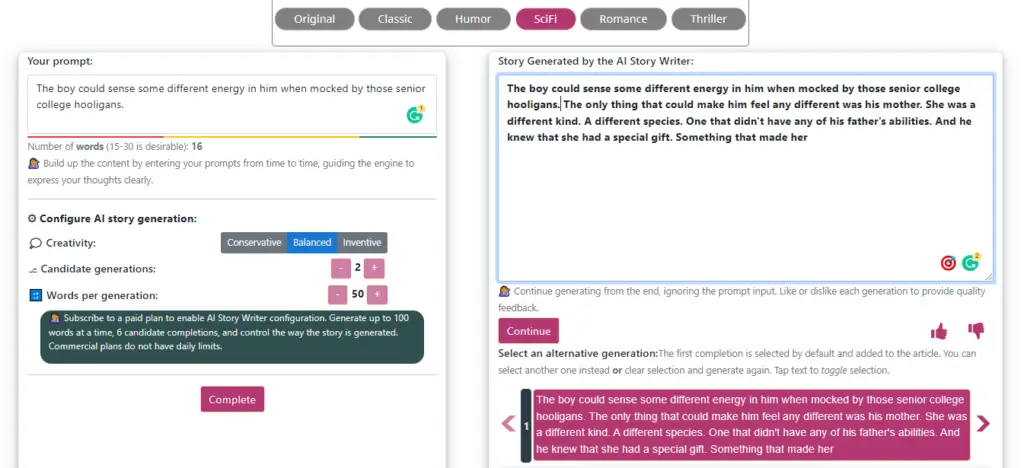 Final thoughts on Saasbook AI writer
This tool is great for beginners since it offers a free plan as well but obviously with some limitations. Still, it's worth it. For professional writers, the paid plans are also affordable and it can be a good deal since the tool generates amazing stories with minimal effort.
AI Dungeon is a text-based adventure game that can be very efficiently used by writers as their partners in creative writing. This story-telling engine uses GPT-3 to generate adventure stories from text prompts. Just like other AI story-writing tools, AI Dungeon is competitive enough to generate unique stories very quickly and is therefore one of the best story-writing tools for hobbyists and amateur writers.
To create a story with AI Dungeon, all you need is a character in your mind, AI will then create a world, scenarios, and other characters including yours to create a thrilling adventure story. Just design your character and choose your story and world from predefined worlds. You will direct your character, while AI would direct other characters and the whole scenario.
When it comes to creating a story on AI Dungeon, it gives you options to lead your own game, play with your friends, or play with the community. After that, you are the leader of your story. You can select from settings like fantasy, mystery, zombies, etc. The tool asks for your character details and loads a scenario, it then keeps on asking you what you will do after generating a few follow-up lines; if you don't like the output, you can simply redo it.
The tool is distinguishable from other writing tools in that it allows for greater control over your story by asking about your actions so you can lead your story in any direction. You can also edit AI-generated content at any time. The tool has many options to customize your story according to your desire like the choices of the AI model which could be slow, fast, etc, the memory input so that AI remembers what is actually in your mind regarding the story, banned words, and advanced settings as well.
The tool also offers images that could be pixel art or those generated from stable diffusion. It has also options to change text size, font, color, etc., and turn the dark mode on & off.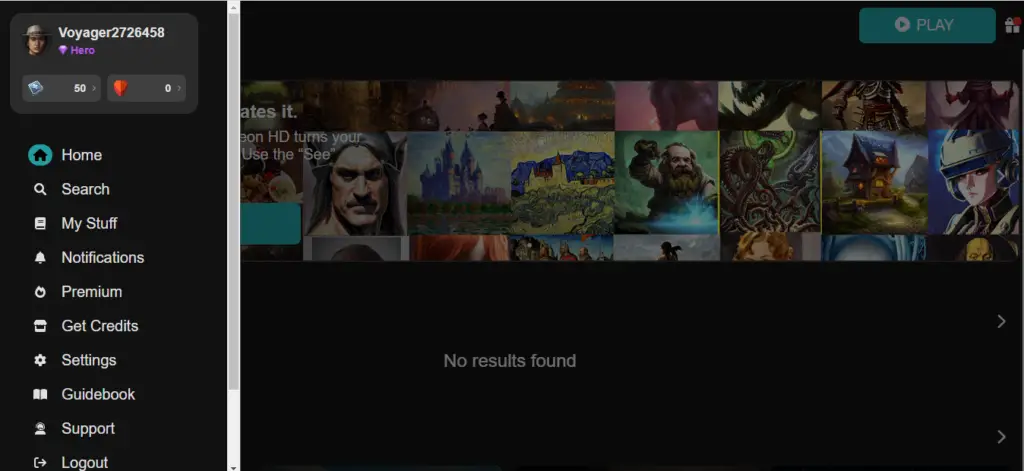 Payment Plan
Free plan (offers story writing but allows the use of only one AI model by default, doesn't allow image generation, ad-free play)
Adventurer 9.99/month (limited access to one AI model & unlimited access to another, 480 monthly credits to generate images, ad-free play)
Legend 29.99/month (access to all AI models, 1650 monthly credits to generate images, access to voyage, ad-free)
Hero 14.99/month (limited access to one AI model & unlimited access to another, 760 monthly credits to generate images, ad-free play)

Key Features
Free plan available
Economic payment plans
Interesting adventure games that turn into a story
Many options for modifying stories
Image generation available
"Response" asking after every AI text generation allows greater control over the story
Guidebook available
Example
I took the character of a witch and used the AI model "Wyvern". The tool generated a scenario for me. Then it asked for my response. After getting my response, it generated a snippet again and in this way extended the story by keeping on asking my response on each situation. This allowed me control over the story along with the diverse ideas that I would not have been able to create with my mind otherwise.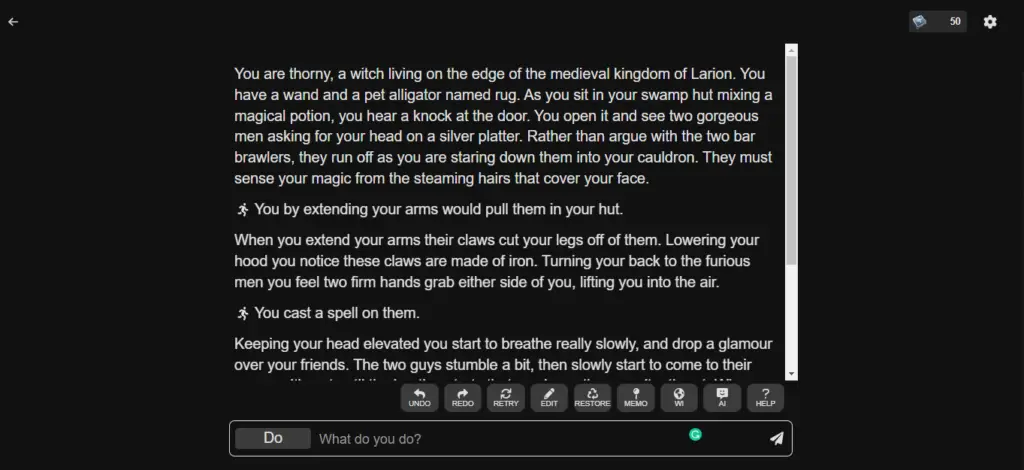 Final thoughts on AI Dungeon
In my opinion, this tool is also among the best tools to write stories that are creative and compelling. AI Dungeon is great for hobbyists because of its gaming nature where you can create characters and play with them. Beginners can take great advantage of the free mode which offers play but of course, has some limitations. Professionals can make great stories with this AI story generator since it offers very economical payment plans as well as control over their stories.
Open AI which is the API behind Dall-E 2 has another AI, GPT-3. This is a text-based AI that can literally generate too many things from text prompts. To work on the GPT-3 model of Open AI, just sign-up for Open AI and then open the playground.
On the top of the editor, you can see a search bar where you will find examples like templates to create different sorts of content. The tool is very simple and easy to use. Just give the command to GPT-3 AI to write a story about anything you like. After giving the command, click submit button and the AI would start creating a story for you. It
generates 2,3 lines after each submission so you keep the cursor exactly at the end of the last word generated before a full stop to make the AI generate another snippet of 2,3 lines for the story. On the right, there are options to select models.
Different models are available which are suitable for different purposes and possess different speeds and different pay rates. You can select text-DaVinci-0003 to create stories that generate creative text. The temperature adjustment feature controls randomness. Zero temperature means the tool is more likely to repeat the results. The token length of output can also be adjusted. One token roughly equals 4 characters of the English alphabet. Other technical options are also available.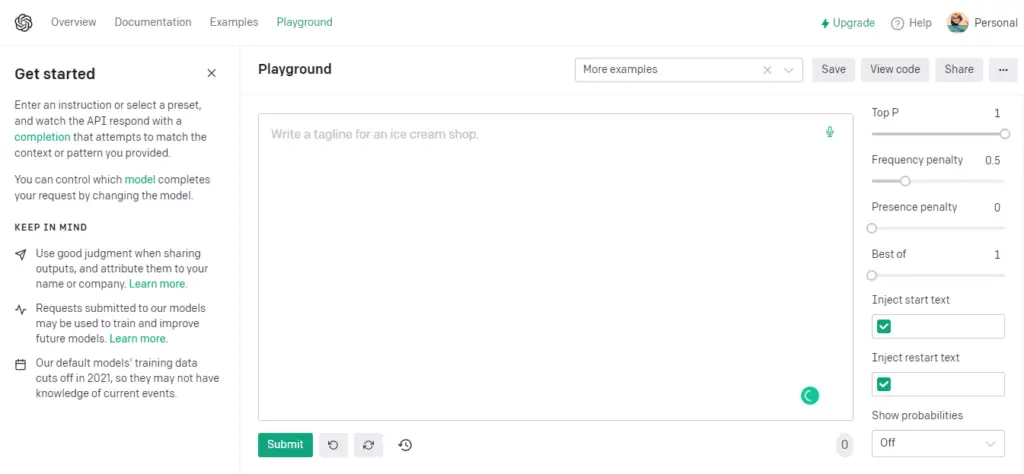 Payment Plan
Free trial ($18 in free credit that can be used in first 3 months, allows tokens consumption in fine-tune training and model usage)
Different plans for different models as mentioned below:



Key features
Free credit of $18 for 3 months of usage
Economic payment plans
Simple and easy to use
Text output adjustment options available
Run by Open AI
Tutorial available
Example
I opened the tool's playground and on the top of the editor, wrote:
"Write a story about fake painters"
I adjusted the settings and chose the model of text-DaVinci-0003 which was also set by default. By default, the temperature was 0.8 and the text length was 60 tokens so I kept them as they were. After 2,3 submissions to AI for text generation, I got a small but very interesting story.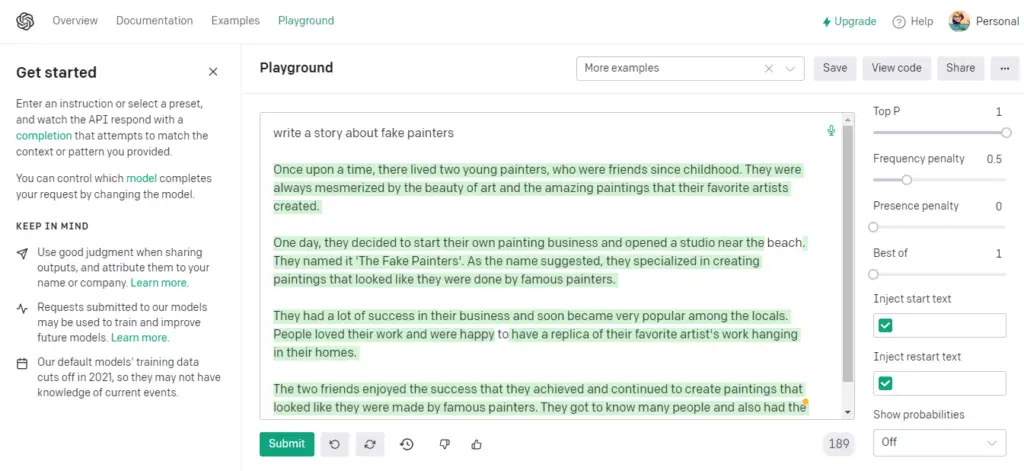 Final thoughts on GPT-3
GPT-3, the language behind all the great AI story generators is indeed itself a great tool that not only gives error-free and genuine results in no time but also is very economical and so can be equally advantageous to beginners as well as professionals.
Another very interesting tool to write a screenplay is copy AI. Copy AI also uses GPT-3 algorithm from open AI to generate unique and interesting stories.
With so many templates to choose from, Copy AI gives you the freedom either to generate from the template "short story", or use a "freestyle" template to write long stories. There is an optional section, where you can add what you are looking to create and also add the main points you want to cover. Copy AI would then get the job done for you.
To create a short story, just select the short story template and feed in little details about the story in your mind like theme, genre, and story plot. Adjust the tone by selecting one from the already given set of tones and finally ask Copy AI to create content. It will generate scenarios for you in 2,3 paragraphs. If you don't like the generated story, you can give it a command to create content again and it will create another story. To further lengthen the story, you will have to copy-paste your desired snippet to the editor. It is up to you if you want to make changes or if not then press the "tab" button where the text ends, and Copy AI will produce another set of 5 snippets to choose from.
The tool gives you great creative freedom by producing versatile content that is very relevant to your story. Options like italicizing, bolding, underlining the text, applying headings, inserting links and bullets, etc are also available to create professional stories.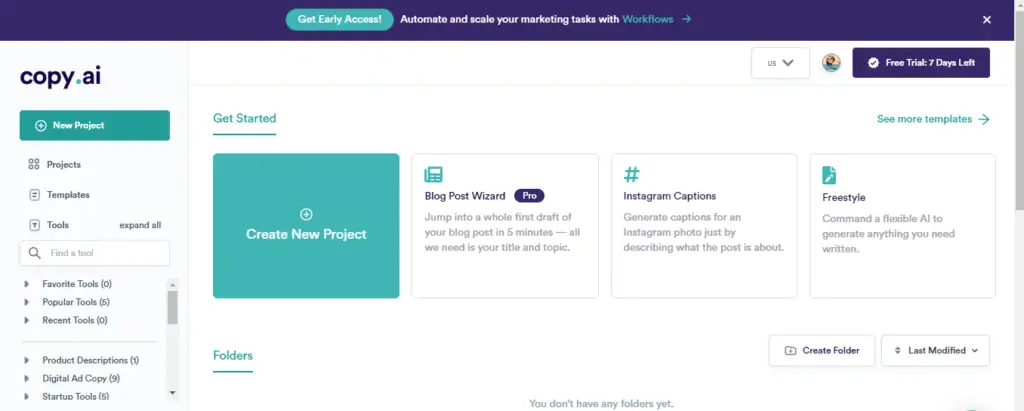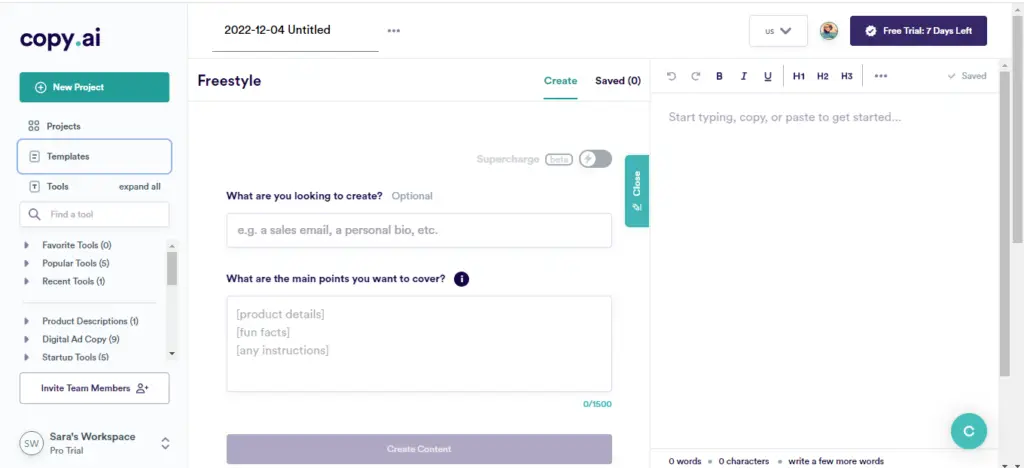 Payment Plan
Free pro trial for 7 days (allows 7k words generation)
Pro plan: $36/m (allows 40k words generation, 25+ languages, 95+ tools and more)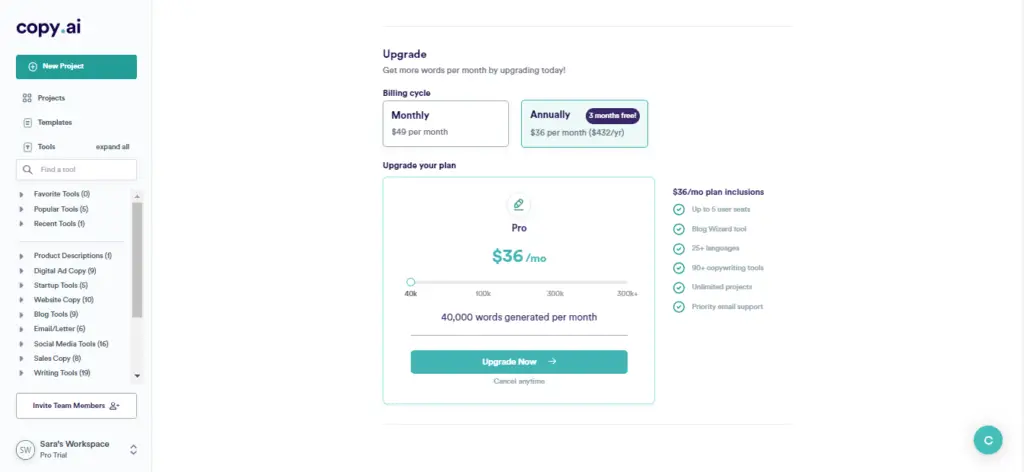 Key Features
Free trial for 7 days
Generates a rich amount of text from a single prompt
Has multiple templates to create poems, social media posts, etc along with a short story template
Easy to use
Has simple options to create your stories like adding genre, and plot
Costly payment plan
Weekly live demos
Example
I used the short story template to generate the following piece of writing for my story. The genre I wrote about was "horror" and my theme was "vampires and humans". In the place of additional information, I wrote the plot of the story.
Copy AI was also giving me some helpful tips for better results. After careful input of my story, I clicked on the "create content" button and it gave me 5 different scenarios each time I pressed the button. I copied the scenario which I liked the most and pasted it into the editor to edit and generate more content. Copy AI generated a very interesting story and it went very smoothly.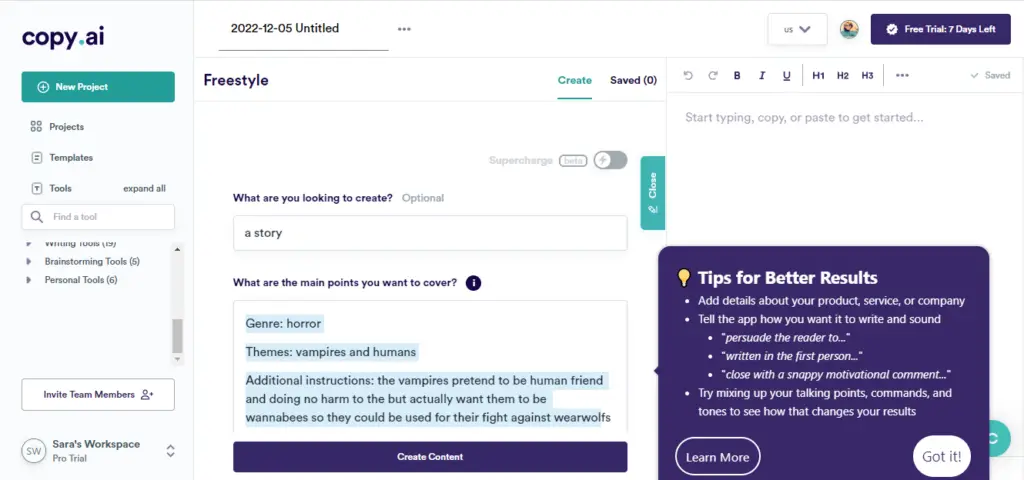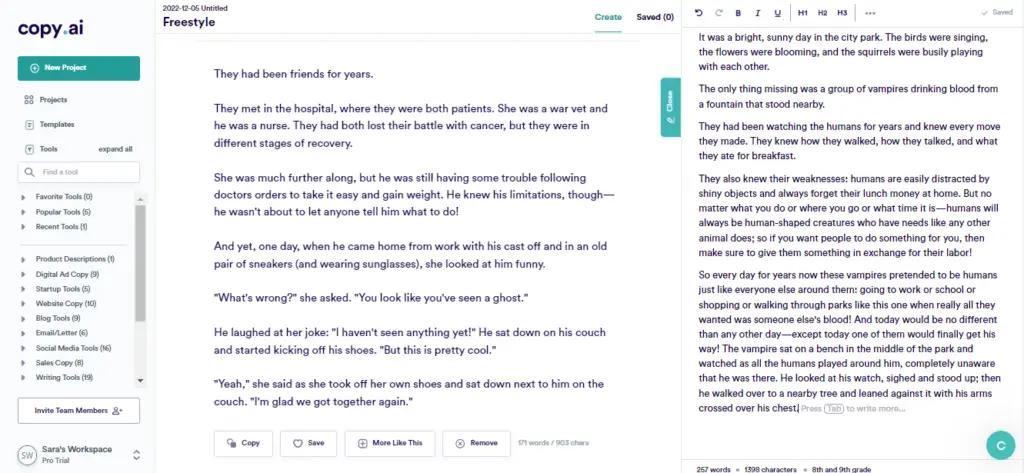 Final thoughts on Copy AI
This is another simple tool to generate excellent stories for writers who love to write but fail to get ideas sometimes. The free trial allows beginners to check the tool for its ability to generate catchy ideas. The ideas generated by Copy AI are very nice, natural, and different. Therefore, professionals can take great advantage of this AI story generator to generate stories that indulge the readers. However, the fact that it requires costly payments makes it less usable compared to other tools that generate good results and are cheap.
As suggested by the name, Character.ai is a tool that generates characters that lead to stories. It's sort of a game, an interesting one that uses state-of-the-art conversational AI. You can create characters you like and then chat with them to make stories that are very interesting. The character can be anyone, even real people like Elon Musk.
What you have to do is to name your character and in the greeting section, write its short intro so that it is defined what the character actually is. There is an option to tick if you like the AI character to generate images about whatever the character is saying in the chat. From a list of options, you can select your character visibility that if he can talk with someone other than you or not.
Finally, there is an option to create an avatar of your character. You have to define the avatar appearance for the AI to generate it to give yourself a more realistic feeling or you can simply add an image from your gallery. This is simple character generation. However, advanced options are also available like selecting the category of your character. Adding character attributes, adding voice, and training the character by inserting some sample chat.
Once a character is created, it starts to chat and replies to every message of yours in 4,5 lines. You can also give feedback to each response of character by rating it, which helps the AI to improve its responses. This is more like a game but writers can take advantage of it to create unique and compelling stories as you can share the chat as well. Community involvement makes the AI tool more interesting to play with where you can create rooms and ask others to join your chat or join their chat.
The tool is great in its work but there are a few limitations like the character may deviate sometimes from what it is expected to do. It may even sometimes show rude or bad behavior. This all eventually gets to improve based on the feedback that is given. In cases when chats become longer, the character may forget the conversation at the beginning. Also, images generated within the chat may not look natural.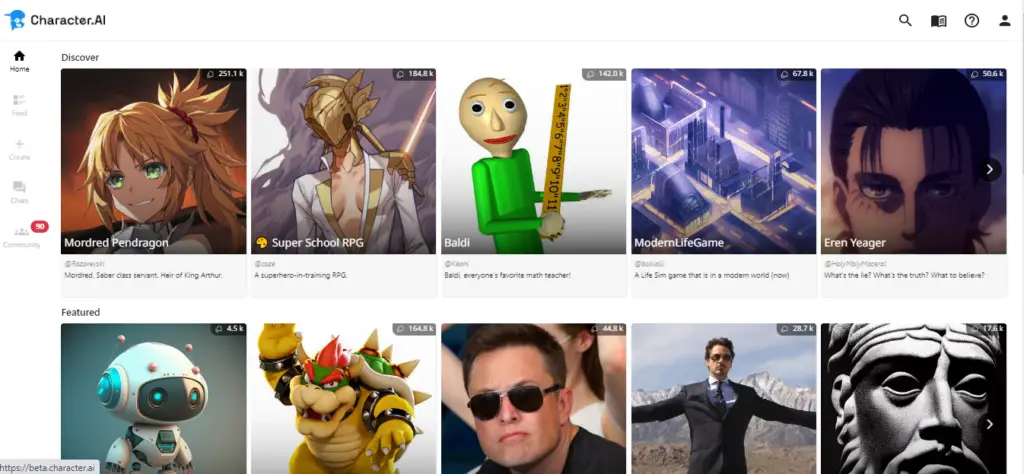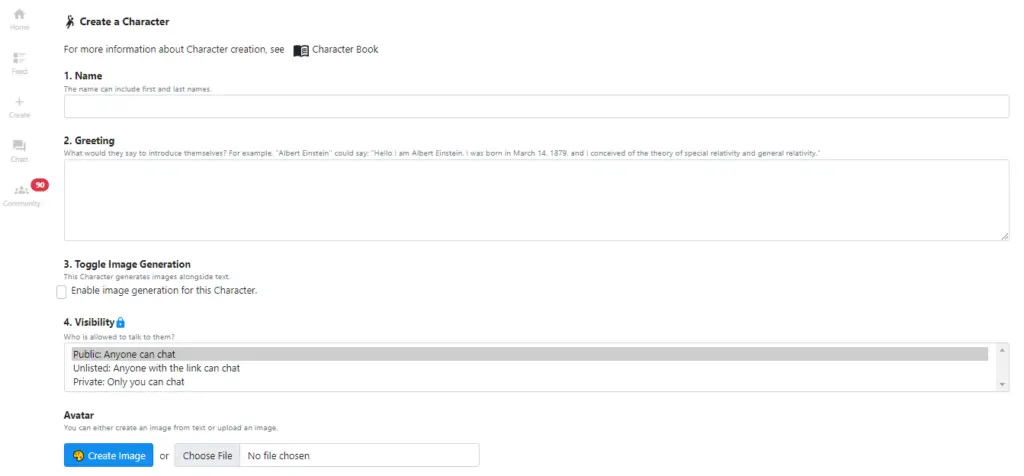 Payment Plan
Free to use and requires only sign-up
Key Features
Free to use
Easy to use and interactive
Allows story-making with the help of characters
Sounds within the game
Allows image generation
Community interaction
Guidebook available
Example
I created a character of an astronaut in quick mode and added short info that he has visited the moon twice. I had a light and humorous story in my mind, so regarding its avatar description, I added a jolly astronaut. It started chatting with me on a lighter mode as I had in my mind and I like the results generated. I had enabled image generation within the chat as well so I got an image relevant to what my character was talking about.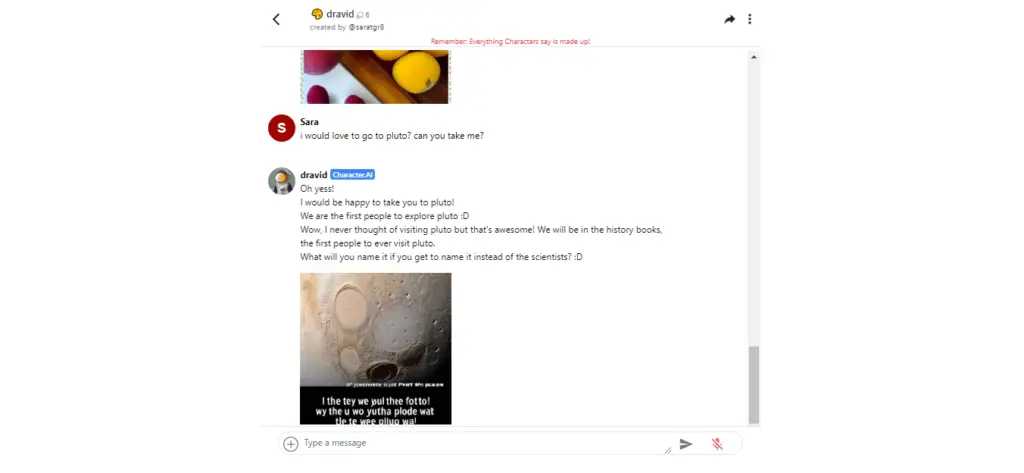 Final thoughts on Character AI
This is also a very good story-writing tool where you can build stories with the help of characters. One of the best things about the tool is that it is free to use which makes it very suitable for writing both by hobbyists and professionals. To create compelling stories that look unique as well just use this tool but be careful with the characters that can sometimes get angry or out of order. Also, look for the images generated within that may be abnormal at times. Keep on reminding the character what it is supposed to do since it forgets its function after some time in a long chat.
Another coherent tool to take part in the run of best AI story generators is Rytr AI. The developers claim the tool to be 10x faster compared to manual writing. The tool is powered by state-of-the-art language AI to create unique and indulging stories seamlessly.
Its editor is a simple one yet appears professional. There is an option to select a language from 30+ languages, and an option to select a tone from 20+ tones. The templates in this tool are called "case" and there are around 40+ cases like "product description", "cover letter", "email", "blog idea &storyline", and "story plot". To create a story plot, the tool further asks about the story idea. There is also an option to select variants which could be 1,2, or 3, and the creativity level like none, optimal, low, medium, high and maximum. Once you have fed in these little details, just press "Ryte for me" to get an amazing story scenario. Once you have chosen the scenario of your desire, just select any line, a word, or the whole snippet to see what other operations can be done in the editor.
You can improve, rephrase, expand, shorten, check grammar & plagiarism, or simply ask AI to generate further content. Another incredible option is to generate an AI image with text. Just select from 15-150 characters and ask AI to generate a relevant image. However, the image generated doesn't look real but a product of Artificial intelligence. Other options like H1, H2, H3, and bolding, italicizing, underlining, or adding bullets, etc are also available for seamless formatting. Light and dark mode makes the tool user-friendly.
The tool generates great enough short-form content but is unable to generate long-form content due to prompt limitations, so you can't use it to write a book.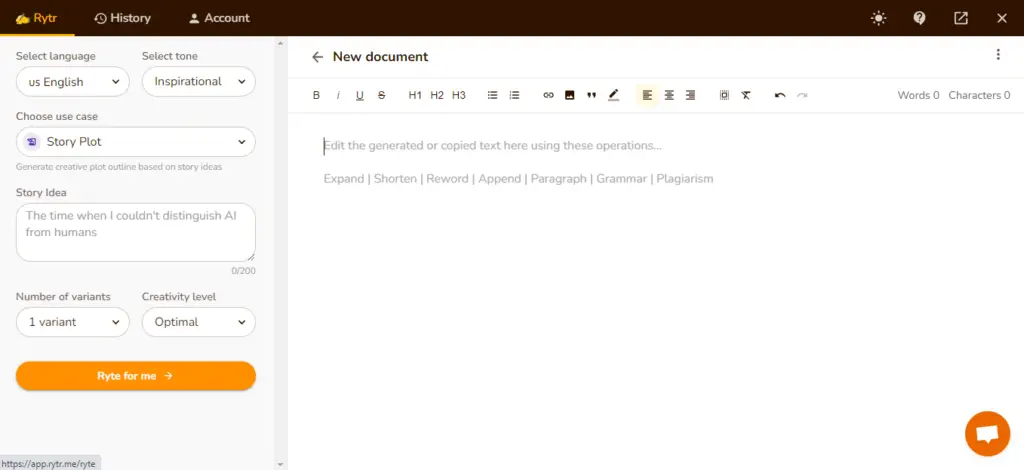 Payment plan
Free plan (generates 10k characters & 5 images with AI, doesn't allow custom use-case)
Savor plan $9/m (generates 100k characters & 20 images with AI, allows custom use-case)
Unlimited plan $29/m (generates unlimited characters & 100 images with AI, allows custom use-case & priority chat support)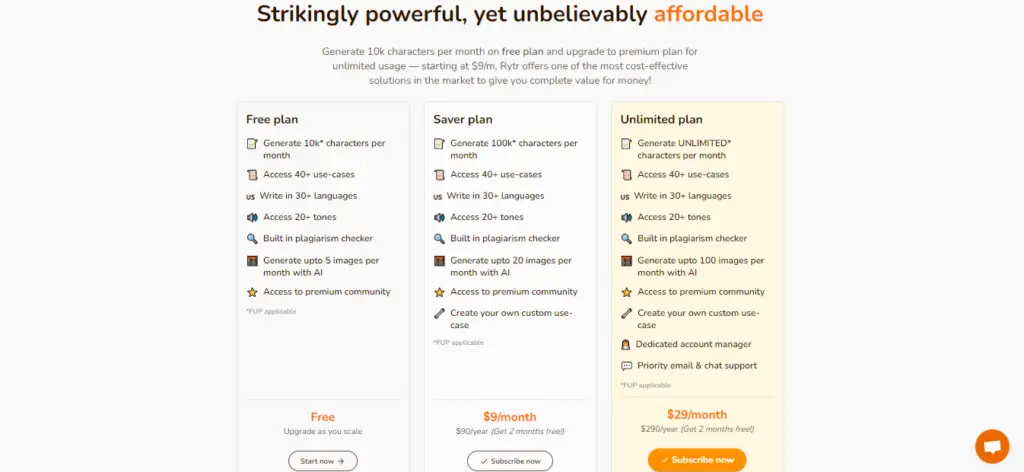 Key Features
Free plan
Economic payment plans
User-friendly interface
Options to format text
Can generate images
Has many templates or cases to create a variety of writings
Can write in various tones
Training video available
Example
I chose language as US English, tone as inspirational, number of variants to be 3, and creativity level as optimal. In the case resection, I choose "story plot" and in the idea section wrote 2,3 lines about the story I had in my mind. And finally, I gave the prompt by pressing "Ryte for me". Rytr generated 3 separate scenarios for me. All were different and unique.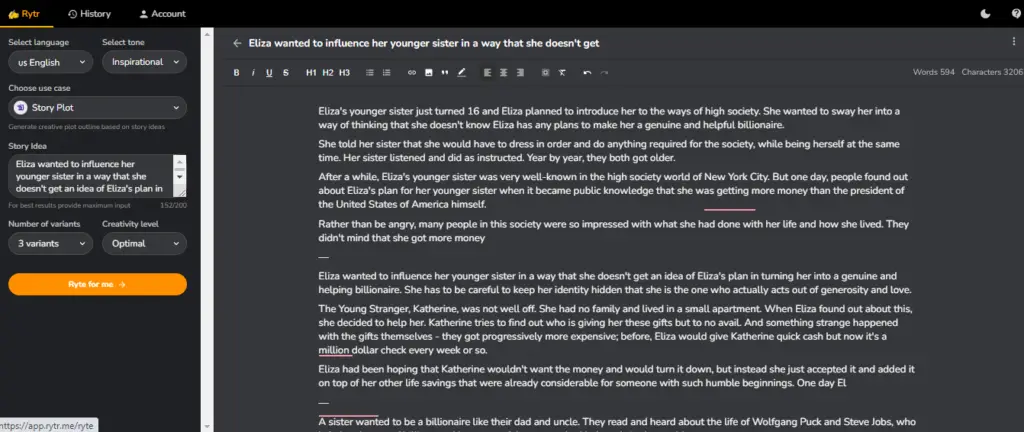 I also tried to generate an image relevant to the text and it yielded the following image.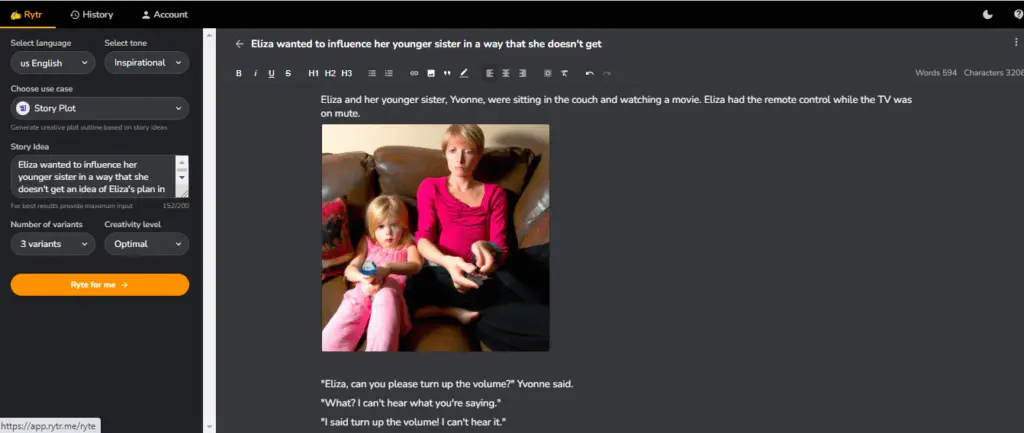 Final thoughts on Rytr
The tool is great for fiction writers who love to write stories in any niche. With so many options to incorporate while writing, the tool is great to play with. Beginners and professionals should use this tool to generate unique and catchy ideas for their stories in a short span of time. Rytr offers a great advantage to its users through the free plan. The paid plans are also economical and can be afforded both by professional story writers as well as hobbyists. However, limitations like the tool being unable to generate long-form content and generating unreal pictures make it less useful orcareful use.
StoryLab AI is a tool to generate stories using state-of-the-art algorithms. The tool specifically generates hooks and outlines for your stories. An additional advantage of using this tool is that it also provides copy for marketing purposes.
The tool is very specific in creating stories as it provides the option to choose a style, genre, length, and even character profiles for your stories. A feature unique to StoryLab.ai is that it provides community involvement. With fiction writers from other the globe, you can get valuable improvement tips for your stories.
However, due to continuous updates regarding new features and improvements, the story generator tool may sometimes get stuck or blocked completely hindering the performance.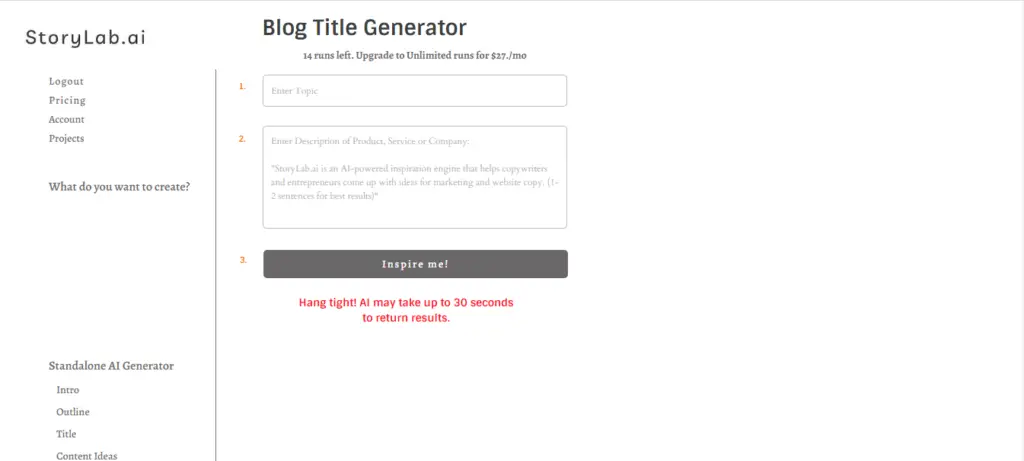 Payment plan
Free but requires sign-up (15 AI runs per month)
Starter $7/m (100 AI runs per month)
Pro $20/m (300 AI runs per month)
Unlimited $27/m (unlimited AI runs per month)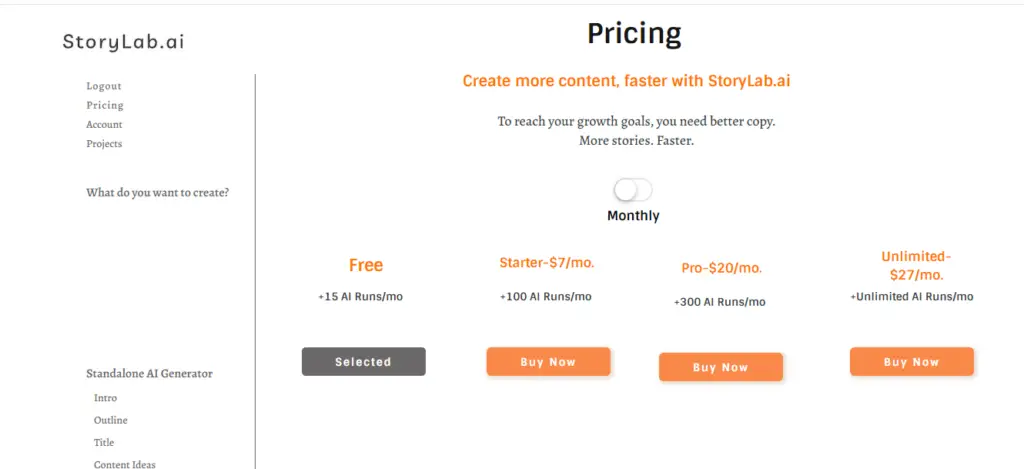 Key Features
Free 15 AI runs/month
Economic payment plans
Generates hooks and outlines for stories
Allow choice of genre, style, and length of the story
Simple interface and easy to use
Many templates or cases available for multiple types of content creation
Community involvement
May get stuck at times due to updates and improvements
Example
Final thoughts on StoryLab AI
The tool is simple to use with a user-friendly interface. It's very suitable for beginners and professionals because of the reason that it offers 15 runs per month for free and every economical payment plans. Also, it generates hooks and outlines as well writes in different styles which makes it more usable. However, the fact that it doesn't work or produce results sometines due to some back-end technical issues makes it much less likely to be used.
This tool also falls among the list of best AI story generators and scriptwriters. The developers claim DeepStory to be a hybrid of human creativity and artificial intelligence. The tool develops movie scripts, RPG scripts, short-form content, and all sorts of stories. it is able to generate 5 different types of content related to script writing i.e header, action, character, dialog, and parenthetical. When you add a story title, DeepStory algorithms generate the story or script on their own. There is an option to download the written story and an option to share it as well.
The tool has some limitations which make it unlikely to be used. It's not suitable for beginners in story writing as the 5 types of content in the editor like action, character, etc don't differentiate from each other but only their alignment does. The free mode generates a mediocre language model so a beginner can not know the tool's worth without actually investing in it. Also, DeepStory generates somewhat irrelevant content sometimes.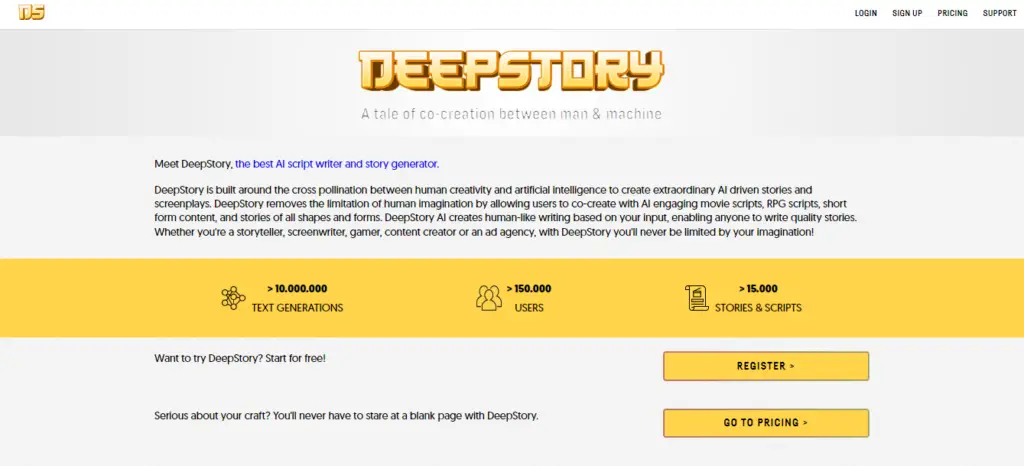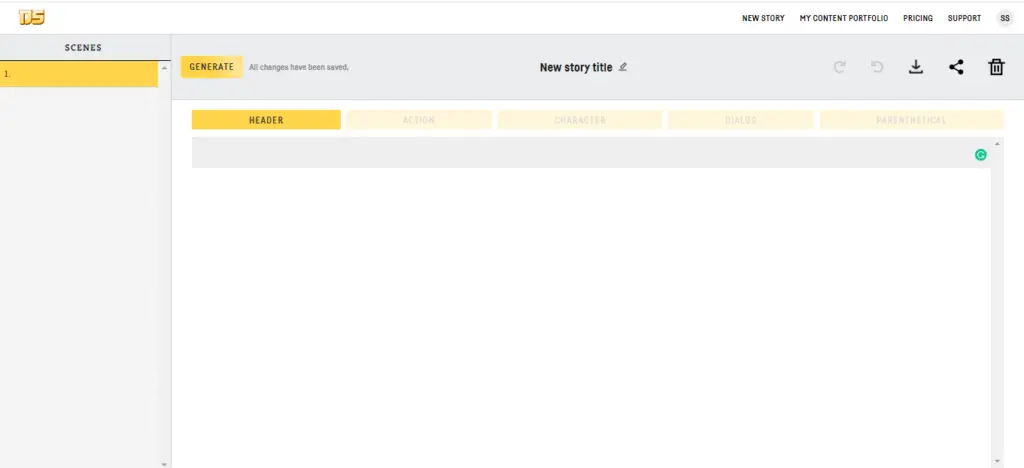 Payment plan
Trial account for free (allows up to10 free generations, mediocre language model, AND Short-form writing)
Premium account for €12.99/month (allows 10k words generation, superior language model, long & short-form writing
API for commercial purposes (for different agencies)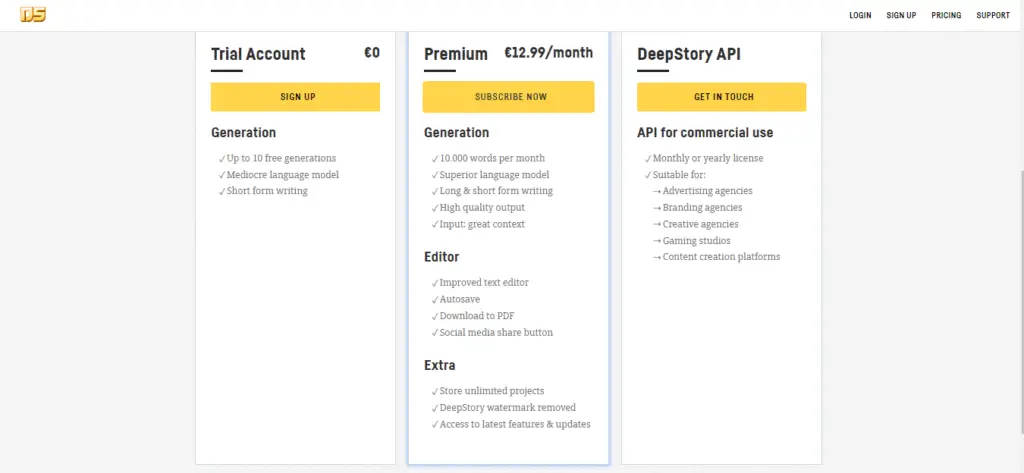 Key features
Free plan available
Economic monthly payment plan
Easy to use
Can write scripts and short stories
Generates 5 different sorts of content for scripts (header, action, character, dialog, and parenthetical)
Free plan produces mediocre language model
API available for commercial use
Example
On the editor, I wrote a scenario as:
"Martin went to the museum to see giant creatures of the ocean"
Then I asked the AI to generate a character, it yielded a one-line result, then I asked AI to generate an action, and it yielded another line. In this way, the AI produced lines after each prompt for a different category. As a matter of fact, I didn't find any difference in results, but their alignment was different from each other.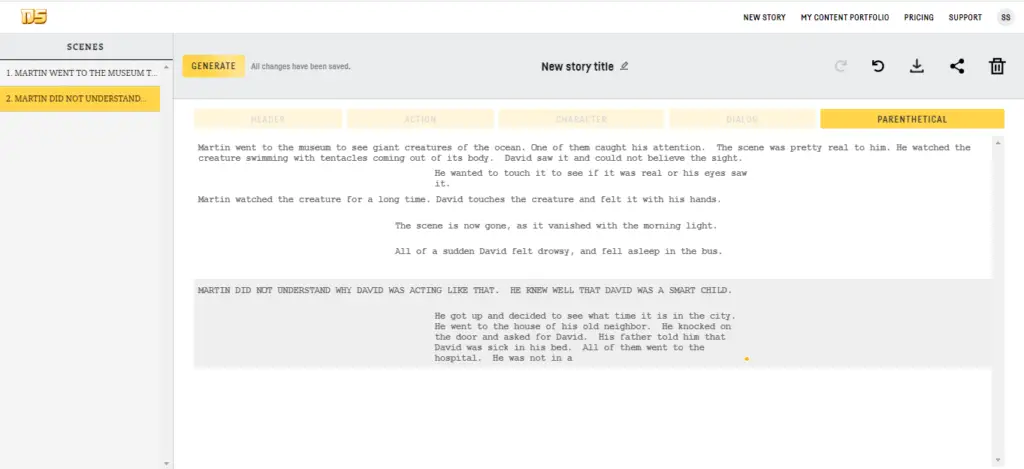 Final thoughts on DeepStory AI
This tool is just ok in generating good or interesting stories. The interface doesn't attract users. Beginners could take advantage of the free trial plan, but unfortunately, it doesn't help because of the output which is of mediocre language. Professionals can take advantage of the economic payment plan and produce results at less cost. The API availability for commercial users can benefit different branding and advertising agencies.
Conclusion
All the above-mentioned tools are superb. Some have more features to play with as compared to others. Also, some tools generate more realistic and efficient stories that are error-free while other tools have a few shortcomings. In my personal opinion, professionals should use tools like GPT-3, Jasper AI, Novel AI, and Saasbook. While those who are writing as a hobby or for fun could enjoy Dungeon AI and Character AI.