Most people are only familiar with Android phones from Google and iOS from Apple. However, you might wonder, are there any other types of phones – say Linux phones?
In this article, we'll try to give you a deeper understanding of Linux phones, their difference from other phones like Android and Apple, and finally, some of the best Linux phones you can get today.
Before diving deeper, there are a few terminologies that we need to understand.
What exactly is Linux?
The Android Operating System
The Apple iOS
What Exactly is Linux?
When somebody is running an operating system like Ubuntu, Debian, Fedora, Kali Linux, and many others on their laptop, most users will say they are using Linux.
This argument raises one key question – is Linux an operating system?
The simple answer is NO! Linux is a kernel and not an OS.
A Kernel is considered the heart of an operating system.
It is a middleware that sits between the user applications and the hardware. The developers of operating systems like Ubuntu, Fedora, etc., took the Linux Kernel and built some software on top of it to develop a Linux distribution.
To make things simple, think of the Linux kernel as a powerful engine that can be fitted on a saloon car, motorcycle, lorry, train, or jet. The body of the machinery might look different, but they are using the same type of engine.
The Android Operating System
The Google Android operating system is based on the Android Open Source Project (AOSP), based on the Linux Kernel.
Even though AOSP is free and open-source, you probably know that you don't have much control over your Android phone.
Phone manufacturers have tweaked the Android OS and added their custom code and applications, making it illegal to try any tweaking.
The Apple iOS
iOS has a pretty interesting twist. iOS is based on NeXTSTEP, which was also based on Berkeley Unix, commonly referred to as BSD. Unfortunately, Unix was proprietary, and the license cost thousands of dollars. That was why Linux Torvalds developed Linux and made it free and open-source. The Apple iOS is completely closed-source.
What are Linux Phones, and Do They Exist?
From the above section, we have discussed that the Android OS is based on the Linux kernel while the Apple iOS is based on the Berkeley Unix. You now might be wondering, what are Linux phones?
In simple terms, Linux phones are smartphones that run a Linux-based operating system that is free and open-source.
Android phones and iPhones run closed-source operating systems even though it is based on the Linux kernel. And there are plenty of them, and you just have to find them.
Few Tips Before Buying a Linux Phone
Since you are switching to a different operating system, there are a few tips you need to know before you buy a Linux phone.
Even though this statement is open to debate, you cannot use a Linux phone as your daily driver, especially if you are used to the Google and Apple applications. I found them much more suited for developers and tech enthusiasts who want to try a different type of phone.
You won't have access to the most popular apps present on Android or iPhones. These include Instagram, Facebook, and Google Photos, as some operating systems don't support them.
If you want to get much out of any Linux phone, a solid understanding of terminal commands would be great.
They come with exciting security features, with some phones having a physical kill switch for the microphone and camera.
Let's dive in and look at some of the best Linux phones available with that in mind.
Best Linux Phones
Here are our top picks for the best Linux phones you can get.
We have listed them in random order, and therefore, the first phone on the list doesn't mean it's necessarily the best. Please check out their features before deciding which to buy.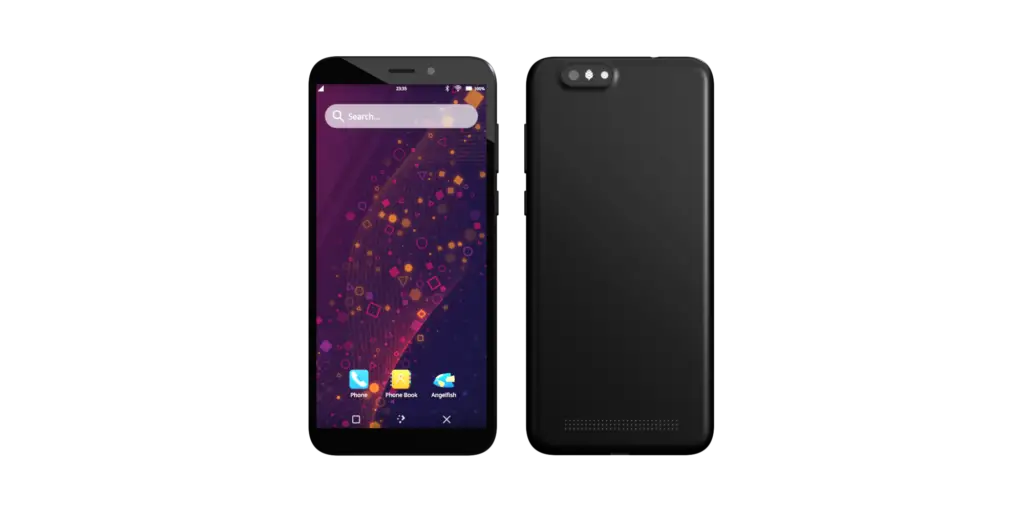 One of the most popular Linux phones is the PinePhone, developed by Pine64. It allows you to install several Linux phone operating systems, including UBports, Sailfish OS, Manjaro, etc.
The PinePhone has a hawk eye when it comes to security and privacy. It has five physical kill switches at the back that you can use to manually disable the Microphone, Bluetooth, Wi-Fi, Camera, and LTE modem.
This phone also has an eye on extensibility. It features six pogo pins that you can use to hook other devices, including a keyboard, thermal cam, wireless charging case, and much more. It's also easy to repair with plenty of replaceable hardware that you can get at the PineStore.
It also supports a USB hub that allows you to connect it to an external monitor. Therefore, you can use it for a Desktop computer setup.
Key specifications
Display: 5.99 inches, 1440×720 resolutions, 18:9 ratio.
RAM: 2 or 3 GB LPDDR3
Supported OS: It supports many Linux phone operating systems. They include Ubuntu Touch, PostMarketOS, Manjaro, Mobian, etc.
Supported Graphical Interface: Lomiri, Phish, Plasma mobile, etc.
Storage: 16 or 32 GB eMMC Flash storage
Front camera: 2MP
Back camera: 5MP
Removable storage: Micro SD Card (bootable)
Sound: 3.5 mm Jack, Microphone, and Loudspeaker
Battery: 2800 mAh and 300 mAh (removable)
Connectivity: WiFi, Bluetooth, USB-C, USB 2.0, and Display port
SIM: 1 Nano SIM card slot
Fingerprint sensor: No. But you can add a fingerprint module using the Pogo pins.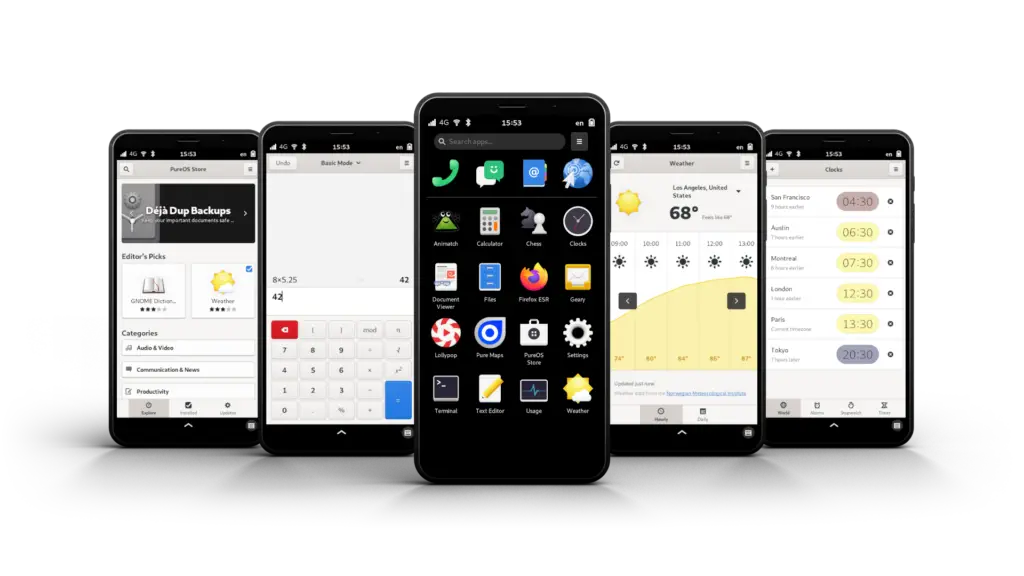 Librem 5 is another fantastic Linux phone manufactured by Purism. It runs PureOS, a Linux phone operating system developed by Purism. As of 2022, it was the only smartphone recommended by the Free Software Foundation (FSF). That is an organization that started in 1985 to support the availability of free software.
Like most Librem products, the Librem 5 phone focuses on freedom, security, and privacy. Some of the cool features you can find in this gadget include.
Physical kill switches to turn off the camera, microphone, etc
Easily replaceable parts
The 5 Librem 5 refers to the screen size, not the release version.
Key Specifications
CPU: NXP i.MX 8M Quad-core Cortex-A53, 64bit ARM @max 1.5GHz
Display: 5.7 inches, 720×1440
RAM: 3 GB DRAM
Supported OS: PureOS and Phosh
Storage: 32 GB eMMC
Front camera: 8.0 MP
Back camera: 13.25 MP with LED flash
Removable storage: Micro SD Card (2 TB maximum)
Battery: 4,500 mAh (replaceable)
Connectivity: WiFi, Bluetooth, USB-C, USB 2.0, and Display port
SIM: 1 Nano SIM card slot
Fingerprint sensor: No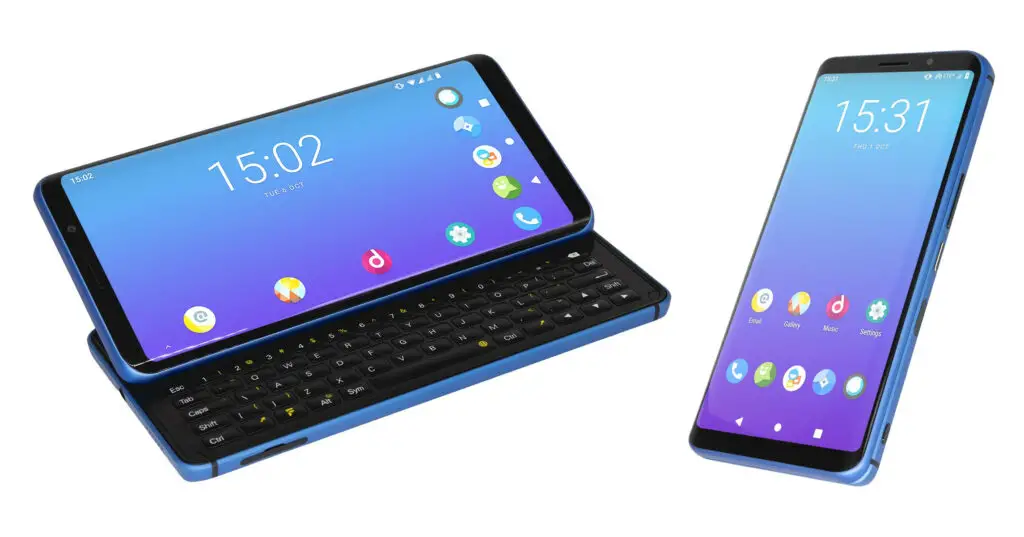 Another Linux phone top on the list is the Pro 1 X – F(x)tec developed by F(x)tec company in London. One unique feature of this phone is the slide-out keyboard present. Therefore, you can opt to use the phone as a full touch screen or slide out the keyboard to use it in landscape mode.
Key Specifications
CPU: Qualcomm Snapdragon 662
Display: 5.99 inches, 2160×1080 AMOLED with curved edges
RAM: 6 GB or 8 GB LPDDR4
Supported OS: It features an unlocked bootloader, making it possible to install many operating systems, including Android, Ubuntu Touch, SailFish, and Lineage.
Storage: 128 GB eMMC
Front camera: 8.0 MP
Back camera: 12 MP with LED flash
Removable storage: Micro SD Card (2 TB maximum)
Battery: 3200 mAh (quick charge)
Connectivity: WiFi, Bluetooth, USB-C, USB 2.0, and HDMI
Sim: Dual Nano SIM
Fingerprint sensor: Yes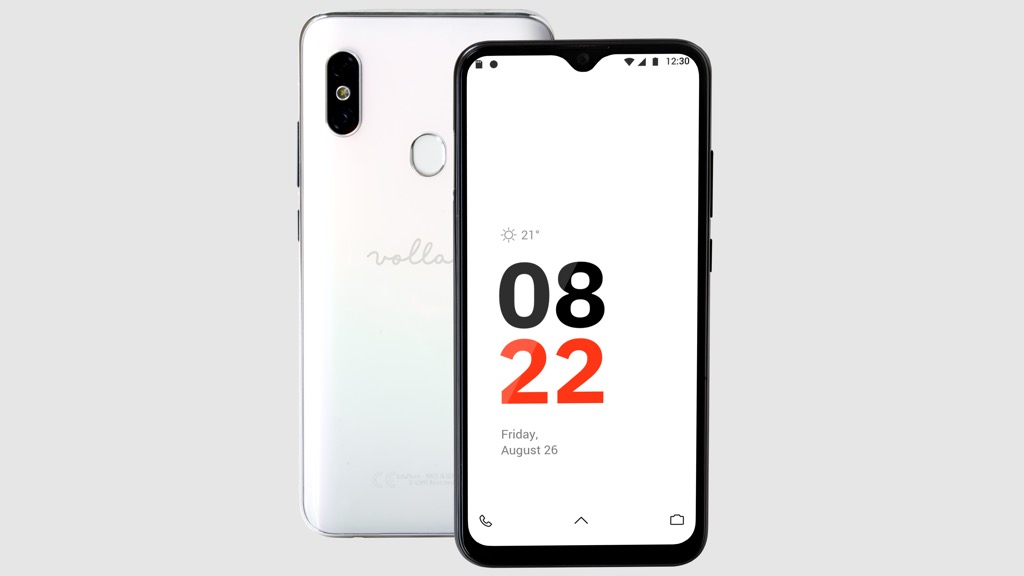 Volla is another Linux phone developed to give users freedom in the digital space through simplicity and security. It ships with the Volla OS, which features a minimalistic design and unique features not present on most Linux phones' OS. Users have the option to select between Light, Dark, and Transparent themes.
The Volla OS is Google-free. Therefore, it doesn't ship with any Google apps, as most are known to intrude on users' personal space and privacy. All the essential applications, including Phone calls and contacts apps, are open-source.
Key Specifications
CPU: MediaTek Helio P23, MT6763V, Octa-core ARM Cortex-A53 (4x 2.0 GHz + 4x 1.5 GHz cores)
Display: 6.3 inches, 2340×1080
GPU: ARM Mali-G71 MP2 @ 770 MHz, 2 cores
RAM: 4 GB
Supported OS: VollaOS and Ubuntu Touch
Storage: 64 GB eMMC
Front camera: 16 MP
Back camera: 16 MP
Removable storage: Micro SD Card (512 GB maximum)
Battery: 4700 mAh Lithium-Polymer. It supports wireless charging.
Connectivity: WiFi, Bluetooth, 3.5 mm jack
Sim: 2 Nano SIM cards/ 1 nano SIM card and external memory card
Fingerprint sensor: Yes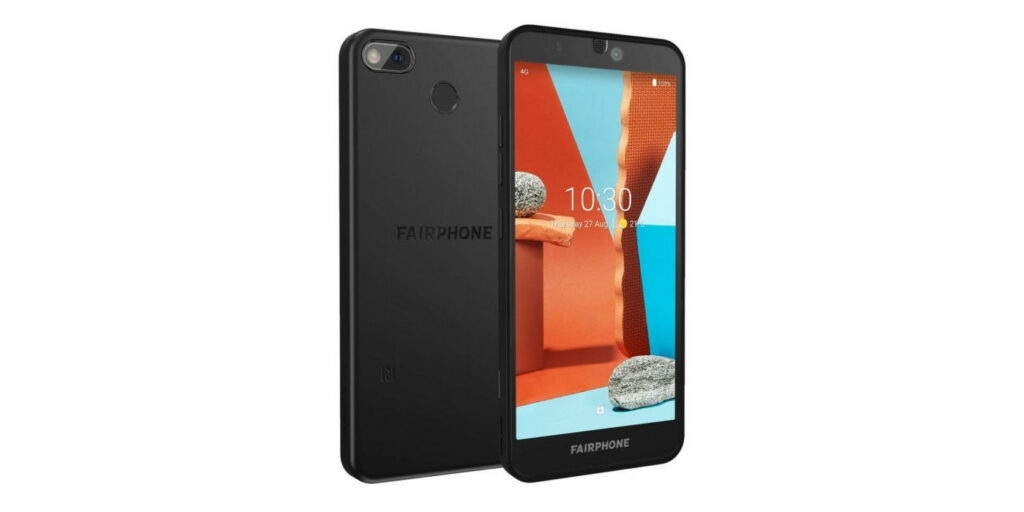 Closing the list is the Fairphone. First, you need to understand that this phone is not necessarily a Linux phone. However, it ships with a modified version of Android (FairPhone OS) and is compatible with most postmarketOS.
postmarketOS is a free and open-source operating system designed for smartphones, and it is based on the Alpine Linux distribution.
Most of the hardware in these phones is easily replaceable, and all you need is a screwdriver. That includes the display, battery, and other items.
Key Specifications
CPU: Octa-core Kryo 570 GHz cores)
Display: 6.3 inches, 2340×1080
GPU: Adreno 619
RAM: 6 GB/ 8 GB
Sound: Loudspeaker. It doesn't have the 3.5 mm jack port
Supported OS: Fairphone OS and postmarketOS
Storage: 64 GB eMMC
Front camera: 48 MP
Back camera: 25 MP
Removable storage: Micro SD Card (512 GB maximum)
Battery: 3905 mAh Lithium-Ion (Removable, fast charging).
Connectivity: WiFi, Bluetooth, 3.5 mm jack
Sim: Dual Nano SIM cards
Fingerprint sensor: Yes (side-mounted)
Other sensors: accelerometer, gyro, proximity, compass
The Pros of Using Linux Phones
Security: These phones are security-oriented and boast of utmost privacy. Some of the phones listed above have physical kill switches for modules like cameras, microphones, wifi, etc.
OS updates: OS updates can be pretty picky with other mobile phones like Android. Some devices can run Android 9.0, while others are stuck on Android 4.0. With most Linux phones, updates are constant and don't depend on the hardware.
Compatibility with Linux Desktops: Most Linux phones allow you to connect a USB dock and add a monitor, keyboard, and mouse, giving you a full-featured Linux Desktop computer.
Ability to customize your OS
Dual-booting: With most Linux phones, you are not limited to one single closed-source operating system. You can decide to install two OS at a time and select which to use on boot.
The Cons of Linux Phones
Few applications: Most developers are still focusing on Android and iOS. Therefore, you have many apps you are accustomed to, like Facebook or Netflix.
Lack of hardware: Even though we have many Linux phones OS, only a few manufacturers have released mobile phones that support these operating systems.
Doubts over the future of Linux phones: Many big tech companies have tried venturing into the phone market but with no success (including Microsoft with the Windows phone). Therefore, not many people expect that there will be "the year of Linux phones." Most people are not even aware Linux phones exist.
Usability: Even though most Linux phones come with an easy-to-use graphical interface, you need to be well-versed with Linux systems to get the most out of it.
Alternatives to Linux Phones
If you don't have access to a Linux phone but still want to get a feel of using a Linux phone OS, below are our top alternatives.
Android phones that support postmarketOS
Xiaomi Pocophone F1
Xiaomi Redmi 2
Xiaomi Mi Note 2
OnePlus GT
OnePlus 6
Android phones that support Ubuntu Touch OS
Planet Computers Cosmo Communicator
Google Pixel 3a/3a XL
Sony Xperia X (F5121 & F5122)
Google Nexus 5
OnePlus One
Linux Phone Distributions
Most Linux phones ship with their company OS but include support for other distributions. Some of these distributions are a FOSS alternative to Android and not exactly Linux phone distributions.
Some of the Linux phone distributions you can find include;
postmarketOS (Based on Alpine Linux)
UBports (Ubuntu Touch)
Mobian (Debian for mobiles)
Tizen (supported by The Linux Foundation)
KaiOS (based on Firefox OS)
Maemo (Debian)
ExpidusOS (Void Linux)
PureOS
Plasma Mobile
Nemo Mobile
NixOS
Conclusion
This post has given you a detailed guide on Linux phones and some of the best you can buy today.
Unfortunately, most of these phones are not readily available, and you need to place an order on the company website.
If you are a tech enthusiast, you should try one of these gadgets. If you are looking for a place to get applications for your Linux phone, check out the Linmobapps website.
Are you already using a Linux phone? If yes, please share your experience in the comments below.