Individually, you'll find limitless information about KVM switches and Thunderbolt 4 technology. And if you look for Thunderbolt 4 KVM switches, you'll even find a handful of devices that enable you to connect your Thunderbolt 4 computer. But are these KVM switches truly Thunderbolt 4 devices? Or do manufacturers get away with cleverly worded product listings and marketing collaterals?
What is A True Thunderbolt 4 KVM Switch?
Before you proceed any further, it's vital to ensure you know precisely what Thunderbolt 4 is all about.
What is Thunderbolt 4?
In a nutshell, Thunderbolt 4 is a communication protocol like the USB. Its most significant benefit is allowing data, power, and video signal transmission on a single cable. But not all devices featuring these functionalities become certified Thunderbolt 4 devices.
Intel, the creator of Thunderbolt 4, lists certain minimum specifications for a Thunderbolt 4 device. The specifications state that the device must support the following features in its briefest form.
A display with a Single [email protected] or Dual [email protected]
A Power Delivery of a minimum of 15W and a maximum of 100W.
Data Transfer speeds of 40Gbps.
Support for Daisy Chaining multiple devices.
Passive Cables with a 2-meters length.
VT-d-based Direct Memory Access
For the sake of simplicity, instead of thinking of Thunderbolt 4 as a technology, consider it a certification that Intel provides to any device that adopts this technology and fulfills the criteria mentioned above.
KVM Switches with Thunderbolt 4 And True Thunderbolt 4 KVM Switches
Now that you understand Thunderbolt 4, we can delve deeper into whether true Thunderbolt 4 KVM switches exist.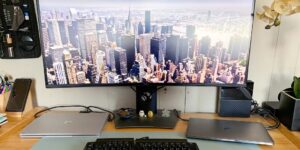 Image Credit: Melanie Pinola Via NYTIMES.com
The truth is that several KVM switches use USB-C to offer Thunderbolt-like features. This means that several KVM switches allow you to attach your Thunderbolt computers. But that doesn't make them true Thunderbolt 4 KVM switches, as they can use USB-C (USB4) or Thunderbolt 3 internally and still offer features like those of Thunderbolt 4.
For instance, consider the IOGEAR 2-Port KVM switch with its native USB-C technology. You can connect your Thunderbolt 4 computer and get a Power Delivery of 75W, [email protected] video, and data transfer. But it is not a Thunderbolt 4 KVM switch, and to be fair to IOGEAR, they don't call it that either. The IOGEAR 2-Port KVM Switch is not a true Thunderbolt 4 KVM switch because it doesn't support 8K video, and data speeds are capped at 5Gbps.
However, while the KVM switch may only use USB-C, it is still compatible with Thunderbolt 4 computers. So, you'll miss out on the exclusive features that Thunderbolt promises but still have basic functionality. Interestingly, the CHENLENIC USB-C 8K KVM Switch supports 8K video but is still not a Thunderbolt 4 KVM Switch.
Thunderbolt 4 KVM: A Productivity Powerhouse
The truth is that there is no such thing as a "True Thunderbolt 4 KVM Switch". It's not that Thunderbolt 4 KVM switches are impossible to make; it is just that nobody has made one (yet).
As mentioned earlier, you'll find plenty of KVM switches compatible with Thunderbolt computers. Obviously, for a KVM switch to truly offer Thunderbolt 4 capabilities, it must offer all the key Thunderbolt 4 features we mentioned earlier. But to be a "True Thunderbolt 4 KVM Switch," the device must also provide the following.
A Thunderbolt 4 connection between the switch and the common monitor. Most manufacturers who claim that their devices have Thunderbolt only include a DisplayPort or HDMI video output port on the devices. Thunderbolt 4 functionality incorporates video signals, so there is no need for such legacy ports.
Granted, keyboards and mouse operations don't require a 40Gbps port. But you can use a KVM switch to share other peripheral devices like External Thunderbolt SSD storage, which lets you quickly transfer vast amounts of data. So, a true Thunderbolt 4 KVM switch must also have Thunderbolt 4 for peripheral connectivity.
It must offer Power Delivery on all Thunderbolt ports, even if each provides a minimum of 15W. Most KVM switches on the market offer Power Delivery on one USB-C port.
It's noteworthy to mention that while the inclusion of these features is the subject of our opinion, to the best of our knowledge, there isn't an official specification for true Thunderbolt 4 KVM switches. This also goes for Thunderbolt 3 KVM Switches.
USB-C KVM Switches
All the USB-C KVM switches on the market are compatible with Thunderbolt 3 and Thunderbolt 4. These devices use native USB support to harness Thunderbolt's backward-compatible capabilities, making them usable with the latest Thunderbolt computers. However, the basic technology at the heart of the devices remains USB. There are True Thunderbolt 4 Docks, which share some of the features of a KVM switch.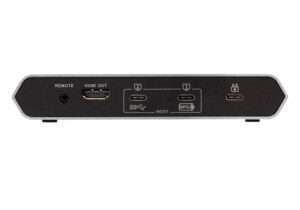 Image Credit: ATEN
The SuperSpeed USB (i.e., 5Gbps, 10Gbps, and 20Gbps) technologies make KVMs compatible with Thunderbolt, allowing video, power, and data signals on the same cable/port. Now that USB4 is being widely accepted in the mainstream consumer market, it is only a matter of time before you see a new generation of KVM switches that harness the full potential of the latest USB standard.
Though not USB4, KVM switches like the CHENLENIC USB-C 8K KVM Switch and the YIWENTEC USB-C 8K KVM Switch support 8K video. But with no support for Power Delivery, and data speed capped at 10Gbps, they are what they are, USB-C KVM Switches.
Conclusion
KVM switches are an essential device that helps improves productivity by allowing you to connect multiple computers to a shared monitor (and other peripherals). You can toggle between multiple computers by clicking a button, making it easy to multitask in content creation and typical office roles.
The KVM market is dominated by devices that use USB 3.0/3.1/3.2, making them compatible with Thunderbolt 3/4 computers. While compatibility with Thunderbolt 3/4 is not an issue, no KVM switches natively use Thunderbolt technology. Nevertheless, a good KVM switch will support 8K video, Power Delivery, and data transfer rates up to 10Gbps.
Hence, you won't miss a true Thunderbolt 4 (or Thunderbolt 3) KVM switch until you attach an external Thunderbolt SSD or any device that needs 40Gbps data transfer speed.