It's natural to wonder why you would want a USB-C Wi-Fi adapter. Modern computers come fully loaded with all essential features, including Wi-Fi and Bluetooth cards. Gone are the days when one considered wireless connectivity (on computers) a luxury. Over the years, Wi-Fi connectivity has become necessary for everyone, whether you use it for work, learning, or entertainment.
It's such an essential component that all modern laptops, mobile phones, smart home devices, and most motherboards are incomplete without it. Although the popularity of USB-C pales compared to that of Wi-Fi, USB-C is relatively new, and its popularity will see an exponential rise in the coming years.
Because it's newer, it is fair to assume that if your computer has a USB-C port, it already has a Wi-Fi card. So, why would you need a USB-C Wi-Fi adapter?
Better Signal Reception
Wi-Fi adapters use external antennae for excellent signal reception. These large-size antennae offer unhindered signal reception, vital for a reliable and stable wireless connection.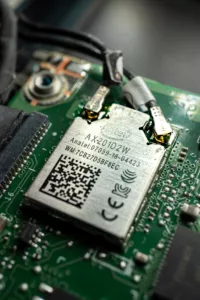 Typically, laptops conceal the Wi-Fi antennae within the display screen's frame. While it's suitable for the laptop's overall design, it compromises the signal reception because these are much smaller antennae whose performance significantly affects the radio noise of adjacent components.
An external antennae array ensures excellent Wi-Fi reception even in a "dead zone" in your home or office.
Upgraded Wi-Fi Standards
A Wi-Fi adapter is the most economical and convenient way to upgrade your Wi-Fi 5 (or earlier) computer to a Wi-Fi 6/6E. You'll have to forego a USB-C port on your computer, but it's a small price to pay for the significant bandwidth gains you'll get from using a Wi-Fi 6/6E network.
If you are a novice user who feels uncomfortable tinkering with your computer to install an M.2 Wi-Fi 6E card, a plug-and-play USB-C Wi-Fi adapter is perfect.
Faster Data Transfer Speed
A USB-C Wi-Fi adapter can deliver speeds up to 20Gbps depending on the native USB version it uses. But before you hit the "BUY" button, we must inform you that network speeds depend on several factors. These include the data plan, the distance between the router and the receiver, and whether there are any physical obstructions between the two.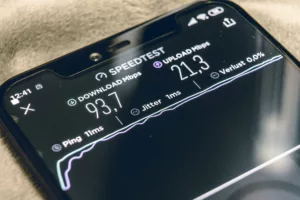 In most cases, a USB-C Wi-Fi adapter will deliver faster network speeds than USB-A Wi-Fi adapters. But it's advisable to check the native USB version the adapter uses and your ISP's data plan.
No USB-A Ports
While USB-A still holds the lion's share of I/O connectivity standards, you could be using an Ultrabook that only has USB-C ports. Thus, you may be forced to use a USB-C Wi-Fi adapter to improve Wi-Fi reception or upgrade to a newer Wi-Fi standard.
USB Wi-Fi adapters are the best and most convenient way to tackle these issues. They are plug-and-play devices that require minimal technical knowledge, making them super easy to use. Moreover, they offer a pocket-friendly solution as most adapters cost less than a hundred dollars.
Comparison of the Best USB-C Wi-Fi Adapters
Image
Product
Details
Check Price

ALFA AWUS036AXML 

Wi-Fi Version:

Wi-Fi 6E


Wi-Fi Bands:

2.4GHz, 5GHz, and 6GHz


Speed:

Up to 3Gbps


USB Version:

USB 3.0


Antennae:

2x 5 dBi


Cable Length:

36-inch


Cable Type:

USB-C cable


Screen Clip:

Yes


Date of Release:

March-2023

Buy on Amazon

Plugable USB Wi-Fi Adapter 

Wi-Fi Version:

Wi-Fi 6


Wi-Fi Bands:

2.4GHz and 5GHz


Speed:

Up to 1.2Gbps


USB Version:

USB 3.0


Antennae:

2x 3 dBi


Cable Length:

45-inch


Cable Type:

USB-A cable (with USB-C adapter)


Screen Clip:

Yes


Date of Release:

March-2023

Buy on Amazon
The Alfa AWUS036AXML is a Wi-Fi 6E USB-C adapter and is the only one offering the newest Wi-Fi standard, making it the easiest way to upgrade your wireless capabilities.
The triband connectivity offers a combined bandwidth of 3Gbps over the 2.4GHz, 5GHz, and 6GHz frequencies, giving you a low-latency, high-speed wireless network. Thus, the AWUS036AXML from Alfa is perfect for high-performance gaming because you're assured faster responses that result in precise controls.
The Alfa AWUS036AXML is the only proper USB-C device. While it has a USB-C connector on the device and comes with a USB-C cable, it is the only device on the market that uses USB-C end-to-end. Using USB-C natively ensures you get stable data transfers on a Wi-Fi connection without reliability issues.
The device's most significant advantage is its dual 5dBi antenna array, which helps provide better signal reception than your laptop's built-in network card. Alfa includes a 36-inch USB-C cable to aid signal reception, allowing you to place the antennae at a suitable height for better signal reception.
However, Alfa realizes that you may like to use the device while on the move, and placing the antennae 36 inches away may not always be feasible. So, it incorporates a screen clip into the design that allows you to clip the device on the top edge of your laptop's lid.
Overall, the device's design is bulky compared to similar products on the market. Nevertheless, the combination of USB-C and Wi-Fi 6E makes the Alfa AWUS036AXML the best USB-C Wi-Fi Adapter.
Wi-Fi 6E compatibility provides the best wireless connectivity.

The native USB-C support provides reliable data transfers.

The 5dBi antennae provide significantly better signal reception.

The 36-inch USB-C cable lets you place the device higher for improved reception.

It supports WEP, WPA, WPA2, and WPA3 to secure wireless communications.

Bulky design to use with a laptop or Ultrabook.

Newer USB versions may support better wireless bandwidth.
The Plugable USB Wi-Fi adapter offers Wi-Fi 6 connectivity, allowing you to connect to Wi-Fi networks that use the 2.4GHz and 5GHz frequencies. It is a cost-effective device if you want an intermediate upgrade for your Wi-Fi connectivity, as a stop-gap measure, before investing in a total overhaul.
But you must be informed that this isn't a USB-C device strictly. Instead of USB-C, it uses USB-A and includes an adapter to connect it to your computer's USB-C port. Like the device from Alfa, the Plugable USB Wi-Fi Adapter also use USB 3.0 natively.
In its most basic form, the device uses a USB-A connector which you can plug into your computer's USB-A port. For USB-C, the primary device plugs into a base unit that has a USB-A wire which connects to a USB-C adapter.
The adapter uses dual 3dBI antennae for higher gain and better signal reception. It's an omnidirectional antenna that facilitates the core features of Wi-Fi 6 to provide a stable network connection. Not only do you get faster wireless connections, but the connections are reliable and ensure lower latency for high-performance gaming.
The device supports a maximum bandwidth of 1200Mbps and supports WPA3 to ensure you get top-of-the-line wireless security.
For your convenience, Plugable includes a 45-inch data cable, allowing you to position the device to get better signal reception. Finally, like the Alfa, this adapter from Plugable also incorporates a clip in its design, making it super convenient to use when you are on the move.
Price

It supports fast network speed with Wi-Fi 6 networks.

Its low latency signals make it perfect for high-performance gaming.

The excellent build quality makes the device durable.

It provides enhanced security with WPA3.

Two years warranty

Not compatible with macOS and Linux.

The USB-C adapter is easy to misplace.
Best USB-C Wi-Fi Adapters – Frequently Asked Questions (FAQs)
Can I use a USB-C Wi-Fi Adapter for gaming?
In terms of functionality, a USB-C Wi-Fi adapter is no different from any other Wi-Fi card. Thus, you can accomplish all your online tasks, including (and not limited to) gaming, streaming content, and whatnot.
Do USB-C Wi-Fi Adapters also include Bluetooth connectivity?
Unfortunately, there are no USB-C Wi-Fi adapters that include Bluetooth. So, you'll have to buy a separate Bluetooth dongle if you want the latest Bluetooth connectivity standards.
How does a USB-C Wi-Fi adapter help in getting better signal reception?
USB-C Wi-Fi Adapters use high-gain external antennae, which enable significant signal quality. Desktop motherboards with Wi-Fi include high-gain antennas that give your computer excellent signal strength. However, laptops don't use these antennas, and using a USB Wi-Fi adapter can significantly enhance reception to provide stable wireless network connections.
Can I use a USB-C Wi-Fi adapter while on the move?
These adapters have versatile applications. USB Wi-Fi adapters have a clip that allows you to conveniently attach the device to your laptop while away from your workstation. As a result, the adapter becomes an insignificant extension of your computer, and you can continue working unhindered even while working remotely.
Also, the adapters are compact, and their lightweight design doesn't add weight to your laptop bag.
What specifications should I consider when buying a USB-C Wi-Fi adapter?
There are essentially two vital considerations to make:
Firstly, you must decide whether you need an adapter that supports Wi-Fi 6 or Wi-Fi 6E. Wi-Fi 6E is the latest Wi-Fi standard, and because it's backward compatible with all previous versions, choosing an adapter that supports this standard ensures versatile connectivity. However, they are expensive compared to adapters that support Wi-Fi 6.
Next, you must consider the maximum bandwidth that the adapter supports. The bandwidth is dependent on several factors, as we mentioned earlier. But glancing through the adapter's specifications will help you determine a suitable device to match your need.